Use up and down arrows to review and enter to select. Touch device users, explore by touch or with swipe gestures.
Iron buying guide
Whether you have a huge pile to get through, or just want to get pressed and dressed fast, we'll help you choose the best iron.
Shop all irons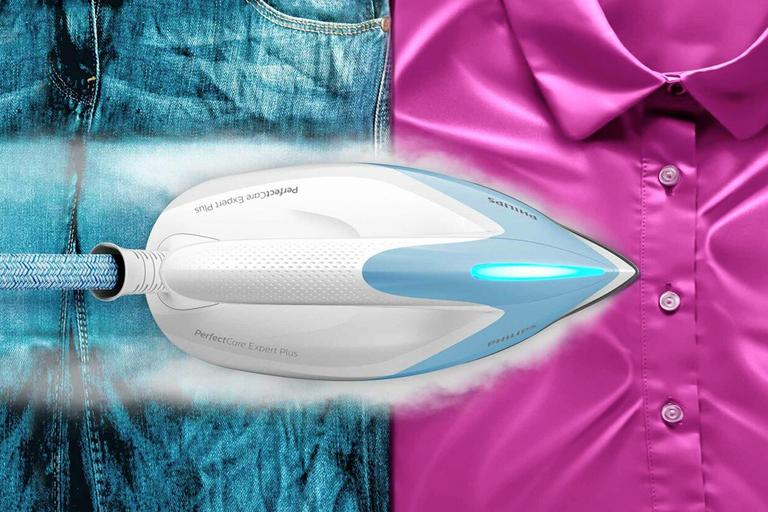 How much ironing do you do?
Bigger ironing pile? Travelling? We'll match you to the best iron for your needs.
Types of iron
Steam iron
Not to be confused with steam generator irons, these are the most basic and usually cheapest iron type. If you have smaller ironing piles or iron on the go, these are a great and affordable option.

Why they're great:
They're affordable - Models available from £10.
They're compact - They take up less space vs steam generator irons.
Look out for:
Models with higher steam output (> 50g/min) will get through your ironing with less effort.
A steam shot button will trigger a powerful burst of steam, useful for stubborn creases.
Steam generator iron
These pump out a lot more steam to get through ironing in less time and with less effort - they are more expensive, but worth it if you do a lot of ironing.

Why they're great:
Better results - More steam = a more professional finish.
Faster ironing - You'll spend less time going over the same crease, and the steam is powerful enough to work through two layers of fabric (so you only have to iron one side).
Look out for:
Many models can be used vertically to steam curtains or clothes on the hanger.
Pressurised generators are more expensive than non-pressurised, but create higher pressure steam.
Travel steamers
Handheld or upright, clothes steamers let you quickly neaten clothes on the hanger, without needing to set up an ironing board. Whether you're working or on holiday, they're a great option.

Why they're great:
Quick results - Easy to use and no need to set up an ironing board.
Delicate clothes - Steamers are the easiest way to remove wrinkles from delicate or fiddly items.
Travel friendly - They're compact and easy to pack.
Look out for:
Some steamers include a fabric brush to remove lint whilst you steam.
Many steamers are ready to use within 60 seconds, perfect for on-the-go use.
Features to look out for
Cordless
Don't be restricted by the positioning of your plug. A cordless iron lets you iron anywhere.
Safety shut off
For added peace of mind - these irons turn themselves off if not used for a period of time or if knocked over.
Anti-scale/Anti-calc
An anti-scale function will help to prevent and collect limescale, keeping your iron grime-free.
Top rated irons
Ironing accessories
Choosing a clothes airer
With our handy guide, you'll be home and dry.
Why buy at Argos?