Taking care of your health as you get older
As you age, it's even more important to take care of your health.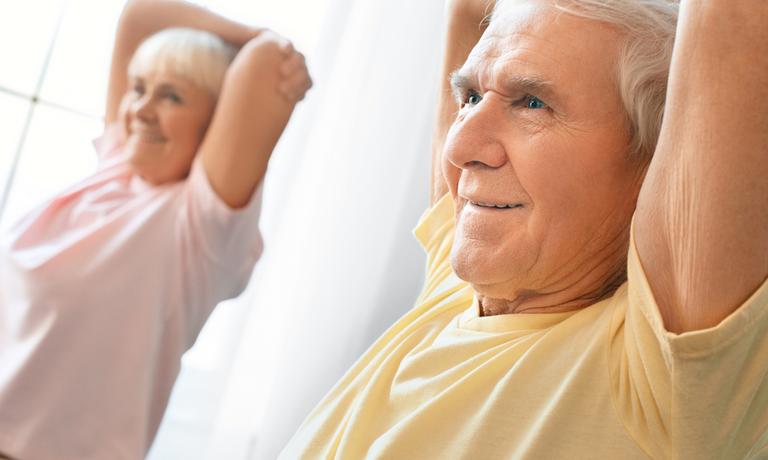 Here are some of the common health problems you may experience, and ways you can help prevent them or lessen their impact. But remember, nothing will be more beneficial than visiting your GP and arranging a regular health check-up.
Diabetes
Your body needs insulin to break down glucose (sugar) in your bloodstream and turn it into energy. Diabetes effects insulin production, causing glucose to build up in your blood.
Older people can be at risk of developing diabetes type 2, where insulin quality and quantity is reduced. Symptoms include tiredness, thirst and urinating frequently.
Diabetes type 2 can lead to a number of health problems, such as nerve damage, becoming more vulnerable to infection, and heart disease.
To reduce your risk of diabetes ...
Lose a little weight
People who are overweight are most at risk from type 2 diabetes, so losing a few pounds can really help.
One way to tell if you're at risk is to check your waist size. If your waist is over 31.5 inches (80cm) for women and 37 (94cm) inches for men, you should try to lose weight.
Keeping active
Regular exercise – just 30 minutes of light exercise per day – can reduce your risk of developing diabetes by up to 64%.
It will also help you to lose weight and can help improve your overall mood.
Healthy diet
Studies suggest that regularly eating processed meat increases your risk of diabetes by 40%.
A diet rich in fruits and vegetables, with lots of fibre, that's low in sugar, fat and salt will help diabetes prevention, and will be great for your overall health too.
High cholesterol
Cholesterol is a fatty substance that's essential for keeping your body functioning. It's found in many foods, but is also made by your liver.
If there's too much cholesterol in your body, it can restrict how
blood flows through the arteries in your heart. This increases your risk of suffering a heart attack or stroke.
High cholesterol doesn't have obvious symptoms, so it's important to maintain a healthy diet and have a health check with your GP regularly.
Ways you can reduce cholesterol ...
Eat more fish
Many fish contain omega-3 fatty acids, which promote good cholesterol that your body can use to reduce fat in your blood. Other good sources include walnuts, almonds and flaxseeds.
Eat more fibre
Soluble fibres are found in oats, bran, beans, lentils and most fruit and veg can help reduce harmful cholesterol.
Avoid saturated fats
Butter, cream, sausages, pastry, cheese, cakes and biscuits can be high in cholesterol. Unsaturated fats, from avocados, mackerel, salmon and walnuts is better (in moderation).
Exercise
You are more at risk of high cholesterol if you're overweight. Just 30 minutes of moderate exercise per day, can help to reduce your weight.
Arthritis
Arthritis is a common condition people experience as they get older. It's an inflammation of the joints caused by the thinning of the cartilage that lines your joints.
This thinning can lead to pain and discomfort, with joints becoming swollen over time and your bones becoming splintered.
While there's no cure for arthritis, there are many things you can do to slow it down and decrease any discomfort.
What you can do to reduce discomfort from arthritis
Lose a little weight
If you're overweight, it can put extra pressure on your joints. A GP or physiotherapist can help you come up with comfortable exercises to help you stay active.
Exercise
Though it may sound uncomfortable, building muscle strengthens joints and helps reduce symptoms. Even light activity, like walking a little every 30 mins, can help prevent stiffness.
Hot and cold packs
These can help to soothe and relieve the pain from inflamed joints. A hot-water bottle filled with water is an easy way to apply relief to uncomfortable areas.
Poor circulation
Poor circulation is when blood cells are not able to circulate to every part of your body.
Usually it effects your hands and feet, and can leave them cold and pale. It could cause your fingers to become stiff and hard to move, and lead to swelling in your legs.
Poor circulation is usually related to another condition, such as diabetes, heart disease, obesity or arterial issues.
How to improve circulation
Keep moving
Regular gentle exercise will help to keep your blood circulating around your body. Avoid staying in any one position too long. Get up regularly to stretch and move your limbs.
Change your diet
Salmon, mackerel, cod, nuts, oranges, beetroot and garlic will help, while foods high in trans fats and salt should be avoided. Too much sugar isn't great, but a little dark chocolate is beneficial.
Wear extra layers
Keeping warm is essential. Thick socks are ideal for keeping your feet cosy, but make sure they're not too tight.
This guidance should not be viewed as professional health advice. If you're experiencing any of the symptoms associated with the conditions in this article, please seek advice from an appropriate medical practitioner.
Find out more
More help and advice
Why buy at Argos?