How to choose the best bed linen
Don't chance it, find the best style, texture and quality of bed linen for you with our essential guide.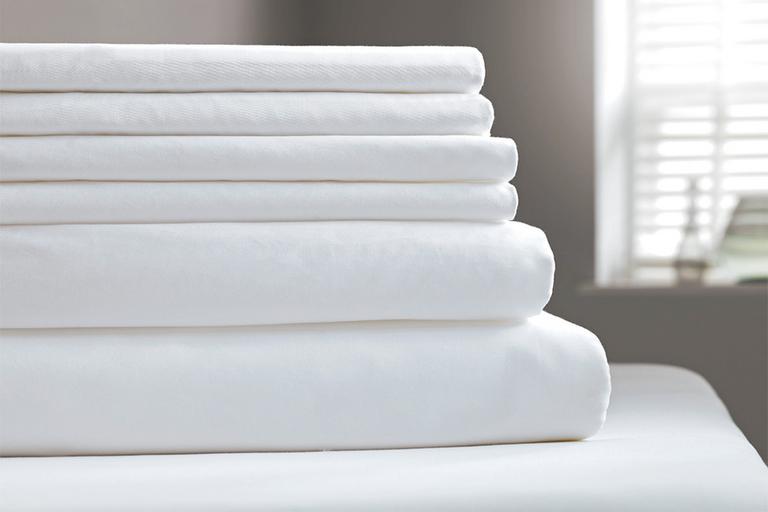 Bed linen guide
The right bedding is a must-have for any bedroom, but it can be tricky to know what to choose. Duvets, pillowcases and sheets can be made from a variety of fabrics and finished with a variety of techniques.

The fabric, technique and thread count define the quality of a bed linen piece, as well as how it looks and feels against your skin. Our guide breaks down all the features you need to consider, helping you find the bed linen that suits your personal preference.
Fabric types
The fabric type is what a piece of bed linen is made from.
Some fabrics are made from 100% natural fibres such as cotton, which has a super soft finish, while others are made from synthetic fibres like polyester, which is easy to care for and quick drying. Others combine the two, giving you the best of both worlds.
100% cotton
As a natural fibre, 100% cotton is a popular choice due to its super soft and breathable feel.
Brushed cotton is 100% cotton that has been delicately brushed, leaving a soft and snuggly feel.
Easycare cotton is crafted to require minimal ironing, due to its easy-care finish.
Egyptian cotton is the very best when it comes to bed linen. It offers superior softness and durability and usually has a greater thread count than other choices.
Easycare polycotton
Named 'easy care' due to its low maintenance, polycotton is a blend of polyester and cotton. It's strong, dries quickly and requires minimal ironing, making it an excellent every day choice.
Cotton rich
Cotton rich bed linen has a mix of natural cotton and synthetic fibres. These pieces are called cotton rich because 60% of the fabric is made from super soft cotton.
Microfibre
Microfibre is a soft and durable synthetic material that requires little maintenance when washing.
Finishes
Finishes are the different techniques used to give a piece of bed linen a certain look and feel. There are subtle differences between each type and the best one for you depends on personal preference.
Thread count and weight
Thread count is the number of horizontal (weft) and vertical (warp) threads per square inch. Duvet covers, pillowcases and bed sheets all have a thread count.

For example, a thread count of 300 means that a piece of fabric has 300 threads for every square inch of the bedding. The higher the thread count, the better the quality of the bedding. Higher thread count should mean increased softness and durability.

You should consider the weight of your bedding depending on the season. Light bed linen is better suited to summer, while heavier pieces offer a cosier feel in the winter.
Bed linen sizes
Duvet cover sizes
You should always choose the same size cover as your duvet. A double duvet needs a double duvet cover and so on.
Toddler 120 x 150cm
Single 135 x 200cm
Double 200 x 200cm
King 230 x 220cm
Superking 260 x 220cm
Flat sheet sizes
Flat sheets are a flexible choice. You can use them to cover your mattress, or as a top sheet between you and a duvet.
Toddler N/a
Single 180 x 260cm
Double 230 x 260cm
King 275cm x 275cm
Superking 275cm x 310cm
Fitted sheet sizes
A fitted sheet wraps around the corners of a mattress, holding it in place. A double mattress needs a double fitted sheet and so on.
Toddler 70 x 140cm
Single 90 x 190cm
Double 135 x 190cm
King 150 x 200cm
Superking 180 x 200cm
Fitted sheet depths
Deeper sheets are suited to deeper mattresses and less likely to come loose in the night.
Easycare polycotton 25cm
Cotton rich 28cm
Cool cotton 28cm
Brushed cotton 28cm
Easycare 100% cotton 28cm / 35cm (extra deep)
400 TC Egyptian cotton 30cm deep / 35cm extra deep
Pillowcase styles
Oxford pillowcases
You can spot an Oxford pillowcase by the additional decorative trim around the edge.
Ready to shop?
Caring for your bed linen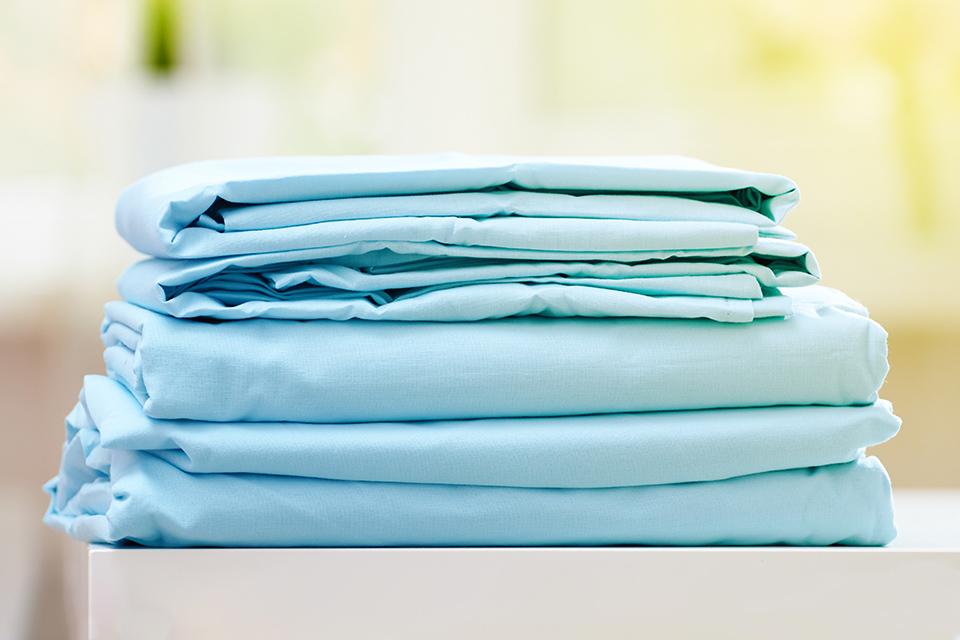 How to care for your bed linen
Different types of bed linen require different levels of care, so always check the care label before washing.
We recommend giving your new bedding a wash before you use it for the first time.
Avoid washing dark and light colours together.
Wash your bed linen once a week to keep it clean and fresh.
More help and inspiration