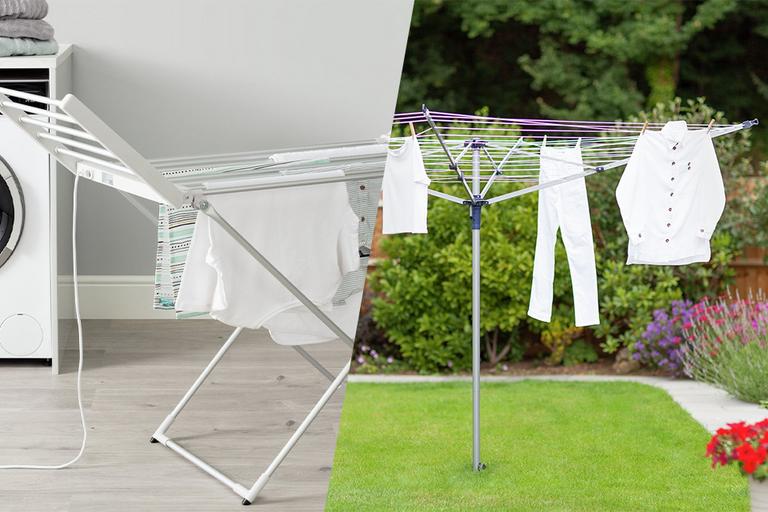 What's the best clothes airer for you?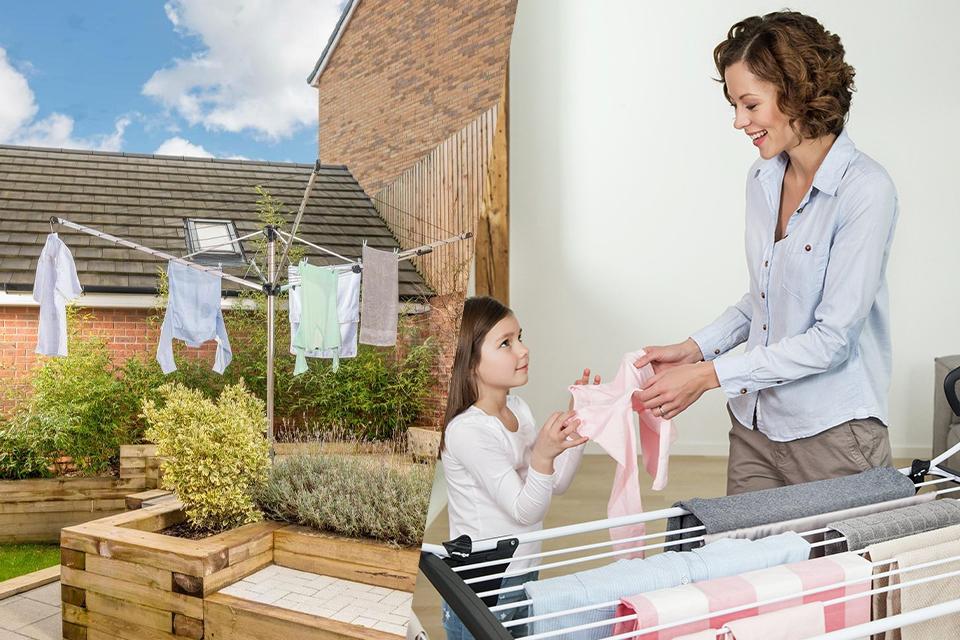 Why you need a clothes airer
A convenient, sensible, necessity: When you've got no outdoor space, or colder months stop you from hanging out your washing, airers are a money-saving must-have for drying clothes indoors.
Smart space-saving choices: There's an airer to suit all washing and all spaces. Choose winged airers for flat-drying jumpers or tiered airers for everyday items like shirts, towels and trousers. Not much space? Slimline and over-the-bath airers are cleverly compact.
Movable: Want to switch between indoor and outdoor drying? Look for lightweight, wheeled or easy glide airers for a no-sweat solution.
Saves energy: Clothes airers up your green credentials. Simply pop your washing on and let it dry naturally. Even heated airers use 60% less energy compared to a tumble dryer. Kinder on your wallet and the planet.
Types of clothes airers
Whether you've a small family or a houseful, a big garden or a tiny balcony, a utility room or a bijoux indoor space, there's an airer made for you.
Indoor clothes airers
Tower airers
Tower airers are made to handle your heavier and larger wash loads, like sheets, jeans and bath towels. Many are multi-tiered to give you more drying space.
3 tier airers
A popular choice for everyday washing. These airers pop open easily and give you room to spread out your clothing so it dries faster.
Radiator airers
Radiator airers are great for smaller items like hand towels which only need a quick dry. Easy to take off and tuck away.
Winged airers
Just the thing for popping on a balcony, over a bathtub, or making the most of any small space. Winged airers provide a flat rack for crease-free drying delicate items.
Rotary lines
Flexible and roomy. Free-standing push-up rotary lines are vastly versatile. Use inside during damp days and outside when your washing can catch some rays.
Slimline airers
Need something high and mighty? Hello, slimline airers. Ideal for bigger items like bedding and bath towels. To avoid topples, just check how much weight they can take.
Electric clothes dryers
Heated airers
Neat heat they dry a treat. Heated airers speed up the drying time and use very little energy. They come in the same space-saving designs as non-heated airers: winged, tiered and tower.
Outdoor clothes airers
Retractable washing lines
Now you see it, now you don't. Love seeing your washing blowing in the breeze? Retractable lines are the way to go. When your washing's done, simply wind up and your outdoor space is all yours again. And with a simple 2-screw fitting, fixing one up is a breeze too.
Outdoor rotary lines
Want something more permanent? These rotary washing lines come with a sturdy spike to plant in your lawn. With one of these you're ready to make the most of every good washing day, and enjoy that fresh off the line fragrance. And if the weather takes a turn for the worse, just fold up.
Key features to look for in your airer
Capacity and strength: Nobody wants to see their clean washing end up on the floor. If you have a heavy wash load, make sure the airer is sturdy and large enough to handle it.
Anti-collapse system: Taller airers give you lots of drying room but can be unstable if overloaded. Look for a lock system so there's no fear of it collapsing.
Foldable: Most airers fold up, but it's worth seeing how small it folds so you can think about where you'll store it.
Attachments and extras: See if the airer comes with corners to hold hangers, or a detachable extra wing. Handy if you have lots of washing to dry in one go.
Our favourite picks
Tips and ideas
What our customers have to say
Other laundry essentials
Lighten the load
Whether you love doing laundry or can't wait to get it out of the way, here's everything you need to make it a little easier.
Love nature with Brabantia
Brabantia's rotary dryers and drying racks support WeForest to fulfill its mission - restoring forests for a better climate and planet.
More ways to freshen up laundry days
Why buy at Argos?