How to carve a pumpkin
Follow our step-by-step guide, so you and your family can master the pumpkin carving skill.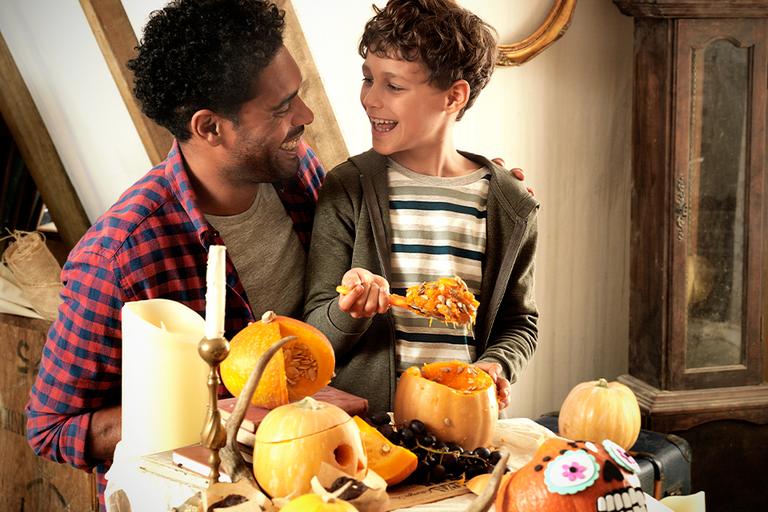 Like an eerie mist, the spooky season is descending. Get in the spinetingling spirit with a spot of pumpkin carving and whip up some Halloween treats to munch along the way. Plus, check out what other Halloween goodies we've got.
What you need to carve a pumpkin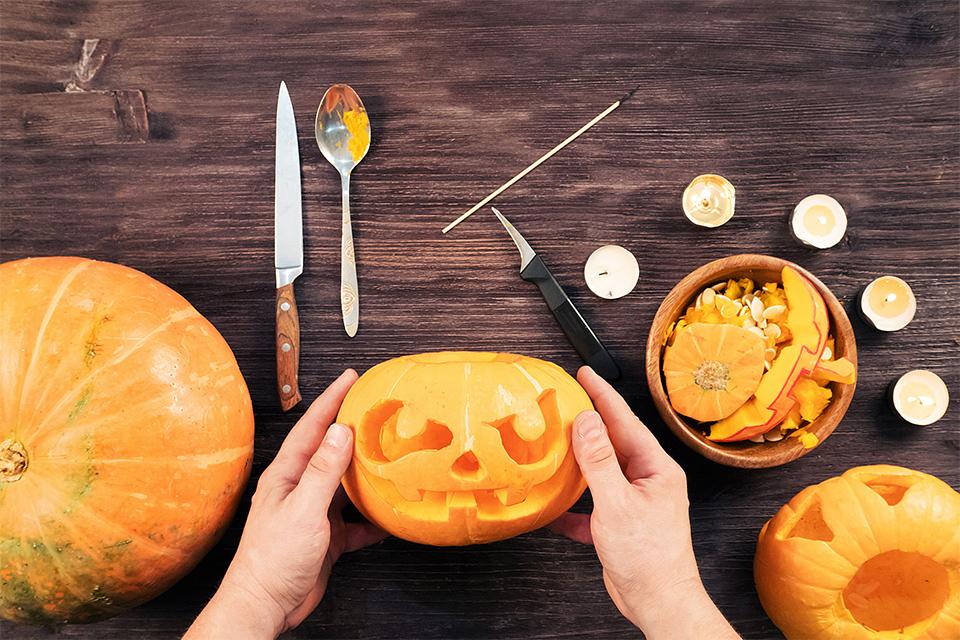 So, you're going to need a few tools:
Pumpkin, of course!
2 knives – one large and one small
1 large spoon
1 bowl
1 tea light
Your stencil
Printable pumpkin stencils
If you're feeling brave, free hand it! We respect your confidence. But if you're perhaps a little less creative and need a helping hand, here are some easy pumpkin carving ideas to spark some inspiration. Click on each face for a printable pumpkin stencil.
Choosing your pumpkin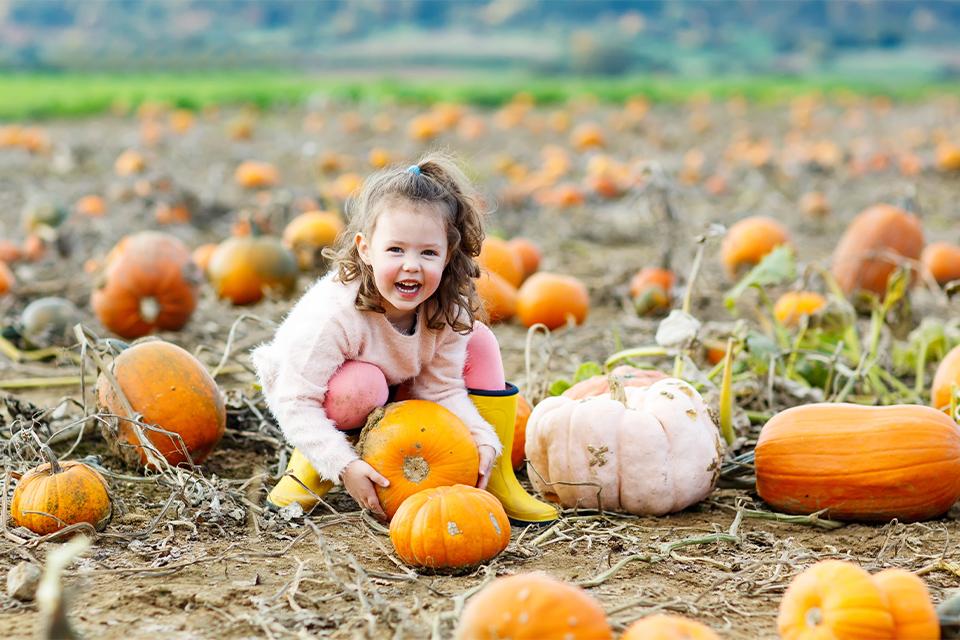 Keep it classic, and creepy of course
When it comes to pumpkin carving, picking the perfect pumpkin is part of the fun!
We'd recommend deciding on a design before choosing your canvas, as some require a large, smooth surface, and for others, the lumpier and bumpier the better!
There's a few different types of pumpkins aside from the big orange brutes that you could go for. Crown Prince squashes are bluish-grey giving a ghostly feel, and Japanese Kabocha squash are flatter and green, giving Frankenstein feels.
P.S Did you know the largest pumpkin on record was a hefty 2,300 pounds?!
How to carve a pumpkin
Next, just follow these spooky steps to create your creepy character...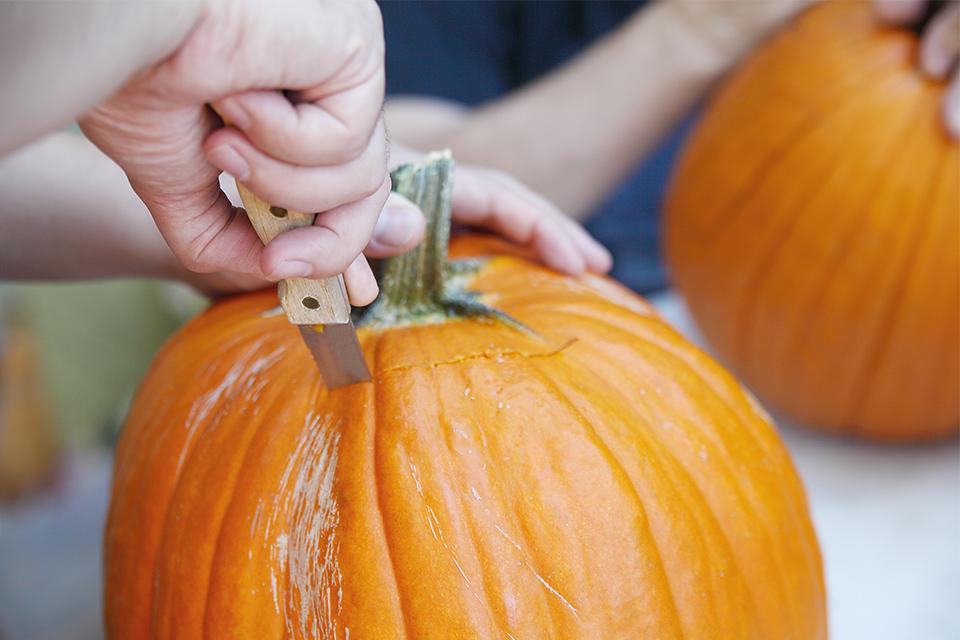 Step 1
Using the larger knife, cut off the top of the pumpkin.
Make sure to cut it at an angle. If you cut with the knife vertically, the lid will fall inside.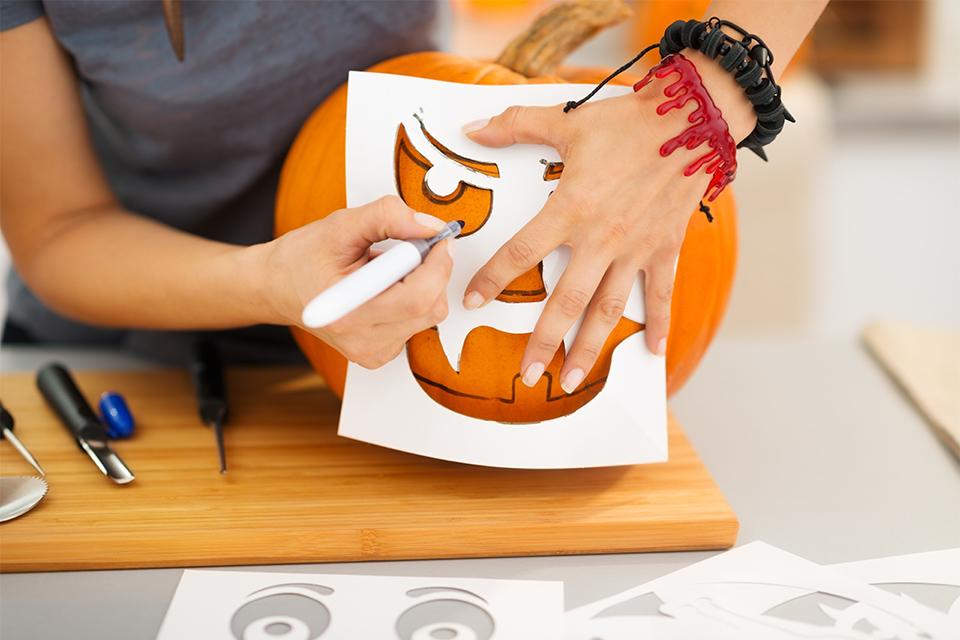 Step 3
Choose the side you want your design to be on.
Then you can either free hand your design, or, use your design as a stencil and draw around it.
This may be a better option to nail the dimensions and symmetry.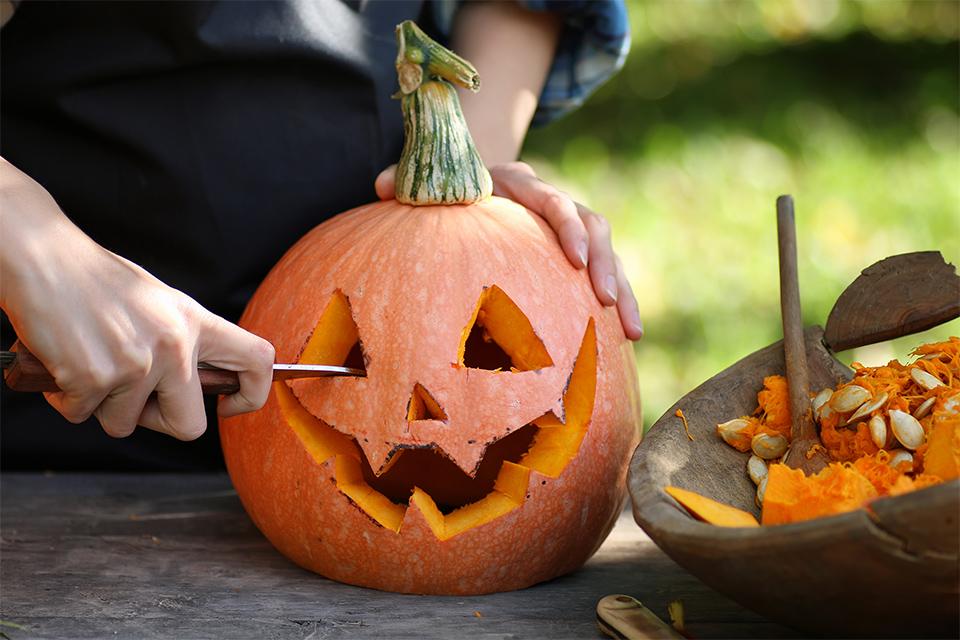 Step 4
Grab the smaller knife, it's time to get carving!
Just make sure you cut away from yourself to prevent any accidents.
Step 5
You're finished! All that's left is to pop your tea light inside, light it, replace the lid, then put it in position ready for those terrifying trick-or-treaters.
Alternative pumpkin ideas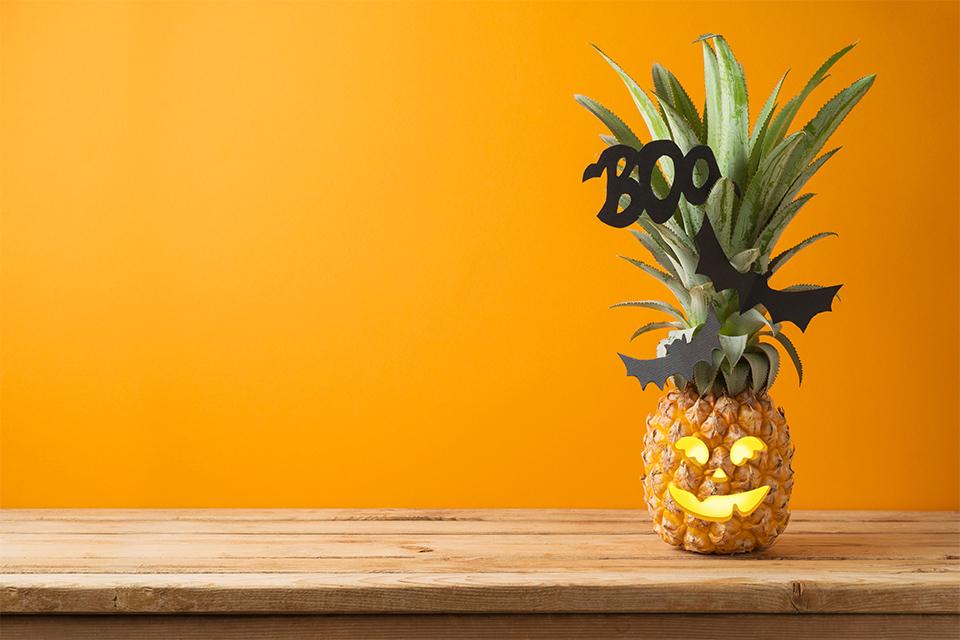 What other foods can be carved?
There's a whole range of eerie alternatives you can pick from. How about one of these:
Watermelons
Squashes
Pineapples
Peppers
Oranges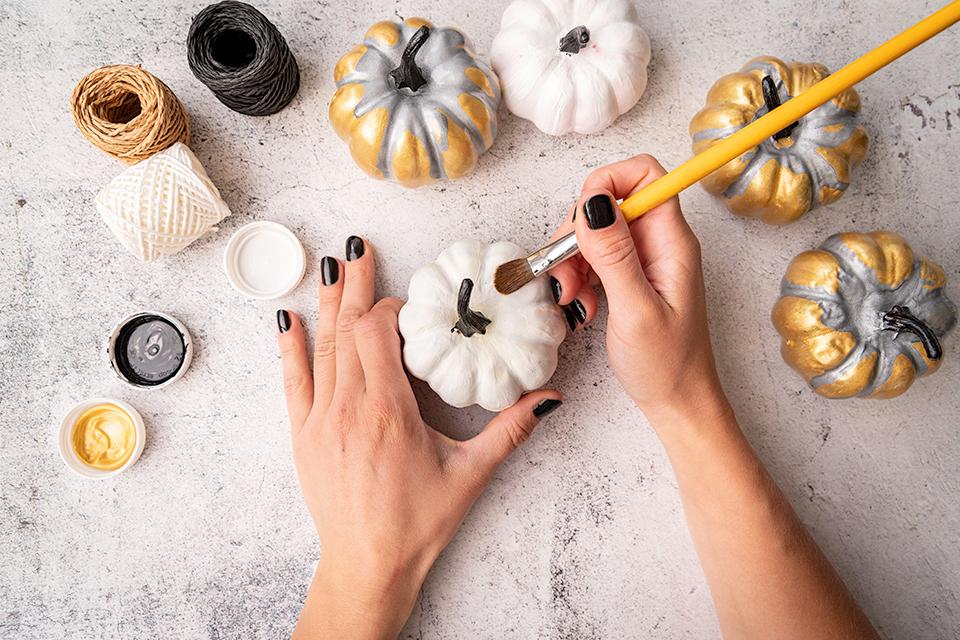 Opt for a painted pumpkin
Discover new ways to decorate a spooky or stylish pumpkin…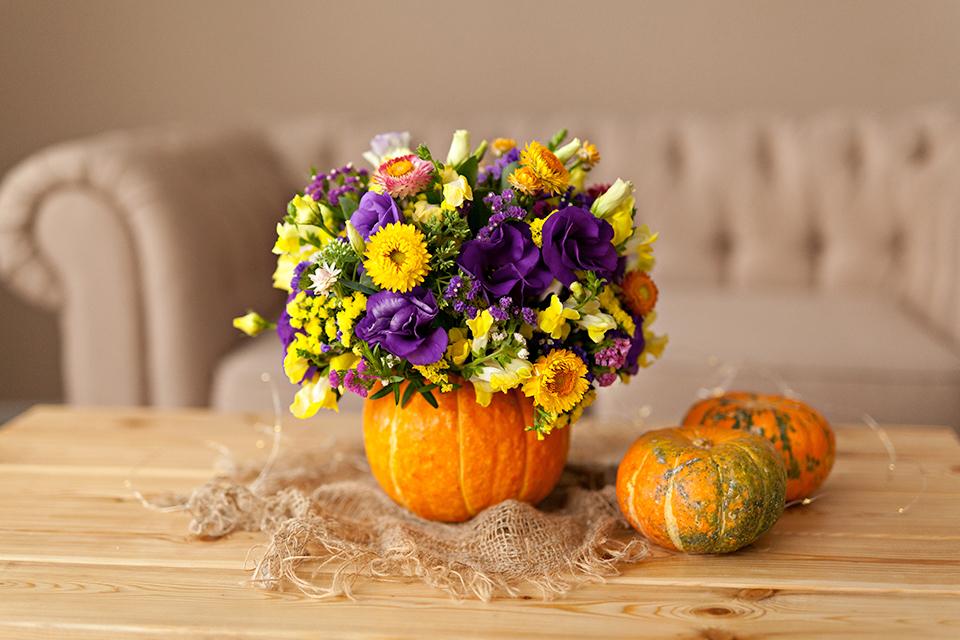 Plant pretty pumpkins
Create a beautiful Halloween centrepiece with a pumpkin vase. Carve out the centre of your pumpkin, but leave a thick layer of flesh around the edge as this creates a waterproof wall. Add some water and pop in your flowers. You could decorate the pumpkin too.
What to do with your pumpkin after Halloween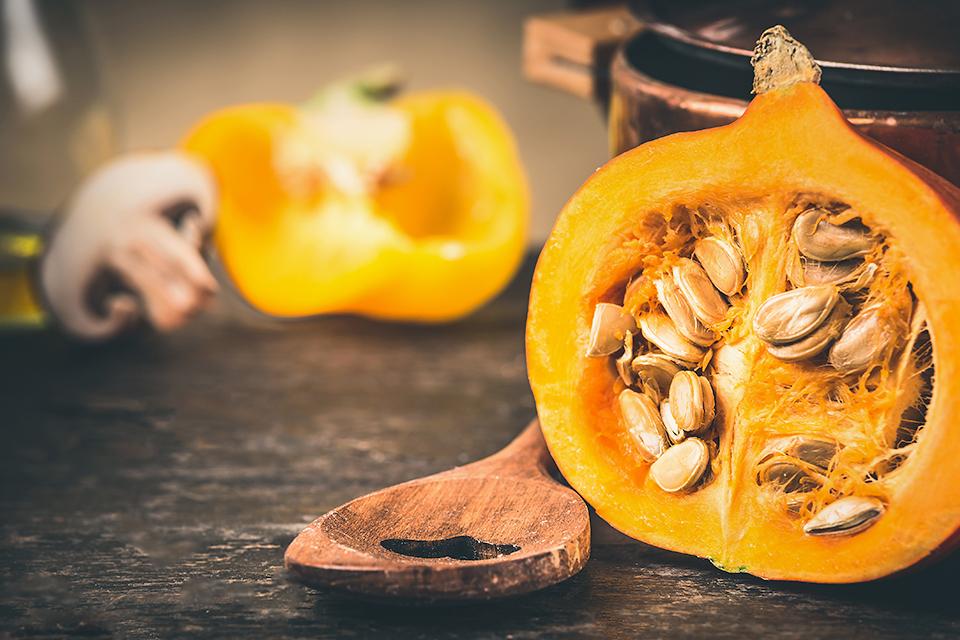 Tasty leftovers...
Rather than simply throwing your pumpkin away, make use of the yummy insides and use the rest to enrich your garden.
Here are a few ideas:
Create delicious recipes (scroll down)
Roast the seeds for eating
Save the seeds for planting
Leave small pieces outside for wildlife
Turn it into a bird feeder
Compost or bury it
Pumpkin recipes
Pumpkins don't just look good when carved, they taste delicious too! Granted they probably aren't a first choice that pops into people's minds when it comes to cooking, but we can assure you, with some of our recipes, you'll whip up a yummy, scrummy meal that'll become an autumn family fave.
Spider web pumpkin soup
Cosy comfort food to warm the cockles on a chilly autumnal night.
Total time required: 1hr 5 mins
2 tbsp olive oil
2 onions, peeled and sliced
1 pumpkin, peeled, deseeded and cut into small wedges
3 garlic cloves, peeled and finely chopped
1 tbsp mild curry powder
1.25 litres vegetable stock, made from 2 vegetable stock cubes
1 tbsp light soft brown sugar
1 tbsp pumpkin seeds, to serve
4 tsp crème fraîche, to serve
Method
Step 1: Heat the oil in a large pan over a medium heat. Add the onions and cook until soft.
Step 2: Add the pumpkin and garlic. Reduce the heat and cook, covered, for 10-12 minutes. Stir in the curry powder, half the stock and the sugar. Cook for a further 35-40 mins.
Step 3: Add the remaining stock and bring to a simmer. Take off the heat and use a hand blender to blend until smooth. Ladle into mugs and sprinkle over the pumpkin seeds or swirl over the crème fraîche to serve. To add a fun spider-web design, spoon the crème fraîche into a piping bag fitted with a small nozzle. Pipe a spiral on the surface of your soup and pull the tip of a knife from the centre of the spiral to the outer edge a few times to form a web shape.
Pumpkin seed, black treacle and ginger squares
Everyone will be obsessed with these deliciously gooey sweet treats.
Total time: 50 mins (plus cooling)
3 tbsp pumpkin seeds
175g butter
100g light muscovado sugar
½ tsp ground ginger
3 tbsp black treacle
100g dried ready-to eat apricots, chopped
250g porridge oats
2 balls stem ginger, chopped
Method
Step 1: Preheat the oven to 180°C/gas mark 4. Tip the pumpkin seeds into a small baking tray and toast in the oven for 6-8 minutes, then set aside to cool.
Step 2: Melt the butter, sugar, ground ginger and treacle in a large pan, stirring until melted. Take the pan off the heat.
Step 3: Tip the apricots, oats, stem ginger, 2 tbsp pumpkin seeds and a pinch of salt into the pan and stir to mix.
Step 4: Transfer the mixture to a 20cm x 20cm shallow loose-bottomed tin. Top with the remaining pumpkin seeds and bake for 30 mins. Cut into squares while warm, then leave to cool in the tin before serving.
More spooky stuff
Why buy at Argos?