Home workouts
You don't have to step into a gym to get fit. Swap sofa-sitting for squatting (and more) to tone in your own home.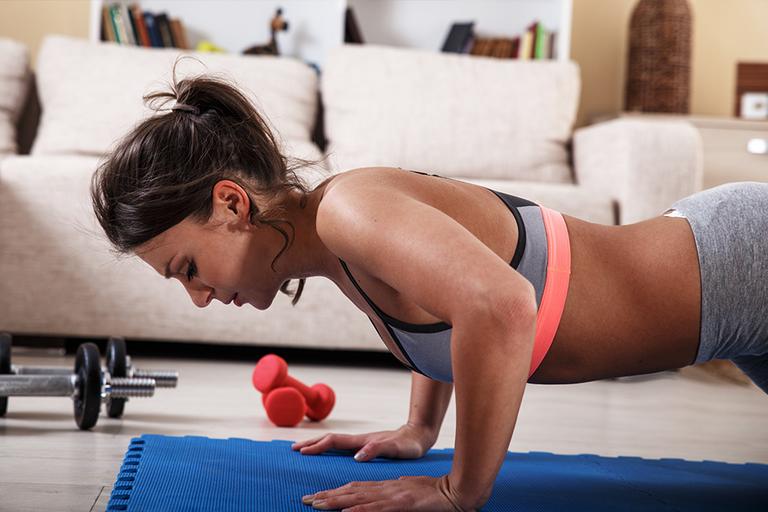 Workout every part of your body with our step-by-step workouts that can be completed from the comfort of your own home. From yoga routines to full body workouts, we've got the lot to help you achieve your goals.
Get toned at home
Which area first? We've got plenty of workouts to target each muscle group.
Stomach
A problem area for many, it's the part of the body people love to hate. But with ab exercises, advice and products that will help to target your core, we're helping you start your mission for that toned tummy.
Legs and bum
Determined to get that pert booty and perfect pins? Find workouts, tips and equipment that will help to build muscle in your legs and bum, so you can shed fat and tighten up your lower body.
Full body
Tone from your head to your toes at home. Whether you're following a HIIT (high intensity interval training) session or a low intensity workout, we've got a routine for all fitness levels.
Arms
Add definition to your arms and banish those bingo wings with targeted tricep exercises, along with the equipment you'll need to help you.
Chest
On a quest for perfect pecs? Look no further with chest exercises you can do at home and all the kit to help you build and tone it up.
Shop the tools to tone
Yoga at home
Yoga for beginners
Whether you're looking to lengthen those tight muscles, you want to improve coordination and flexibility, or you just need some time to relax and reconnect, give yoga a go.
Create a home gym
Home gym ideas
Want a dedicated workout area in your home? Get advice on how to set it up and learn about the different pieces of equipment so you can make sure it's kitted out with everything you'll need to hit your goals.
Small space gym equipment
Set up the perfect workout area in any sized space with our range of small space gym kit. From multi gyms, adjustable weights and easy-to-store equipment - we've got you covered.
Workout accessories
Headphones & earphones
Let the music motivate you every step of the way.
Fitness trackers
Count calories, monitor your performance and stay on track.
More advice and inspiration
Why buy at Argos?