Home gym ideas
No gym? No problem. Find all the equipment you'll need to create a dedicated workout area in your own home.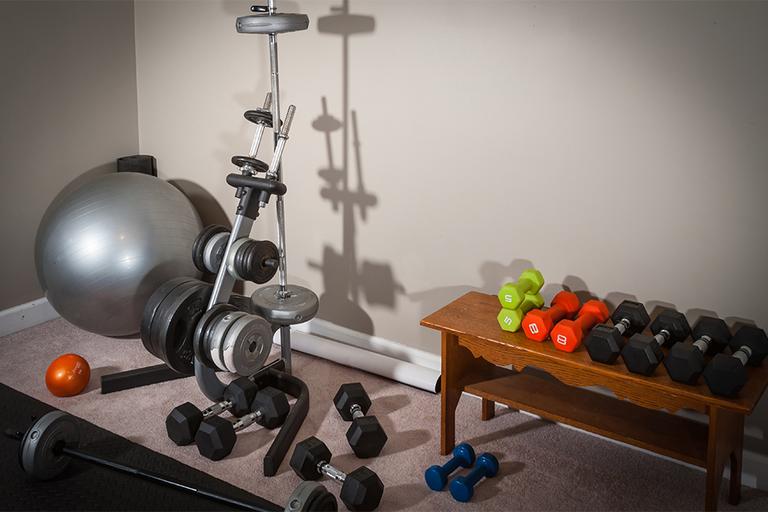 How to make a home gym
First, choose which room or area you want to transform. Then, decide what equipment you want. This will vary depending on your fitness goals. Lastly, think about all the small but important extras. You might want to add speakers for motivational tunes or a floor-length mirror to help master form and technique. Gym mats are great for protecting the floor and providing a safe surface to exercise on. How about a fan too? It will be a saviour when you're all hot and sweaty!
Your guide to home gym equipment
Multi-gyms
Multi-gyms give you the ability to do numerous workouts that target different areas of your body with just one piece of kit. Generally the more expensive they are, the more complex they become, allowing you to do more exercises, focusing on more areas of your body. The best ones will be able to give you a full-body workout to a gym standard.
Weightlifting bars, barbells & weight plates
Bars and weights may look like basic kit, but they have a huge amount of strength and muscle building benefits. You can work almost every muscle group just by adjusting the types of exercises you do with them. And with separate weight plates available, you're not restricted to one weight – we know one size doesn't fit all!
Weight benches
Benches allow you to lift weights at different angles and gives you flexibility of movement while providing support for your back and core. This means you can focus solely on the area you're targeting and not worry about balance and positioning. But it's not all about the weights – use them for other exercises like step ups and tricep dips too.
Dumbbells
Compact and space-saving, dumbbells are a great addition to your home gym. Some are a fixed weight and others are adjustable. They have countless uses, and can target very specific muscles. As you use dumbbells independently from one another, they allow for more natural body movement and can be used to correct muscle or strength imbalances.
Fitness accessories
You can use most of this kit on their own for an effective workout or use them to supplement your training. From ab exercisers, push up bars and pull up bars to resistance bands, vibration plates and foam rollers, find the little extras that could make all the difference.
Tone at home
Exercise machines
More gym space ideas
Yoga for beginners
If you're looking to incorporate yoga into your workout, we've got some great guidance to get you going. From basic poses to advice on creating your own home yoga studio.
Best gym kit for small spaces
We've got some clever kit that'll fit perfectly into petite places so you don't have to compromise on your workout.
More inspiration
Gym clothes
You've got the home gym, now you need the gear. Shop our range of gym clothing to be suitably stylish as you work up a sweat.
Why buy at Argos?