Types of home audio
Here's an overview of their different features, to help you find the right one for you.
Smart speakers
These are the Jack of all trades when it comes to home audio. Connecting via your Wi-Fi connection, voice assistants including Amazon's Alexa, Apple's Siri and the Google assistant play your favourite playlists, podcasts and radio stations at your request. Amongst an ever increasing repertoire, they'll also tell you the weather, play games, and answer questions.
Already got smart devices in your home? You can also set up a smart speaker to turn on devices with a voice command, plus you'll get access to a huge catalogue of music and content by pairing with the compatible app.
When choosing, consider if you have a streaming app that you already use, as this will narrow your choice of compatible speakers. For example if you have Amazon Music already, consider speakers that are compatible with Alexa.
Wireless & Bluetooth speakers
If portability is a priority, choose a wireless speaker. Once charged (using the mains or a USB cable) these can be carried around your house, so you can take your sounds with you.
Bluetooth functionality means you don't have to rely on a Wi-Fi connection for your speaker to access digital content. Instead you can wirelessly connect to devices, like your smartphone, to control the playlist. This makes these speakers a great choice for at home entertaining, as your guests can simply connect to take over the song selections.
Hi-fi systems
If you're serious about sound quality, consider a hi-fi system. Generally they feature two loudspeakers and a main unit which usually houses a CD drive. Many will also have a Bluetooth feature, so you can play tracks from your smartphone, and an FM tuner for listening to the radio.
You're paying more for that impressive audio quality, up to £500 for the most sophisticated mini systems. You can get entry models for under £50 which won't have the best sound quality, but are great if you're just looking for a flexible option that gives you radio, CD and Bluetooth functions all in one.
It's worth considering that these are generally bulkier choices for the home, but there are a number of options that have more compact or stylised finishes to fit with your decor.
Radio
You can listen to the radio via smart speakers or many hi-fi systems, but if it's just the radio you love listening to, why not keep it simple? Some models have Bluetooth functionality, so you can also use them to play audio from your smartphone.
There are a range of styles and sizes to choose from - retro styling has had a resurgence in recent years, with brands like Bush and Roberts bringing out heritage ranges for that vintage look.
Most modern models give you both (digital) DAB and (analogue) FM options. DAB typically gives you a bigger range of stations, but both may be affected if you live in an area with a weak signal. If this is the case you may be better off choosing a smart speaker, which will allow you to listen to the radio via your internet connection.
Turntables & record players
Got vinyls to listen to? You'll need a one of these. The two terms are sometimes used interchangeably, but generally the difference is that record players have speakers built into them. With a turntable you'll need to buy these separately and plug them in, so if you already have a great set of speakers, an amp or hi-fi system this is a good option.
Some are equipped with a USB port so that you can connect to your computer. This means you can use software to convert your vinyl recording to a digital audio files to keep forever.
Looking after your turntable, record player and vinyls takes more time and care vs other 'plug-in-and-go' speakers, so you'll also need to invest in some cleaning accessories. The sound quality is not necessarily crystal clear either, but for those who love the sentiment of records, this is part of the charm.
CD & cassette players
They may be falling out of fashion, with the world moving towards digital streaming, but many of us still have a shelf or storage box filled with our favourite CDs, and maybe even cassettes. If that's you and you want to work through those track listings in your home, you'll need a suitable player.
CD players are affordable, and typically have a radio built into them too. Some models also have Bluetooth functionality, so you can also use the speakers to play straight from your smartphone.
Soundbars
These speakers are designed specifically to enhance your TV watching. Those really wanting to level up their gaming too can set them up for a truly immersive experience. Soundbars are a slimline option that slots discreetly under your TV screen.

Soundbars often come with a separate subwoofer, giving you audio from multiple sources. The majority of subwoofers can be connected wirelessly to the main speaker, although wired options are still available. The benefit of separate subwoofers is that you can set up your surround sound the way you want it.

All-in-one soundbars combine speakers and subwoofers in one, sleek and space-saving unit. As a sole unit, they are designed to deliver the power and base of both the subwoofer and speaker elements of a traditional home cinema system.
How to choose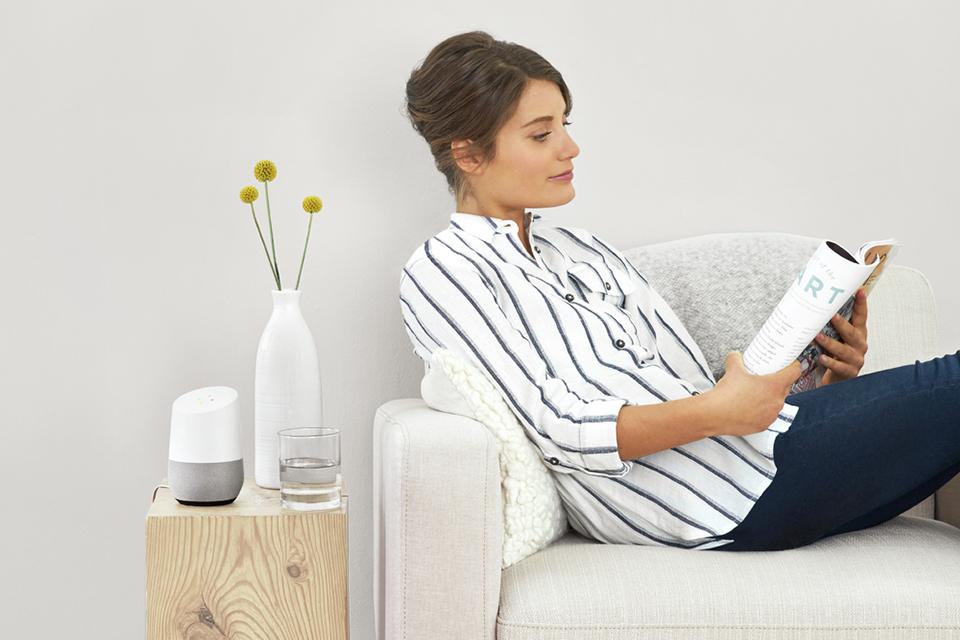 What will you use the speakers for?
Some choices are more obvious than others, i.e., if you have stacks of vinyls that you want to listen to, your choice is narrowed to record players and turntables.
If you want variety and access to a vast amount of different styles of music and podcasts (perhaps you're a family with varying tastes) your best bet is probably a smart speaker, especially if you subscribe to a streaming app like Amazon Music or Apple Music.
If you want flexibility we'd recommend a hi-fi sound system, as this will give you the choice of CD, radio and any content you have on your smartphone via Bluetooth.
Is sound quality a priority?
Premium hi-fi systems give you the most 'true to original' sound, and some give you the flexibility to tweak the sound levels, like altering the bass. Reading reviews is a great way to get an insight into sound quality.
Does it need to be portable?
If you want to move it around the home, or take it outdoors, you really need wireless speakers. Even if it's not going to move it's worth considering where in the home the speakers will live, as this may influence the size and style that you go for.
Do you already have a smart home?
If you already have smart lighting or smart plugs set up in your home, adding in a smart speaker can help make turning these on and off even more convenient. Check out our smart home guide to find out more.
Outdoor speakers
Ideal for outdoor entertaining
Some portable wireless speakers are adapted for use outdoors. Waterproof models are ideal for taking on holiday, or using in the garden during the unpredictable British summer!
Top customer picks
See what fellow audio enthusiasts recommend.
Accessories
Audio cables
A new device should come with everything it needs to get set up, but if you want to plug it into a computer, set up additional speakers or need a longer reach you can buy extra cables separately.
Extension leads
Does your radio not quite reach your side table? Need more cable length to get your smart speaker in the perfect spot? Extension leads and cable tidies can help you get the right set up in your home.
More inspiration