Holiday checklist
Top tips on what to pack for your getaway.
Off on holiday? To help you pack like a pro we've pulled together a holiday checklist with some handy tips and everything you'll need for a great getaway. Check government guidelines for the latest advice before travelling.
Luggage
Luggage & suitcase buying guide
Whether you're off for a few weeks in the sun or a short city break, we've got something for you. From lightweight weekend bags to everything-but-the-kitchen-sink sized suitcases, our luggage buying guide will help you find what you're looking for.
Packing tips:
Don't forget you will need a face mask at the airport and on the plane.
For added peace of mind, secure your luggage with a travel lock, pop on a luggage strap to help you spot your suitcase easily on the carousel, and a luggage tag with your contact details in case your baggage gets lost.
Can't make everything fit? Pack more in with space savvy vacuum storage bags.
Make sure your bags aren't too heavy by weighing your suitcase before you fly with a luggage scale.
Tech & entertainment
Find the best travel camera
After something for snapping selfies by the pool? Or capturing super-smooth action footage? Our travel camera guide gives you the lowdown on the features to look out for to get the most from your travel pics. It's also worth picking up a spare memory card and camera battery to make sure you save every shot.
Keeping kids entertained
Tu summer clothing
Hello sunshine, we're ready for you
Get summer ready with the Tu clothing summer shop.
Beauty
Travel advice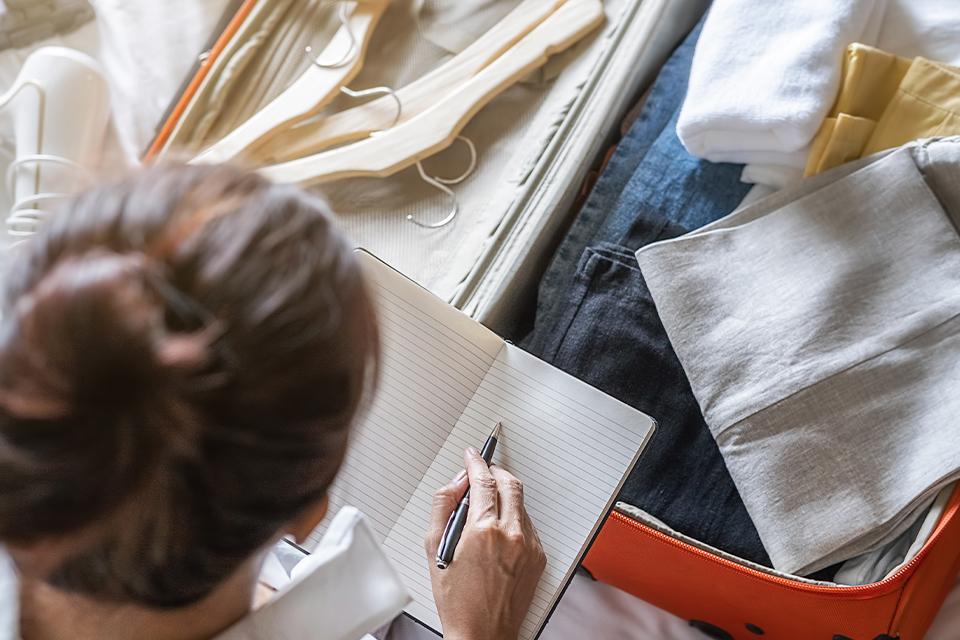 Don't forget to add these to your checklist
Here's a few handy holiday items that you'll want to consider packing:
Travel iron - stay crinkle-free on the go.
Take a travel pillow on the plane.
Keep your passport safe and sound with a passport holder.
Stay hydrated on the plane with a water bottle, just remember to fill it up after you've been through security.
Off to the seaside? Pop a couple of beach towels in your bag.