Health monitoring
Whether you're monitoring your blood pressure or tracking your fitness, we've top techs and tips for keeping an eye on your health.
Shop all health & wellbeing at Argos
Do you know your heart age?
How healthy is your heart?
Many things can cause our hearts to age, such as high blood pressure, inactivity, poor diet, smoking and cholesterol. The risks of an ageing heart can include heart attacks, strokes and even dementia. So it's important to take steps to keep our hearts healthy.
The free heart age test won't take long to do. And it'll help you identify the risk factors that might be causing your heart to age faster.
Blood pressure monitors
Your blood pressure is the strength of your blood pressing against your vessels. High blood pressure can put a strain on your arteries but there are some simple ways of lowering your blood pressure and great devices for tracking your progress.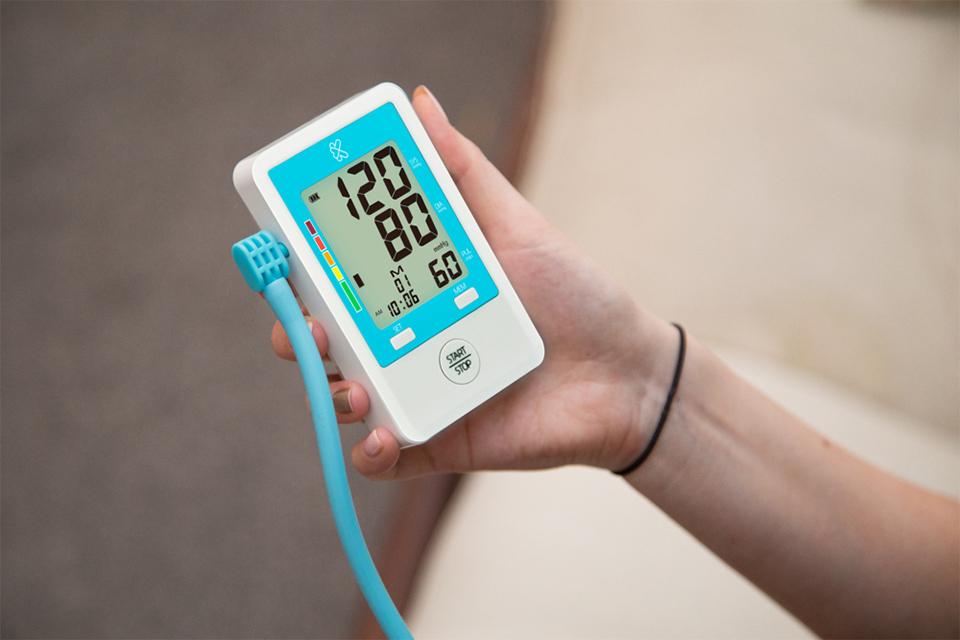 Monitoring your blood pressure
Blood pressure is measured by 2 numbers and looks something like this: 120/80mmHg. The first number is the highest your blood pressure reaches and the second is the lowest. A healthy blood pressure would have the first number between 90 and 120, and the second number between 60 and 80.
People aged 40 - 74, with no existing cardiovascular disease, can get an NHS check every 5 years. You can also measure it at home with a blood pressure monitor.
Anyone suffering from high or low blood pressure, or cardiovascular conditions, like type 2 diabetes, should have regular checks with their doctor.
Some people become anxious measuring their own blood pressure and take readings far too regularly. If you're worried, it may be best to get your blood pressure taken at the doctors.
Blood pressure monitors
There are two types of monitors: ones that measures the blood pressure at your upper arm and one that measures from your wrist.
Many monitors feature a memory function which records your readings over time. Some will even calculate the average of your last few reading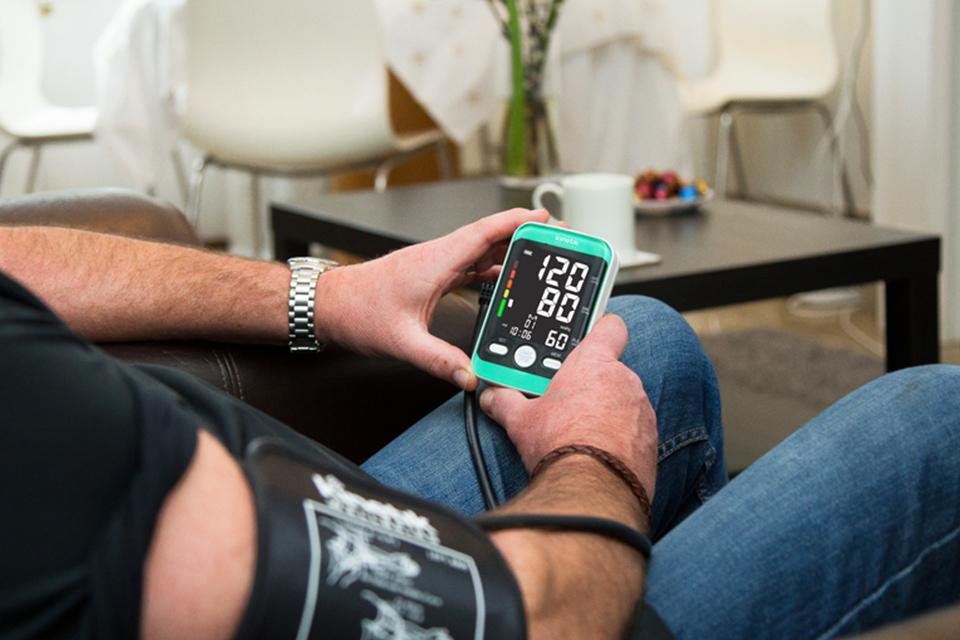 How to check your blood pressure
Avoid eating, drinking alcohol, smoking, exercising and bathing for 30 minutes, and rest for another 15 before starting. Avoid taking a measurement during stressful times.
When taking your blood pressure, don't round measurements up or down as this can affect the advice given to you by your doctor.
Don't panic if you get a high reading, simply take the reading again at another time and if it's still high, seek advice from your doctor.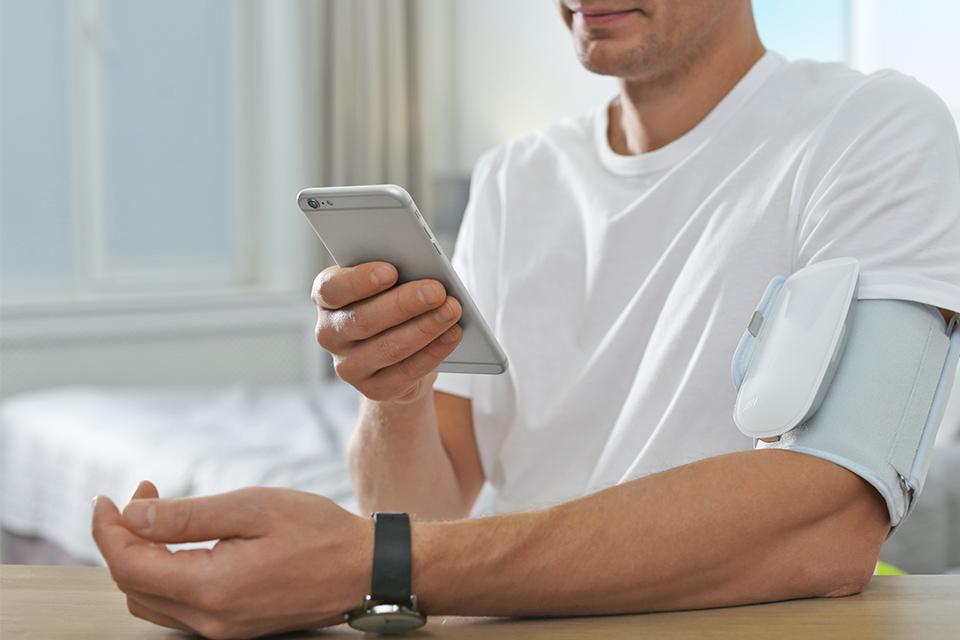 Features to look out for
Multi user: Some monitors can store readings for up to 6 people. This is really handy if someone-else in your home has high or low blood pressure.
Smartphone connection: wireless monitors automatically uploads readings to your smartphone device. This information can then be shown in easy to understand charts and diagrams.
Irregular heart detection: this handy feature looks for signs of arrhythmia, an issue with your heartbeats rate or rhythm.
How to lower your blood pressure
High blood pressure can be prevented or reduced by eating healthily, maintaining a healthy weight, taking regular exercise and drinking alcohol in moderation.
Get active & track your progress
Being active and taking regular exercise lowers blood pressure by keeping your heart and blood vessels in good condition. Regular exercise can also help you lose weight, which can also lower your blood pressure.
Adults should do at least 150 minutes (2 hours and 30 minutes) of moderate-intensity aerobic activity such as cycling or fast walking every week.
Wearable technology devices will help you set goals and track your progress.
Healthy diet
To reduce high blood pressure, eat a low-fat diet that includes lots of fibre, such as wholegrain rice, bread and pasta, and eat at least 5 portions of fruit and vegetables a day.
Salt raises your blood pressure. The more salt you eat, the higher your blood pressure. Aim to eat less than 6g (0.2oz) a day, which is about a teaspoonful.
Glucose monitors
Monitoring your blood sugar is important in managing the treatment of diabetes. You can easily test your blood sugar with a portable electronic glucose metre, which will measure the sugar level in a small drop of your blood.
Monitoring your blood sugar level
Your blood sugar level is presented as one number and measured in mmol/L. Checking your blood sugar helps make sure you stay within a healthy level and, if you are type 1 diabetic, adjust your insulin intake accordingly,
Physical activity, eating too much or too little, what you eat, illness and time of day can all affect blood sugar readings, so it's best to test regularly. A blood sugar monitor is vital for helping you better understand blood sugar levels and planning your diet and when you exercise.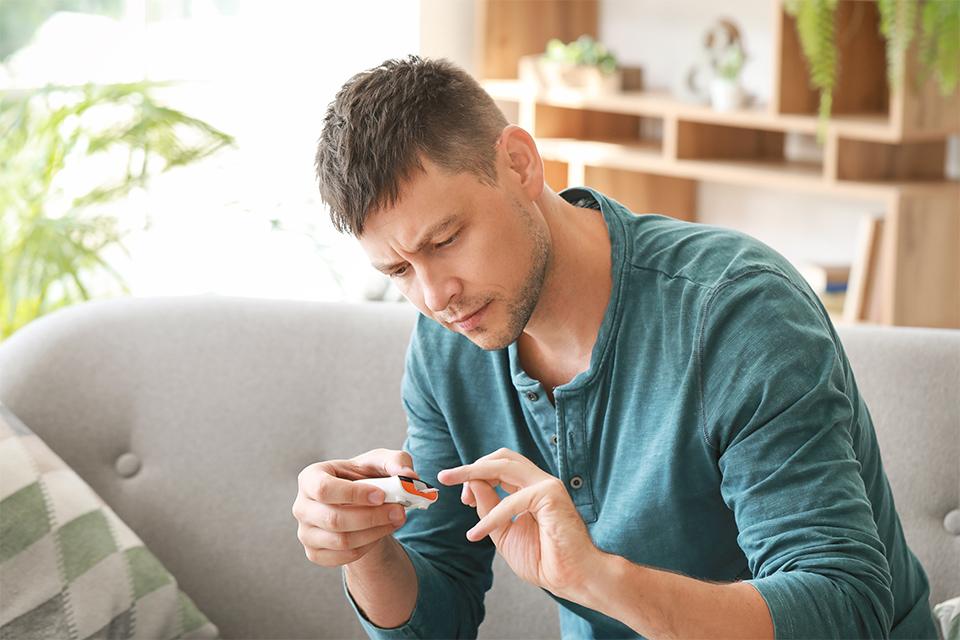 How to check your blood sugar level
Make sure your hands are warm first and wash them with soap. Slot a test strip into the metre then prick your finger to draw a small amount of blood. Take your meter with the test strip and hold it against the drop of blood, it'll alert you once the strip is filled.
Try to avoid pricking thumb or index finger, and don't prick too close to a nail. Use a different finger each time and a different area.
Smart scales
Managing your weight can be complex but using a smart scale can help give you a full picture of your body's health.
What is a smart scale?
A smart electronic bathroom scale tells you more than just what you weigh. They provide key metrics including height, body fat and body mass index (BMI) to give you a complete picture of your weight trends. This is then sent wirelessly to an app or smart device that automatically records the data.
Already use a fitness tracker? Combining your tracker with the smart scale, from the same brand can provide even more insight into how your activities, sleep, and food intake affect your weight.
Fitness trackers and wearable technology
Monitor, motivate and measure your success
Sweat it out in the gym, on the bike or in the pool with your own personal coach. With a fitness tracker you can record your workout, monitor your heart rate and even get on-screen coaching. Some trackers also record sleep and calories burned so you can get a deeper understanding of your body, health and progress.
Tried, tested and user recommended
Here to help: advice to keep you healthy
Why buy at Argos?