Headphones guide
Discover the best headphones and earphones for the way you love to listen.
Shop all headphones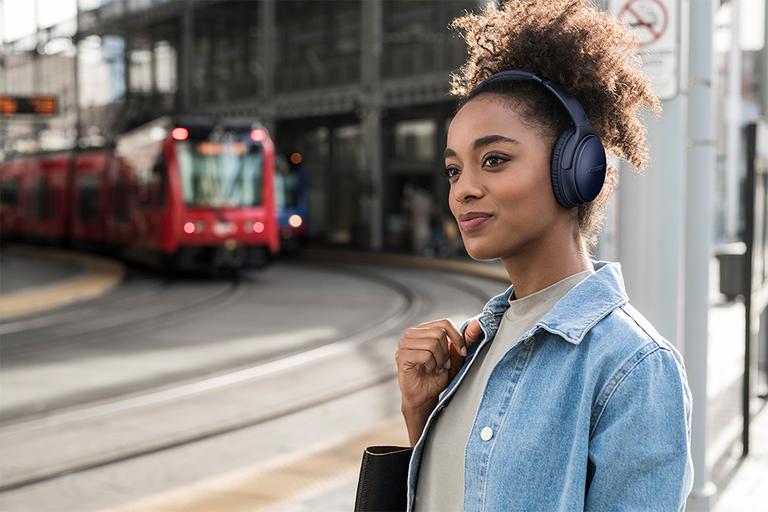 Wired, wireless or true wireless? In-ear, on-ear or over-ear? Our guide will help you discover the best headphones to suit your lifestyle.
What will you use your headphones for?
Sports, gym and running
Music can boost your workouts, but bulky headphones are best avoided. Lightweight sports headphones free you up to move more, and are often sweat or water-resistant. Many use bone conduction, sitting on your cheekbones and delivering sound straight to your inner ear rather than past your eardrum. These are ideal for when you want to run to music, but still hear passing cars or people.
Alternatively, true wireless headphones sit separately in the ear canal - never battle with tangled wires again - and are ultra-lightweight.
Work and studying
More of us are using shared work and study environments such as open offices, libraries and public spaces that can make it difficult to focus. If this is you, noise-cancelling headphones are best as they allow you to be completely immersed in your music (or favourite podcast) without distractions. What fit you choose is up to personal preference: over-ear headphones provide excellent comfort and filter out even more noise as they sit fully over your ears, while in-ear headphones allow for music without interfering with your hair.
Travelling and commuting
Whether on route to the office or going around the world, you'll want headphones that are lightweight and easy to take with you. True wireless headphones sit neatly in each ear when in use, and pack away into a case when not - the case also handily charges them. Some on-ear and over-ear headphones are foldable, and can tuck easily into your bag or luggage. You may want to invest in noise-cancelling headphones, so you can block out fellow commuters or passengers.
Music-lovers and audiophiles
Want to hear music at its very best? We've selected some of the best headphones for audio quality, in a variety of styles and fits. For home entertainment, we recommend over-ear headphones, which are considered by many to be the best for sound quality as they keep the ear surrounded and provide excellent bass response. If you don't like the look or feel of over-ear headphones, there are many in-ear and on-ear options that provide fantastic sound resolution.
Gaming headsets
Audio quality in video games is better than ever, so why not fully immerse yourself with a gaming headset? Dedicated headsets are designed with gaming in mind, so you can hear every enemy and have crystal-clear chats with friends online.
Wireless or wired headphones
True wireless headphones
Be completely wire-free with true wireless headphones, also known as wireless earbuds. Two separate earpieces sit comfortably in each ear canal or hook around the ear, and connect to your device using Bluetooth. A compact case stores the earbuds while charging them, so you can take them on your travels easily. Their lightweight design and lack of wires make them a portable, comfortable option if you don't like on-ear or over-ear ones.
See the tech features section for more benefits.
Wireless headphones
These connect to your device using Bluetooth technology, where sound is transmitted over short distances. They're portable and free you from easy-to-tangle wires. Wireless headphones come in a variety of styles from in-ear to over-ear, so you can choose your preferred fit. You will need to charge them from time to time, so check the battery life when buying. Some can connect to voice assistants like Alexa, Google or Siri allowing you to playback music, check messages and ask on the go.
Wired headphones
These come with a cable and a headphone jack, so you can plug into your device, laptop, PC, TV and much more, without the need for Bluetooth. There's also no need to charge them up, so you have no need to fear dead battery in the middle of a gaming session or busy commute. Some devices, such as recent iPhones, do not have a headphone port, so check that your phone is compatible.
Which fit would you prefer?
In-ear headphones
In-ear headphones (or earphones) sit comfortably in your ear canal, or in some cases clip onto your ear. They're much more portable as they don't have the bulk of on-ear or over-ear headphones, and won't interfere with your hair (so ideal for a morning commute).
On-ear headphones
These sit on top of your head with the cushions sat on your outer ear. Many are wireless, so are ideal for being out on-the-go. They can be more portable than the bulkier over-ear models as they're more compact and many are foldable. Their flat ear pads let outside noise in, allowing you to be more aware of your surroundings.
Over-ear headphones
These are like the on-ear headphones, but they enclose the whole ear for an immersive audio experience. They're generally considered best for sound quality, and provide good sound isolation simply by design. They are bulkier than other models due to their larger ear cups, which makes them less portable but super comfortable.
Kids' headphones
These headphones are designed with kids in mind, and are lightweight, durable and easy to take on-the-go. Most come with a volume-limiter to protect little ears.
Tech features
How do noise-cancelling headphones work?
There are actually two types: passive and active noise-cancelling. Passive noise-cancelling is when noise is blocked because of the fit of the headphones - for example, earbuds sitting in your ear canal, or over-the-ear headphones shielding your ears from noise.
Active noise-cancelling headphones have a small microphone that picks up on the noise around you and creates an opposite sound wave to cancel out that external noise.
Additional benefits of true wireless headphones
Many true wireless headphones pause automatically when not in use, or adapt to when you're speaking. Some have access to voice assistants like Siri, Alexa and Google, so you adjust the volume, manage music and look up directions on the go, while lots include an integrated microphone for hands-free calls. Touchpad technology allows you to control your music or noise-cancelling filter without using your device. Worried about battery life? Many cases have fast charge, where just a few minutes charging gives you 2 hours of battery life!
More guides and inspiration
Why buy at Argos?