Off on a jet-setting adventure? Our hand luggage guide helps you find suitcases and bags that meet your travelling guidelines.
Sainsbury's Bank Travel Money
Heading abroad? Nectar members get better rates on over 50 foreign currencies. Visit an in-store bureau or buy online today. T&Cs apply.
Cabin luggage size guidelines - shop by airline
Each airline has their own set of size restrictions and familiarising yourself with them beforehand can save you time at the airport and make it easier to pick the right sized luggage.
To get you started, we've picked out a few key measurements for certain airlines. We aim to keep these as up-to-date as possible but as they can change, please double check with your airline before you travel.
Easyjet
Small cabin bag - H45cm W36cm D20cm, 15KG weight limit.
Large cabin bag - H56cm W45cm D25cm, 15KG weight limit.
Ryanair
Non-priority customer hand luggage allowance - H40cm W25cm D20cm, no weight limit specified.
Priority customer hand luggage allowance - H55cm W40cm D20cm, 10KG weight limit.
How to measure a suitcase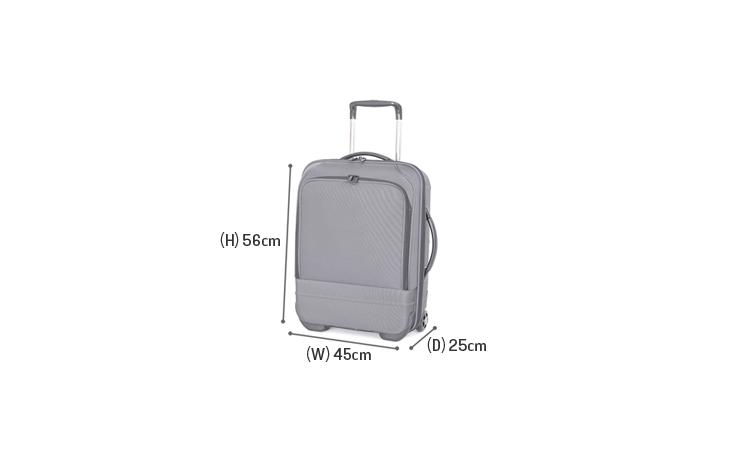 Pack your bag before measuring as the contents can sometimes bulk it out over the allowed depth measurements.
If your suitcase has an expandable width, expand it to its fullest before measuring so you have its maximum size.
Height measurements usually mean 'upright', so if you have a duffle bag, stand it on its end and measure it from one end to the other. For suitcase-style hand luggage, measure the height from the wheels to the top of the retracted handle.
Depth needs to be measured from the back of the suitcase to the side that opens for you to put your clothes in. Don't forget to expand your suitcase if it has that option.
Width is measured across from one wheel edge to another, including any side handles.
Don't forget to check weight allowance too.
Need more help with hand luggage?
Flying with another airline?
All you need to find out is the height, width and depth restrictions of the airline you are flying with. This can usually be found on their website and then all you need to do is find a case that matches the guidelines.
How do luggage guidelines work?
If your case doesn't meet the size guidelines, you could up end having to put your case in the hold, which could cost a fee and leave you without your belongings close to hand. The wheels and handle are both included in the total size of your case.
Is there a weight limit?
Some airlines impose a weight limit too, which can vary from 5kg to 23kg. Always make sure to check beforehand how much you can take and whether any additional items, like handbags and laptop bags, are included.
Which items can and can't I take in hand luggage?
The full list of hand luggage restrictions can be found on the government's website (https://www.gov.uk/hand-luggage-restrictions), including guidelines on baby food, liquids and medicine.
Children's hand luggage
Hand luggage allowances for children vary from airline to airline. Some allow parents to carry an extra hand luggage bag for infants on laps, whereas others do not. If you have paid for your child to have their own seat, they will have the same allowances as an adult. To save yourself the stress, it's worth checking your airline's restrictions before you fly.
More travel inspiration
Why buy at Argos?
Jetting off on holiday? We've got everything you need to make sure your journey is as easy to enjoy as possible. Once you know the various restrictions on luggage sizes with your airline make sure you check out our range of holdalls so you can take essentials on the plane with you in a smaller bag and keep the rest stowed in the cabin. To keep the rest of your belongings safe we have a selection of suitcases, including soft and hard-shelled cases. To make moving your luggage through the airport simple make sure you get one with wheels and an extendable handle. Our range of kids' luggage comes in a range of bright and exciting designs, including sets that feature favourite cartoon characters. Some, like the Trunki range, even double up as a seat and have wheels so tired tots can ride along with ease or play games when they get bored.

Once you're on the plane it's time to get comfy, especially if you're travelling on a long-haul flight. Grab one of our travel pillows and get some sleep on longer journeys without getting an achy neck halfway through the trip. If you're travelling with little ones we also sell travel cots, that pack down easily, so they can sleep safe and sound when you reach your hotel. Enjoy happy holidays with Argos.