Use up and down arrows to review and enter to select. Touch device users, explore by touch or with swipe gestures.
Halloween face paint ideas
Easy Halloween makeup ideas to help you create the spookiest looks.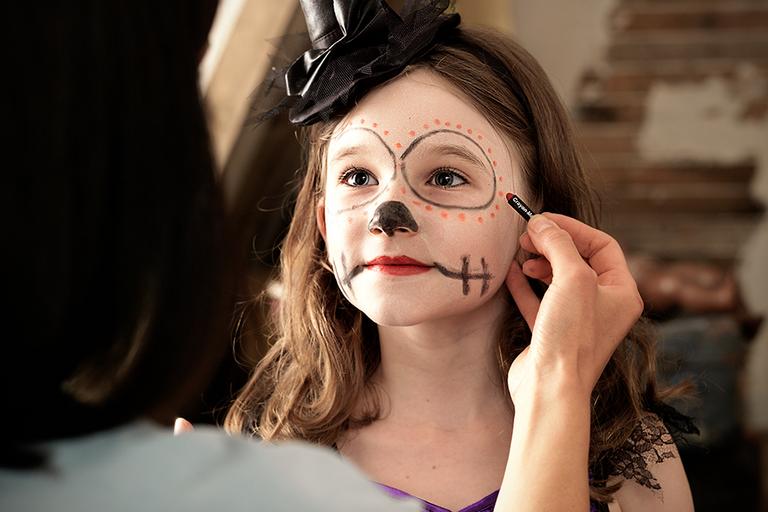 With just a few products, we'll show you how quick and easy it is to create fabulous looks for Halloween. Transform into creepy characters – from skeletons to clowns – with our selection of Halloween face paint tutorials. Which one will you try?
What you'll need
Day of the Dead makeup
Party all night
Celebrate Halloween and bring this look to life with just face paint, sponges and brushes. Add your own creative touch with different patterns, extra colour or glitter.
Quick step-by-step
Use white face paint mixed with water to create a base.
Add black face paint around your temple, under your cheekbones and chin to structure your skull.
Sponge black around your eyes for a sunken look and around your mouth, so when you add white teeth they'll stand out.
Use a thin brush and face paint, or eye liner, to draw decorative patterns around your eyes, temple and chin.
Paint white teeth over the black paint around your mouth, then add black detail in between to define them.
Use coloured face paints for extra detail.
Halloween witch makeup
Accio sparkle
Keep calm and carry your wand (or makeup brush). This easy but effective makeup look is quick to create and perfect for any wicked witch.
Quick step-by-step
Start by applying black eye shadow or face paint to your eyelids, and a little underneath your eyes.
Blend green eyeshadow or face paint above the black, into your brow and out towards your temple.
Use a thin brush and paint decorative lines around your eyes.
Add more lines with green gel.
Paint your lips black with face paint or use your own lipstick.
For extra effect apply black glitter on top of your lips and on top of the green lines around your eyes.
For a glam finish, dot gems around your face and add false lashes.
Skull makeup
Spooky skeleton
Go all out with our scariest skeleton. Add extra detail with cracks, bones and teeth to really emphasise your deadly appearance.
Quick step-by-step
Mix the blue face paint with water and cover your face to create a base.
Highlight cheekbones and your hairline by blending white face paint with a sponge.
Use black face paint around your eyes, adding details such as lines and cracks as you go.
Continue with the black face paint to paint on jawbones either side and extra definition around your hairline.
With the white face paint and a thin brush, highlight areas such as your nose. cheekbones and teeth.
Add black paint in between your painted teeth for further definition.
Finish the look by dabbing glow in the dark paint to the white parts of your face.
Clown Halloween makeup
Wait for the punch line
Cute or creepy? You decide. Have fun clowning around this Halloween with this easy face paint design. Add in some messy bunches to complete the look.
Quick step-by-step
Create a base with white face paint and a sponge.
Darken under and around your eyes with a brush and black face paint.
Add further definition by painting your eyebrows black.
With the red face paint, apply clown details above and below your eyes.
Don't forget your classic red nose and lips - you can either use lipstick or red face paint here.
Paint alternating red and black stripes from your collarbone up to your jaw.
Using black face paint (and a stencil if you have one), add black stars onto the red stripes on your neck.
With the black face paint and a thin brush, add further detail such as eyelashes underneath your eyes and extend your smile.
Fancy dress costumes
Fancy dress for kids
From superheroes to super scary, our fancy dress costumes are sure to make Halloween a scream!
Fancy dress for adults
Don't let the kids have all the fun! Our range of adult fancy dress costumes will have you looking the part.
Eerie extras
Why buy at Argos?
Halloween face paint ideas
Bring your costume to life with our haunting Halloween face paint ideas, whether you're planning on being a scary yet stylish skeleton, a wicked witch or a creepy clown. Whatever you decide to dress up as this Halloween, let us help you get inspired with our horrifying Halloween face make up tips and tutorials.
Day of the Dead makeup
The Day of the Dead is a Mexican holiday that has taken the world by storm. Although Día de los Muertos is traditionally a spiritual and meaningful holiday celebrated by friends and family to honour the dearly departed, the iconic decorated skull known as Calavera Catrina or "elegant skull" has become a worldwide Halloween trend. We've got a handy makeup brush set and our trusty Technic makeup range to help you get the arty skeleton look just right. Get one of our makeup bags to keep all your tools organised ready for the next time you might need a quick disguise.
Wicked witch Halloween makeup
No rest for the wicked when it comes to this witchy Halloween look. Thankfully we've got the perfect eyeshadow pallette to help you achieve this glamorously grim look. Whether you're going for a mean green shade to match your attitude, a purple shadow to match your poisonous potions or even a rusty brown to colour coordinate with your broom, feel free to mix, blend and (s)witch things up. Check out our women's Halloween costumes to find the perfect outfit to go with your witchy look.
Scary skull face paint
A classic Halloween look that'll truly spook and scare, our skull makeup tutorial is perfect for those going as the living dead. No fancy frills just skull and bones means you can easily achieve this look with our Halloween face paint range. Transform the whole family into walking skeletons with child friendly face pens and paint kits. Check out our kids' Halloween costumes to help your child complete their spine tingling skeleton look.
Creepy clown Halloween makeup
Whether you're going for comedy, cute or creepy, our clown Halloween makeup is truly versatile. We've got fun Halloween face paint ideas to help you embody an evil jester, a carnival run-away or funny circus clown. The possibilities are endless. As we all know, clowns pop up any time of the year and so do our other fun costumes, perfect for dressing up at home or the ultimate fancy dress for kids' parties and special events.
If you really get stuck with using makeup we've got the perfect solution. Our Halloween masks are a great alternative if you or your little one don't have the patience to get their face makeup done. You can easily pop your monster mask on and get on with your spooky activities, no fuss no mess.