Go get baking
Whether you're just starting out or an experienced baker, find everything you need to create a showstopper right here. So what are you waiting for? Ready, steady...bake!
Baking for beginners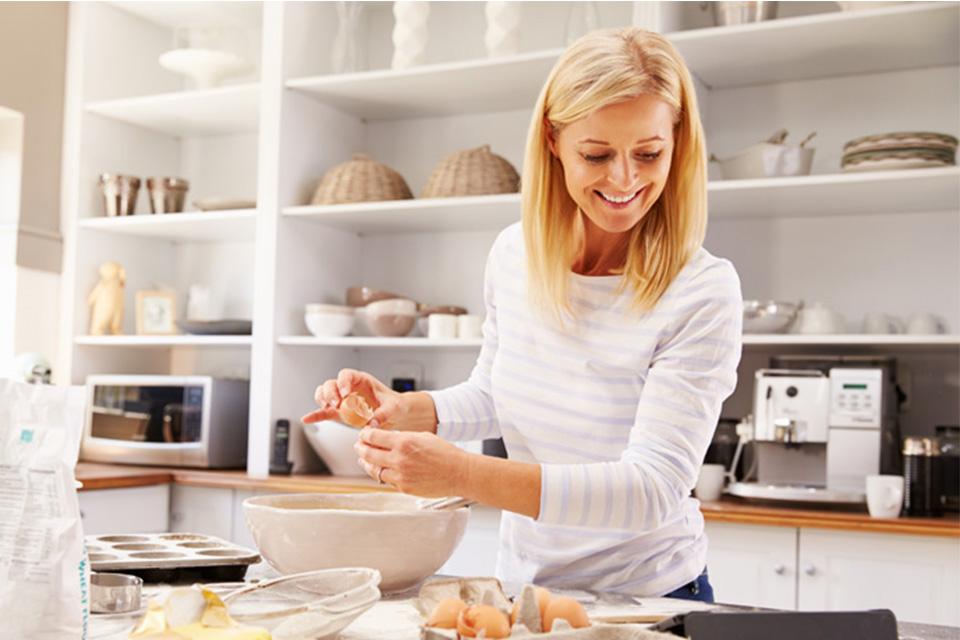 Best for budding bakers
Want to try baking, but unsure where to begin? We have the kitchen kit you'll need to begin your baking journey.

Grab a tin for a big Victoria sponge or a muffin tray for smaller treats, and don't forget a wire rack to let your creations cool down.
Sainsbury's Jammy Fairy Cakes
Impress your guests with easy cupcakes, and a sweet surprise.
Baking enthusiasts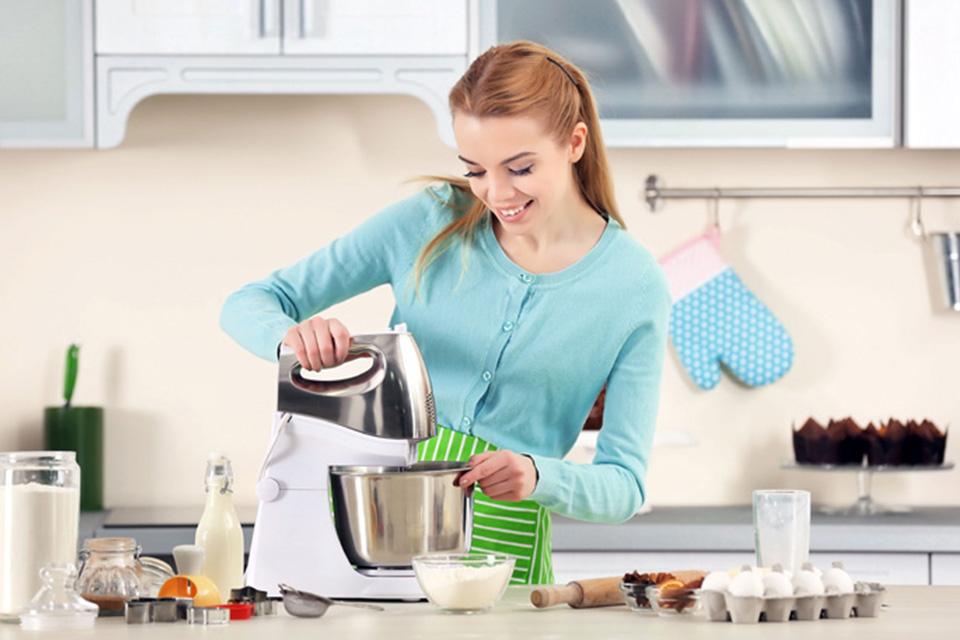 Mix it up
If you've mastered the basics and feeling inspired to try something new, upgrade your baking equipment with these helpful assistants.

Get more done with appliances such as stand mixers and blenders, that can mix ingredients whilst you crack on with the next step.
Sainsbury's nutty banana bread
Ideal for lunchboxes or a tasty snack, and perfect for boosting your bread baking skills.
Smart kitchen
Smart appliances
Control your kitchen with smart appliances. Pre-heat your oven while out, before checking the fridge camera for missing ingredients. After baking, tell the dishwasher what you're putting in and how dirty it is to get the perfect cycle.
Smart speakers
No more grubby fingerprints on recipe books or tablets. Have a smart speaker take you through a recipe step-by-step, plus get them to help with measurement conversions and set a timer.
Baker's corner
Baking electricals and equipment.
Baking brands
Easter baking
Looking for something to do with the kids, or taking a dish to an Easter party? Sainsbury's have provided 3 easy, and oh-so-yummy, recipes everyone will love.
Surprise pinata cake
Hidden egg-tras
Sometimes the simple surprises are the best, and it couldn't be easier than Sainsbury's mini-egg filled chocolate cake. A tasty treat for any Easter celebration.
What you'll need:
350g Stork spread
350g caster sugar
6 large eggs
300g self-raising flour
1 tsp baking powder
50g cocoa powder, plus extra for dusting
100g dark chocolate
284ml Elmlea light double cream
296g Cadbury Mini Eggs
Prep time: 25 mins
Cooking time: 30 mins
Serves: 12
Method:
1. Heat the oven to 180C, fan 160C or gas mark 4. Grease 3 x 20cm round sandwich tins and base-line with baking paper.
2. In a large bowl, mix together the Stork spread, sugar, eggs, flour, baking powder and cocoa powder. Mix with an electric mixer for 2-3 mins, until smooth and creamy.
3. Divide the mixture between the tins and level the surface. Bake for 25-30 mins until risen and springy to touch. Cool in the tins for 5 mins, then turn out onto a wire rack.
4. For the icing, melt the chocolate in a heatproof bowl set over a pan of simmering water. Once melted, cool for 5 mins.
5. Whip the Elmlea in a bowl until it can hold soft peaks. Fold in the melted chocolate and chill for 15 mins.
6. Cut out a 12cm circle from the centre of one of the cakes. Place one whole cake on a serving plate and cover the edge with icing. Add the cut-out cake on top and fill the centre with ¾ of mini eggs.
7. Spread more icing around the edge of the middle cake then add the final cake on top. Cover the edge and top with icing, smoothing with a palette knife.
8. Decorate with the remaining mini eggs and dust with cocoa powder.
Gluten-free hot cross buns
Let's hop to it
You won't taste the difference with this classic Easter treat. We love ours warm from the oven, smothered in butter and jam. But you know, whatever takes your fancy.
What you'll need:
300ml milk, plus 6 tbsp extra
50g butter
500g gluten-free bread flour, plus 3 tbsp extra flour
¼ tsp salt
75g caster sugar, plus 2 tsp extra
7g dried yeast
1 ½ tsp gluten-free baking powder
2 ½ tsp xanthan gum
1 medium egg, beaten
1 tsp vegetable oil
100g currants or sultanas
50g mixed peel
3 tsp mixed spice
1 tsp cinnamon
¼ tsp ground ginger
¼ tsp ground cloves
1 apple, grated
1 orange, zested
2 tbsp smooth apricot jam
Prep time: 30 mins
Cooking time: 30 mins (plus 1 hour for proving)
Makes: 9
Method:
1. Heat 300ml of milk in a saucepan until steaming, then turn off the heat, add the butter and leave to melt.
2. Mix together the 500g flour, salt, 75g sugar, yeast, baking powder and xantham gum. Once the milk is lukewarm, pour into the mixture with the egg and combine together.
3. Lightly oil a large bowl and place the dough in it. Cover with clingfilm and leave to rise for an hour or until it doubles in size.
4. With your hands, mix the currants, mixed peel, spices, grated apple and orange zest into the dough.
5. Divide the dough into 9 pieces and space out in a large tin. Cover with clingfilm and leave to prove in a warm area for about an hour, or until puffed up.
6. Preheat the oven to 180C, 160C fan or gas mark 4.
7. Combine the extra 3 tbsp gluten-free flour with the 4 tbsp extra milk and place in a piping bag.
8. Once the buns have proved, pipe crosses with the flour mixture over the top and bake for 15 mins. Mix the extra 2 tbsp milk with the extra 2 tsp sugar and brush over the buns. Return to the oven for 15-20 mins or until golden.
9. Whilst they cool on a wire rack, warm the apricot jam in a saucepan with a splash of water. Brush this over the bun and serve.
Easter millionaires shortbread
Something to share
An egg-cellent recipe for adults and kids to tuck into. With the delicious combo of chocolate, sticky caramel and crisp shortbread biscuit, they make the ultimate Easter snack.
What you'll need:
For the shortbread:
150g plain flour
50g caster sugar
150g cold unsalted butter, plus extra for greasing
1 tsp vanilla bean paste
For the caramel:
405g tin light condensed milk
80g unsalted butter
2 tbsp golden syrup
50g light brown sugar
50g micro eggs, chopped
For the topping:
200g dark chocolate
50g micro eggs, chopped
Prep time: 25 mins
Cooking: 30 mins (plus chilling)
Makes: 25
Method:
1. Grease a 20cm square cake tin and line the bottom and sides with baking parchment.
2. For the base, mix the flour and sugar together in a bowl. Add the butter and vanilla, mixing together until it resembles sandy breadcrumbs.
3. Pour the mixture into the tin and pack down lightly until level. Chill for 30 mins.
4. Preheat your oven to 180C, 160C fan or gas mark 4. Once the biscuit base is chilled, bake for 30 mins until golden, then allow to chill.
5. For the caramel, put all the ingredients apart from the micro eggs into a saucepan, over a medium heat. Bring to the boil and stir for 5-6 mins until thickened and slightly darker in colour.
6. Remove from the heat, add your micro eggs and pour over the cooled shortbread. Chill in the fridge for 30 mins.
7. Put the chocolate in a heatproof bowl set over a saucepan of simmering water and stir until melted. Don't let the water touch the bowl as the chocolate might seize.
8. Allow to cool for 5 mins before pouring over the caramel. Scatter micro eggs on top and set for 20 mins.
9. Cut into 25 squares and serve.
Baking tips
Why has my cake peaked and cracked?
Your oven is probably too hot or you may have placed the tin too near the top of the oven. Cracking can also happen if you overfill the tin so make sure you've got the right size for the mixture.

Why has my cake sunk?
You may have added too much raising agent. Measure your baking powder or bicarbonate of soda carefully before adding.

Why are the sides of my cake burnt?
The cake tin may not have been lined properly or you may have greased it too much. Or, your oven may have been too high.
Top tip: When baking sponge, wrap the outside of the tin with a wet tea towel and tie with string to stop the edges from burning and to achieve a nice even rise.

Why is my cake dense?
This is usually because the cake mixture didn't have enough air beaten into it. Try an electric whisk to get more of a light and fluffy texture. Be careful when folding in ingredients as you don't want to knock the air out.
Kitchen inspiration
Why buy at Argos?