Go get baking
Whether you're just starting out or an experienced baker, find everything you need to create a showstopper right here. So what are you waiting for? Ready, steady...bake!
Baking for beginners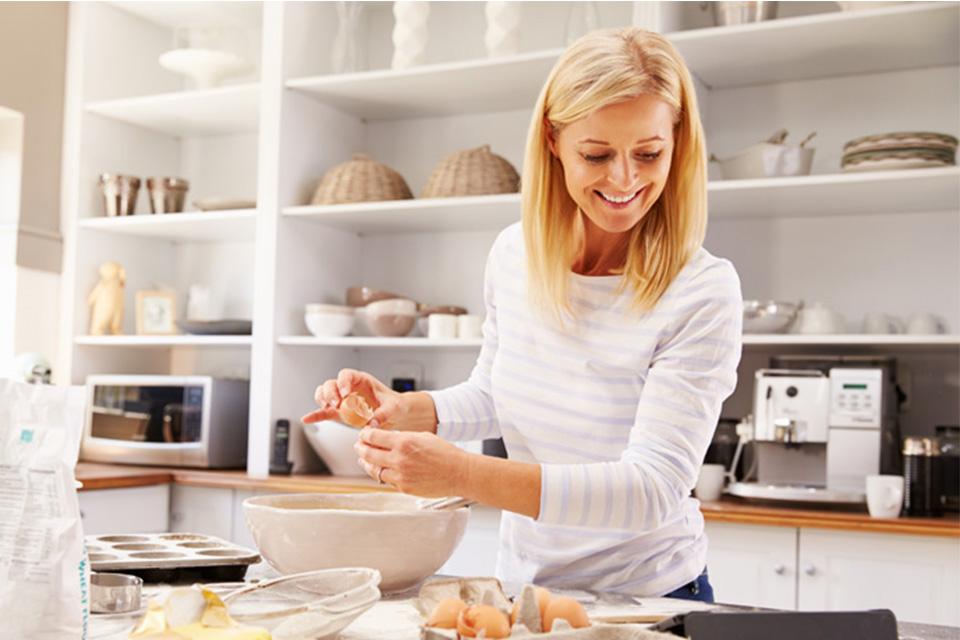 Best for budding bakers
Want to try baking, but unsure where to begin? We have the kitchen kit you'll need to begin your baking journey.

Grab a tin for a big Victoria sponge or a muffin tray for smaller treats, and don't forget a wire rack to let your creations cool down.
Sainsbury's Jammy Fairy Cakes
Impress your guests with easy cupcakes, and a sweet surprise.
Baking enthusiasts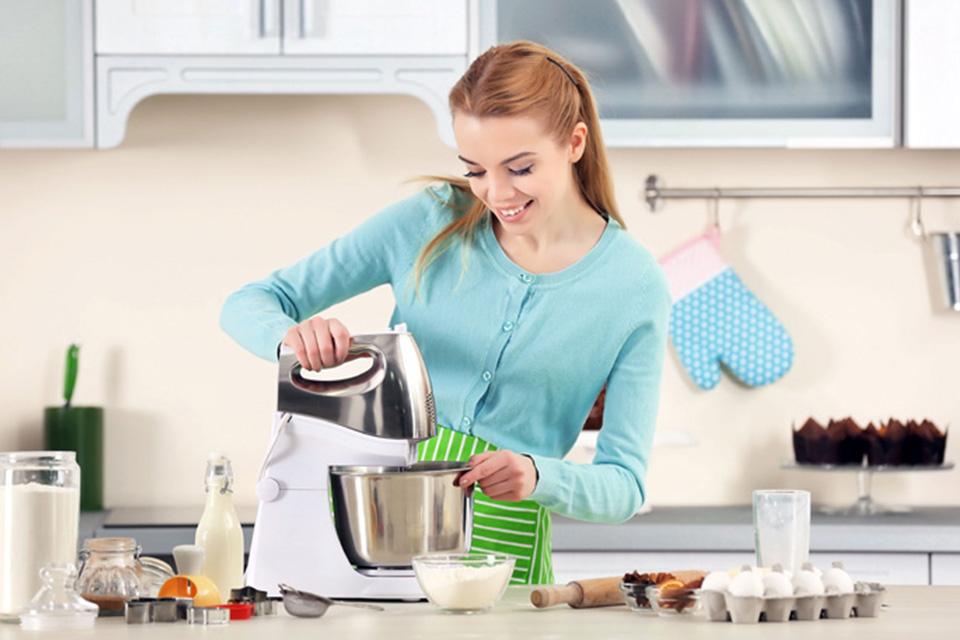 Mix it up
If you've mastered the basics and feeling inspired to try something new, upgrade your baking equipment with these helpful assistants.

Get more done with appliances such as stand mixers and blenders, that can mix ingredients whilst you crack on with the next step.
Sainsbury's nutty banana bread
Ideal for lunchboxes or a tasty snack, and perfect for boosting your bread baking skills.
Smart kitchen
Smart appliances
Control your kitchen with smart appliances. Pre-heat your oven while out, before checking the fridge camera for missing ingredients. After baking, tell the dishwasher what you're putting in and how dirty it is to get the perfect cycle.
Smart speakers
No more grubby fingerprints on recipe books or tablets. Have a smart speaker take you through a recipe step-by-step, plus get them to help with measurement conversions and set a timer.
Baker's corner
Baking electricals and equipment.
Baking brands
Home baking recipes
Enjoy time in the kitchen and give your master baker skills, something to get their teeth into.
Confetti crumb cake
Add a little colour into your bake, and a smile on your face, with a rainbow inspired (and extremely tasty) cake.
What you'll need:
Ingredients:
For the cake:
335g softened unsalted butter, plus extra for greasing
335g caster sugar
3 medium eggs
335g self-raising flour
5 tbsp milk
2 tsp vanilla paste
3 tbsp sprinkles
For the confetti crumb:
30g butter
50g flour
20g caster sugar
2 tbsp rainbow sprinkles
For the buttercream:
300g softened unsalted butter
450g icing sugar
1 tsp vanilla paste
Prep time: 50 mins
Cooking time: 35 mins
Serves: 23
Method:
1. Preheat your oven to 180C or gas mark 4. Grease and line three 18cm round cake tins.
2. Place the butter and sugar into a bowl and use a mixer to beat together until light and fluffy. Add the eggs one at a time, beating between each one.
3. Sift the flour into the mixture and carefully fold it in. Add the milk and vanilla paste and stir through. Then carefully fold in the sprinkles.
4. Divide the mixture evenly between the three cake tins, levelling the surfaces. Bake for 25-30 mins, or until a skewer inserted into the middle comes out clean.
5. Leave to cool in the tins for 15-20 mins, before allowing to cool completely on a wire rack.
6. To make the confetti crumb, in a bowl, rub the butter into the flour until you have coarse crumbs. Add the sugar and sprinkles and stir to combine.
7. Spread the mixture on a baking tray, lined with greaseproof paper, and bake for 10-15 mins until golden. Leave to cool.
8. For the buttercream, add your butter to a bowl and use a mixer to beat until soft. Add half the icing sugar and mix in. Add the remaining icing sugar and vanilla paste, until combined.
9. Level each of your cakes so they're even. Spread a third of the buttercream on the top of one cake and sprinkle over a third of the confetti crumb. Top with another cake and repeat.
10. Swirl the remaining buttercream and confetti crumb on the top and around the sides of your cake. Serve and enjoy.
Deliciously easy scones
Served with a cup of tea, you won't be able to resist these spring scones. But what goes first, the jam or the cream?
What you'll need:
Ingredients:
350g self-raising flour, plus extra for dusting
1 tsp baking powder
85g unsalted butter, cubed
3 tbsp caster sugar
175ml semi-skimmed milk
1 tsp vanilla extract
½ tbsp lemon juice
1 medium egg, lightly beaten
115g clotted cream
100g strawberry jam
Prep time: 10 mins
Cooking time: 15 mins
Serves: 6
Method:
1. Preheat your oven to 220C or gas mark 7.
2. Place the flour, baking powder and a pinch of salt into a large bowl. Rub the mixture between your fingertips until it resembles fine breadcrumbs, then add in the sugar.
3. In another bowl, mix together the milk, vanilla extract and lemon juice. Use your hands to create a well in the dry mixture. Pour in the milk mixture and bring together with a knife.
4. Place the dough on a lightly floured surface and gently knead until slightly smoother. Roll out to a thickness of 3cm.
5. Using a 6-7cm cutter, cut out 4 scones. Bring the remaining dough together and repeat until you have 6 scones.
6. Lift the scones on to a lightly floured baking tray. Brush the tops with egg and bake for 12-15mins, until golden.
7. Cool slightly, cut in half and serve with jam and clotted cream…yum!
Blueberry and lemon cheesecake pots
Get your taste buds round these summery flavours. With fresh fruit and homemade, zesty lemon curd.
What you'll need:
For the curd:
3 medium eggs
75g caster sugar
125ml lemon juice
1 tbsp lemon zest
125ml virgin olive oil
For the cheesecake:
250g blueberries
2 tbsp lemon juice
2 ½ tbsp caster sugar
40g lemon shortbread thins
15g unsalted butter, melted
200g light cream cheese
75ml whipping cream
1 tbsp lemon zest
Prep time: 30 mins, plus cooling time
Cooking time: 15 mins
Serves: 4
Method:
For the curd:
1. Add the eggs, sugar, lemon juice and lemon zest into a blender. Whizz on a high speed until smooth and frothy, then slowly pour in the olive oil whilst it's still mixing.
2. Place a heatproof bowl over a pan of simmering water and add the mixture. Keep stirring until it starts to thicken. Then use a whisk to reduce the consistency. This usually takes about 10 mins.
3. Allow the mixture to cool, cover with clingfilm and leave in the fridge for 3 hours.
For the cheesecake:
1. Add half the blueberries, lemon juice and 1 ½ tbsp caster sugar to a saucepan. Bring to the boil and simmer on a low heat for 2 mins. Stir occasionally, until thickened – some of the berries will burst. Leave to cool and move to the fridge.
2. Pop the shortbread into a bag and crush into fine crumbs with a rolling pin. Place into a bowl and add the melted butter until completely covered. Move to the fridge.
3. Use a mixer to beat the cream cheese with the remaining 1 tbsp of caster sugar. Then beat in the cream until combined and smooth.
4. Once everything has chilled, layer into your serving glasses along with the lemon olive oil curd, remaining blueberries and lemon zest.
Baking tips
Why has my cake peaked and cracked?
Your oven is probably too hot or you may have placed the tin too near the top of the oven. Cracking can also happen if you overfill the tin so make sure you've got the right size for the mixture.

Why has my cake sunk?
You may have added too much raising agent. Measure your baking powder or bicarbonate of soda carefully before adding.

Why are the sides of my cake burnt?
The cake tin may not have been lined properly or you may have greased it too much. Or, your oven may have been too high.
Top tip: When baking sponge, wrap the outside of the tin with a wet tea towel and tie with string to stop the edges from burning and to achieve a nice even rise.

Why is my cake dense?
This is usually because the cake mixture didn't have enough air beaten into it. Try an electric whisk to get more of a light and fluffy texture. Be careful when folding in ingredients as you don't want to knock the air out.
Kitchen inspiration
Why buy at Argos?