Gift experiences and activity days
Thrill, Pamper, indulge and delight loved ones with unique gift experiences and activity days.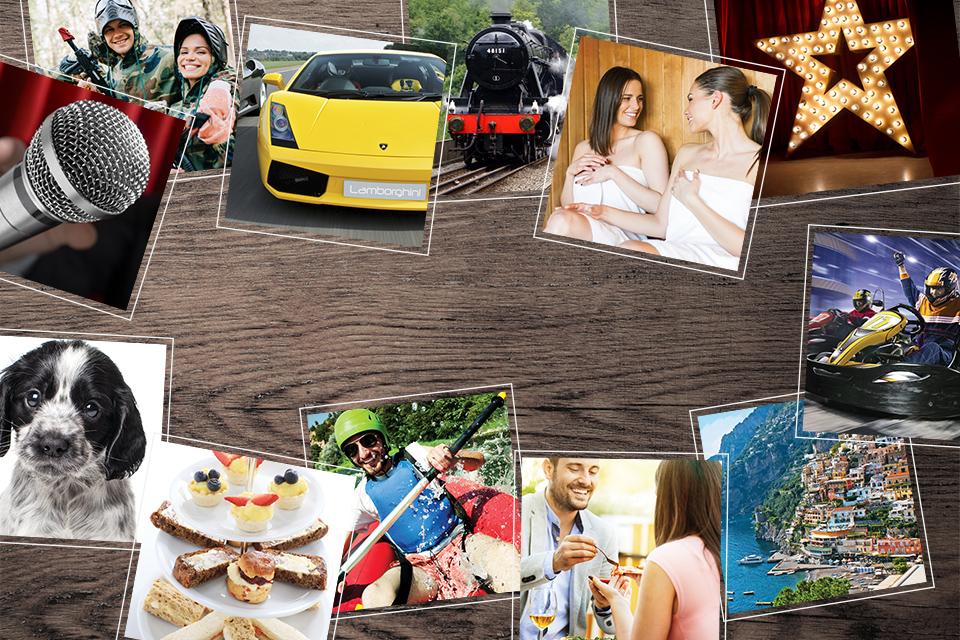 Buy with confidence
All our experience day sites have precautions in place to keep you Covid-safe when you visit. And for added peace of mind, all our gift cards are valid for 12 months from point of purchase, so you have plenty of time to use them. If you'd like a bit more information, take a look at our 'here to help' section.
Valentine's Day - Looking for something special?
From chilling with a pamper day to thrilling on a racing track, treat the special person in your life with a gift they deserve.
Perfect presents
Looking for inspiration?
Adrenaline moments
Plunge through raging rapids, race around the track or soar high in the sky. Get their blood pumping and heart racing with experiences sure to thrill.
Spa & pamper
Soothing spa breaks, relaxing retreats and pamper sessions. For the ultimate escapism, take a look at our gifts that let them truly unwind.
Food & drink
A gourmet gift to delight their taste buds. From decadent 3 course dining to wine tasting and chocolate making, browse our tastiest treats.
Sports fans
Let them learn from the pros or walk in the footsteps of their sporting heroes with stadium tours. Find fun-packed activities perfect for any sports lover.
Something different
Left field experiences that they're sure to love. Surprise someone with something that they'll never forget.
Check out some of our top experiences
Seeing is believing - delve into two of our most popular activities and get a true feel of the experience.
Helicopter Buzz
Nothing else comes close to the thrilling sensation of a swift, vertical flight in a helicopter.
Paintball
Prepare for team tactics to be put to the ultimate test with an action-packed day of paintball.
4 steps to the perfect gift
Step 2
Follow the online steps to register your details and enter the Activation Number (found on the front of your voucher), then follow the security steps.
Step 3
You will then receive a Voucher Number. Write this on the space provided in your pack and keep it safe.
Step 4
On-screen booking information will also be sent to your email. Follow the step-by-step to choose your location and date.
Here to help
How long is my voucher valid for?
The expiry date is shown on each voucher. You will need to have validated, booked and attended your experience prior to the expiry date.
What if I've lost the receipt?
Send your activation number with your full address and contact telephone number to the following email address: fun@activitysuperstore.com
Can I change experiences?
Your voucher can only be exchanged twice and there is an admin cost for the second exchange. The voucher's expiry date will stay the same. For more information call 0371 384 1800.
Can I extend my voucher?
You can extend your voucher for a further six months for an administration fee of £20. This must be done whilst the voucher is valid. For more information call 0371 384 1800.
Why buy at Argos?