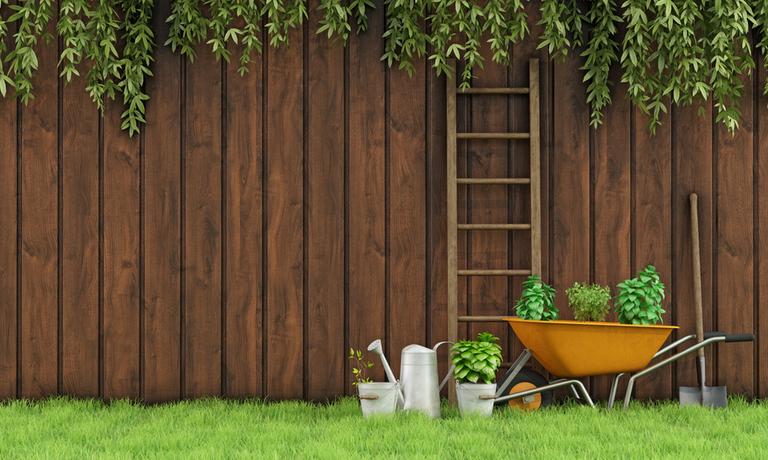 Fencing is a quick and effective way to transform your garden. And with so many different styles and ideas, it's easy to get started…
Different types of fences
Fence panels
Traditional wooden fences not only add protection and privacy to your property, they also help structure your garden. Use them as a canvas to add colour, or you can simply leave them as they are.
Trellis
A cost-effective way to decorate your boundaries. They're ideal to hang pretty fairy lights or outdoor accessories from, and they'll encourage climbing plants to grow, creating a beautiful flower feature.
Screening fencing
By using natural materials such as reeds, you can create a softer barrier. They're also easier to shape and fit any space. So, you can create a private spot anywhere you'd like.
Flowerbed fencing
Add the finishing touch to any garden with a mini fence. Borders are ideal for supporting flower beds, shaping the landscape or simply adding delicate detail to your space.
Fence decorating ideas
Give your garden a fence-lift. Paint on your favourite colour, hang up some beautiful blossoms and scatter accessories, to create your own piece of paradise.
Coloured fence panels
Spruce up your garden fencing with a splash of paint. Lighter colours are great for enlarging smaller gardens. Or try darker shades, so the colours of your plants can pop.
Fairy lights for garden fences
String fairy lights around your fencing, to create a warm and cosy glow. By using solar lights, you can keep your garden bright, even on the darkest of nights.
Finishing touches
Accessorise your fences by hanging some pots and plants, or scattering decorative ornaments. It's these extra little details that can really bring your garden to life.
Popular products
Fence installation
Top tips for putting up a fence
Check your boundaries - Make sure you're adding fences to your own land. Or talk with your neighbour about putting up a joint fence (and split the cost). You'll also need planning permission for fences over 2m high.

Safety first - Before you start, check for any hidden pipes or cables as you may need to rethink your layout. Invest in the right tools and double check your measurements to save yourself time, money and effort. An extra pair of hands are always helpful too.

Fence posts - There are two main options – concrete posts are tricky to put up but will provide more support. Whereas wooden posts are easier to move but run the risk of rotting as they're buried into the ground. Post supports can help strengthen and secure your fence.
Garden fence treatment
It's recommended to treat dry fences at least once a year. This will help protect them from unpredictable weather, and keep them looking their best for longer.
Garden inspiration