The biggest releases right now, and the most exciting pre-orders on the horizon.
Get ready to play
Mario Kart Live: Home Circuit
Ready, set, go! Turn your home into your very own Mario Kart circuit, complete with all the fun of red shells and mushrooms. Make the course, start the race and watch the drama unfold on on your TV or Nintendo Switch.
Oculus Quest 2
Explore awe-inspiring games and experiences with Oculus Quest 2 - the most advanced Oculus yet. With a blazing fast processor, next-gen graphics and unparalleled freedom, Quest 2 brings more VR to you and more of you into VR.
Crash Bandicoot 4: It's About Time
Get excited for a brand-wumping new Crash Bandicoot game! Neo Cortex and N. Tropy are back at it again and launching an all-out assult on the entire multiverse. Crash and Coco are here to save the day by reuniting the four quantum masks and bending the rules of reality. Take on ridonklulus bosses and alternate dimensions now on PS4 and Xbox One.
Star Wars: Squadrons
Master the art of starfighter combat in this authentic Star Wars piloting experience. Buckle up and feel the adrenaline of first-person multiplayer space dogfights alongside your squadron. Step into the starfighter cockpits from both the New Republic and Imperial fleets and fight 5 vs. 5 space battles on PS4 and Xbox One.
FIFA 21
Enjoy even bigger victories together than ever before with fresh features in VOLTA FOOTBALL and FIFA Ultimate Team. Whether it's on the streets or in the stadium, discover more ways to play - including the UEFA Champions League and CONMEBOL Libertadores. Win as one from 9 October on PS4 and Xbox One.
Super Mario 3D All-Stars
Discover 3 of Mario's grandest 3D adventures, all in 1 star-studded collection. This special bundle includes Super Mario 64, Super Mario Sunshine and Super Mario Galaxy, all optimised for Nintendo Switch with updated Joy-Con controls and HD graphics. Explore Princess Peach's castle, hit the beach and blast off on an intergalactic quest.
WWE 2K Battlegrounds
The world of WWE is your battleground with all-new, over the top, in-your-face arcade action as your favourite WWE Superstars and Legends battle it out in outlandish interactive environments around the world. Compete with your friends in your favourite match types with an arsenal of exaggerated manoeuvres, special abilities, and devastating power-ups on PS4 and Xbox One.
Assassin's Creed Valhalla
Wars will rage. Kingdoms will fall. This is the age of the Vikings! In the latest edition of the award-winning Assassin's Creed series, you are a fierce Viking warrior leading your clan to the rich lands of England's Dark Ages. Write your Viking saga from 10 November on PS5, Xbox Series, PS4 and Xbox One.
Top picks
PlayStation 5 & PlayStation 5 All-Digital
Expect lightning-fast loading, incredible graphics, backwards compatibility and stunning, fully immersive games thanks to ray tracing and fluid high-frame-rates with the new PS5 and PS5 digital edition. Pre-order now, launching 19 November.
Sign up to find out when we will have more PlayStation®5 stock.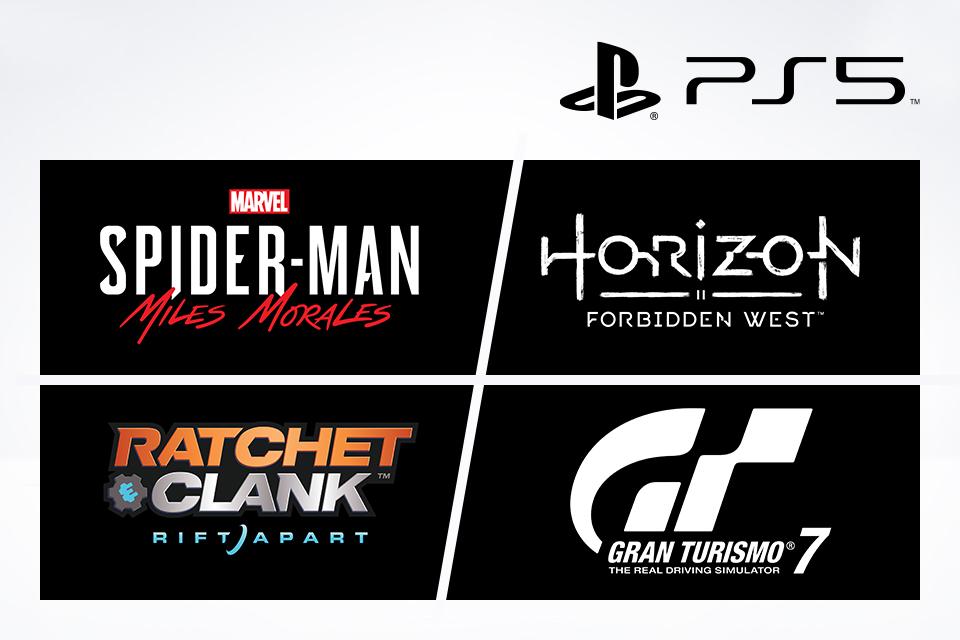 New titles coming to the PlayStation 5
Sony have announced lots of exciting new titles for the PS5, with their standouts being two sequels to best-selling games. Web-sling your way through New York in Spider-Man: Miles Morales and battle against robot dinosaurs in Horizon: Forbidden West.
Also returning are fan favourites Ratchet and Clank in a brand new adventure and return to the race track with Gran Turismo 7. All of these titles and more will be available exclusively on the PS5.
Xbox Series X & Xbox Series S
Experience next-gen gaming: backwards compatibility, incredibly fast load times, seamless game switching, in two powerful new Xbox consoles. Pre-order now, launching 10 November.
Sign up to find out when we will have more Xbox Series X & Xbox Series S stock.
Xbox Series X games showcase
Get an exciting preview of titles to be available on the Xbox Series X, including Fable, State of Decay 3, Ori & The Will of the Wisps, Psychonauts 2, Forza Motorsport, Destiny 2: Beyond Light, and of course, Halo Infinite.
The Xbox Series X and S launches 10 November.
Unmissable games
Take home brand new releases, discover hidden gems and pre-order upcoming games today.
Pre-order by console
Gaming guides and more
Why buy at Argos?
Plan ahead
Whether you're into shooters, RPGs or sports games, there's loads coming up to be excited about. We've got all the notable releases for PS4, Xbox One and Nintendo Switch, as well as selected big titles for PC – definitely something to think about when planning your Christmas gifts. The only thing better than new games are bundles of consoles, games and accessories. We sell many throughout the year but keep an eye out on Cyber Monday for some unbelievable prices.
If you're buying for someone who has games covered, help make their experience better in other ways. Gaming chairs are particularly pragmatic as they improve posture, increasing comfort and reducing cramps and pains. And for serious immersion, why not consider a Gaming headset to make online gaming even more epic.
Complete your gaming setup with the best viewing experience, including OLED TVs, which offer superior quality and colour contrast. If you're unsure of the details, check out our TV guides and advice. Of course, you can't beat the immersion of VR so find out what all the hype is about this Christmas with our VR headsets, games and starter kits.