The biggest releases right now, and the most exciting pre-orders on the horizon.
Get ready to play
FIFA 20
The World's Game brought to life: live the prestige of the professional stage and experience all-new authentic street football with EA Sports Volta. Powered by Frostbite, the gameplay has been given a complete rethink with Football Intelligence to elevate every moment on the pitch. Break new ground and express your style in football playgrounds all over the world on PS4, Xbox One and Nintendo Switch.
Tom Clancy's Ghost Recon: Breakpoint
Injuries that'll leave you limping, deadly enemies as well trained as you and no AI companions to help you: the newest Ghost Recon has clearly taken a page from survival games. Play solo or with up to three friends online as elite soldiers on PS4 and Xbox One from 4 October.
The Legend of Zelda: Link's Awakening
26 years after its original release on Game Boy, Link's Awakening has come to the Nintendo Switch with a gorgeous new art style. Not only do we get the classic adventure with its mysterious island setting, but there's a creative dungeon builder too!
Borderlands 3
Prepare for an all-new mayhem-filled adventure! The shoot-and-loot gameplay you love, with new worlds, new baddies and new weapons (does a gun with legs sound good to you?). Pick a Vault Hunter that suits your playstyle and go save the world(s)! Treasure-seekers can play on PS4 and Xbox One.
Call of Duty: Modern Warfare
Modern Warfare is back! The epic reimagining of the iconic Modern Warfare series promises an incredibly raw and gritty narrative, visceral single-player campaign and the ultimate online playground. Slated for release 28 October 2019 on the PS4 and Xbox One.
Spyro Reignited Trilogy
He's back and on the Nintendo Switch! Save the other dragons from Gnasty Gnorc, bring peace to Avalar by taking on evil sorcerer Ripto, and go on a quest to save the dragon eggs all over again. A real gem, remastered for fans old and new.
Ghostbusters: The Video Game Remastered
The beloved and critically adored Ghostbusters game is back, now on PS4, Xbox One and Nintendo Switch. Get ready to fight ghosts as the new rookie on the team in an original story from the writers of the classic films. Strap on your Proton Pack and battle to save New York from 4 October.
Our top picks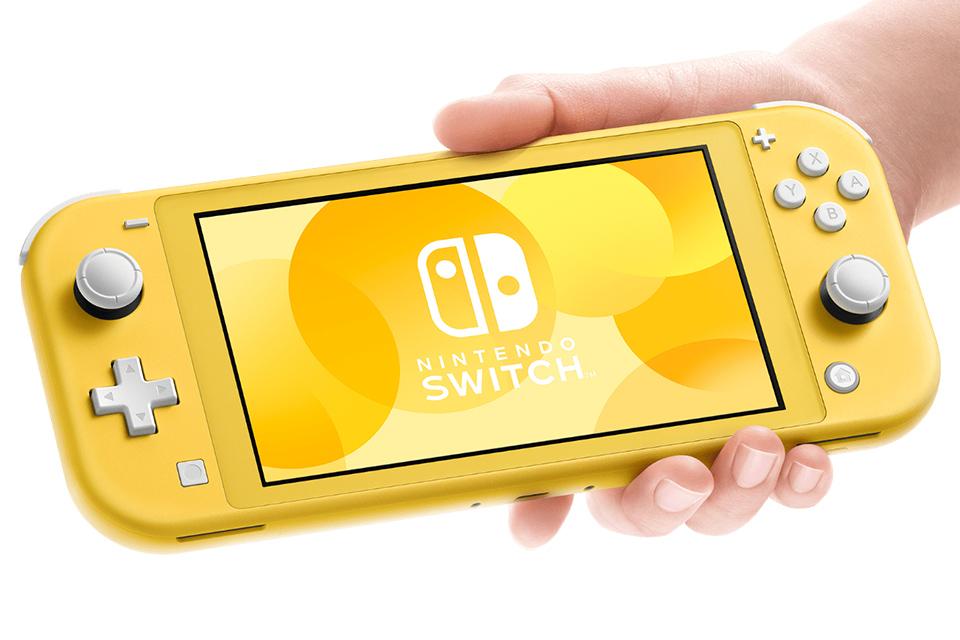 Nintendo Switch Lite
The new edition of the Switch is designed for handheld gaming: compact, lightweight, with built-in controllers, it's perfect for gaming on the go.

Shop the Nintendo Switch Lite
Get The Legend of Zelda: Link's Awakening to play on your new Nintendo Switch Lite! Click the link below, pick which colour you'd like (tough choice we know), check out our special offers and add your brand new game for only £30.

Shop now
SEGA Mega Drive mini console
The iconic console that defined a generation is now out in miniature form. The SEGA Mega Drive mini console comes loaded with 40 legendary games including Ecco the Dolphin, Castlevania: Bloodlines, ToeJam & Earl, Sonic the Hedgehog, Altered Beast, and many more. Just plug and play from 4 October.
Don't miss out
Take home brand new releases, discover hidden gems and pre-order upcoming games today.
Pre-order by console
Gaming education and inspiration
Why buy at Argos?
Plan ahead
Whether you're into shooters, RPGs or sports games, there's loads coming up to be excited about. We've got all the notable releases for PS4, Xbox One and Nintendo Switch, as well as selected big titles for PC – definitely something to think about when planning your Christmas gifts. The only thing better than new games are bundles of consoles, games and accessories. We sell many throughout the year but keep an eye out on Cyber Monday for some unbelievable prices.
If you're buying for someone who has games covered, help make their experience better in other ways. Gaming chairs are particularly pragmatic as they improve posture, increasing comfort and reducing cramps and pains. And for serious immersion, why not consider a Gaming headset to make online gaming even more epic.
Complete your gaming setup with the best viewing experience, including OLED TVs, which offer superior quality and colour contrast. If you're unsure of the details, check out our TV guides and advice. Of course, you can't beat the immersion of VR so find out what all the hype is about this Christmas with our VR headsets, games and starter kits.