PlayStation, Xbox or Nintendo? Whether you're getting into gaming, buying a gift or looking to upgrade to the next generation of tech, there's a games console to suit. We'll take you through each one and all you need to know about them.
PlayStation 5
Why choose the PlayStation 5?
The PlayStation 5, or PS5, is an impressive new generation of console from Sony. You can expect a powerful console with lightning-fast loading times thanks to an ultra-high-speed SSD, smooth gameplay with high frame rates (up to 120fps), and stunning games with more immersive worlds thanks to 'ray tracing' with realistic light and shadow. It's simple to set up and has a fast, beautiful user interface.

Play an all-new generation of games, many of which are exclusive to PlayStation. Plus, watch free and paid streaming services like YouTube, Netflix, and more.

You also have the option of subscribing to PlayStation Plus, giving you access to online gaming, two PS4 games every month, plus exclusive discounts at the PlayStation Store.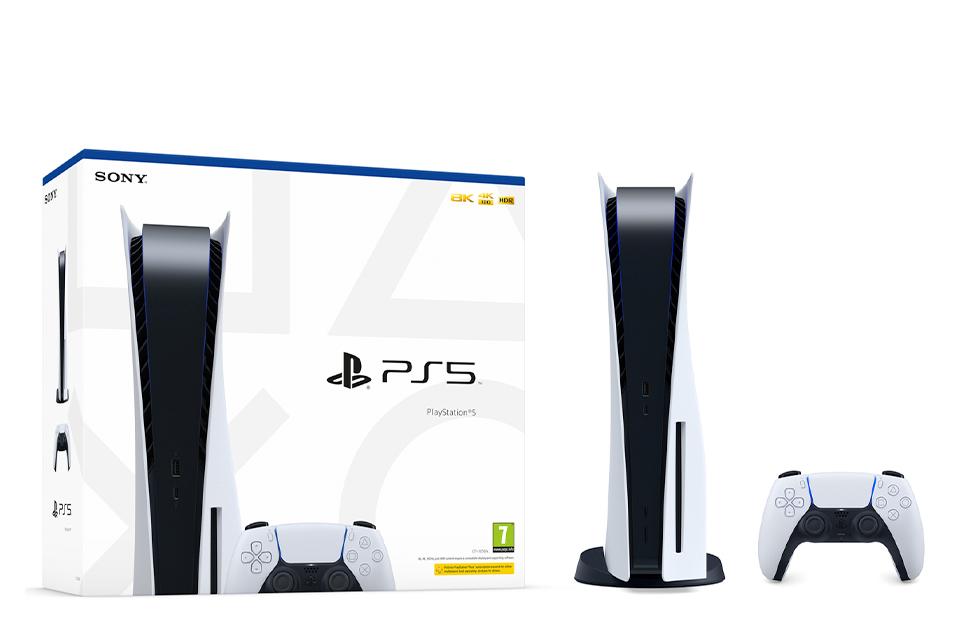 What do you need to know?
There are two editions to choose from: the PS5 and the PS5 Digital. Both have the benefits we've mentioned, but the PS5 comes with an Ultra HD Blu-Ray disc drive so you can play physical game discs as well as Blu-Rays and DVDs. The PS5 Digital is cheaper, but has no disc drive so you'll need to download new games.

You can play your PS4 game collection on the PS5, either by inserting the PS4 game's disc, or you can transfer your PS4 content digitally. Please note, you will not be able to insert PS4 discs into the PS5 Digital Edition.

It's worth noting that the PS5 is quite large: 390mm x 104mm x 260mm (height x width x depth). It can be placed vertically or horizontally.

You may want to consider investing in a TV with HMDI 2.1 to get the most out of your PS5, but it's not necessary.
PS5 controllers
The DualSense wireless controller has several new and innovative features. Haptic feedback gives you tactile sensations as you play (you may have experienced it with smartphones), immersing you in the game. Adaptive triggers mean you feel the difference between a gun trigger and a bow, while the built-in microphone lets you chat online with ease.
PS5 accessories
Official PS5 accessories include: a sleekly designed wireless headset with 3D audio support and dual noise-cancelling microphones; an HD camera (perfect for gameplay videos); a media remote with built-in microphone, and a DualSense controller charging station. Plus, there are many more third party accessories to upgrade your experience.
PS5 games
There's a vast array of games to play on the PS5, with something for every age and preferred genre. Some games are exclusive and can only be played on PlayStation, like Spider-Man: Miles Morales, Demon's Souls, and Sackboy: A Big Adventure. You can also play big-name titles like Assassin's Creed: Valhalla and Call of Duty: Black Ops Cold War.
Plenty to look forward to
Owning a PS5 gives you access to the next generation of games, including upcoming PlayStation exclusives like Horizon Forbidden West, Ratchet & Clank: Rift Apart and Gran Turismo 7, and third party titles like Resident Evil Village and Hogwarts Legacy.
PlayStation 5 must-haves
Xbox Series
Why choose the Xbox Series?
The Xbox Series X (pictured above) and Series S are two next-generation consoles from Microsoft. Both brag next-gen speed and performance powered by a custom SSD and both have backwards compatibility, giving you the ability to play games from four generations of Xbox.

Both deliver true-to-life lighting, shadows and accurate reflections to create dynamic, immersive worlds to play in. You can access hundreds of apps and services including favourites like Netflix and Amazon Prime.

You also have the option to subscribe to Game Pass, a subscription service that gives you unlimited access to over 100 games including new Xbox Game Studios titles the day they release.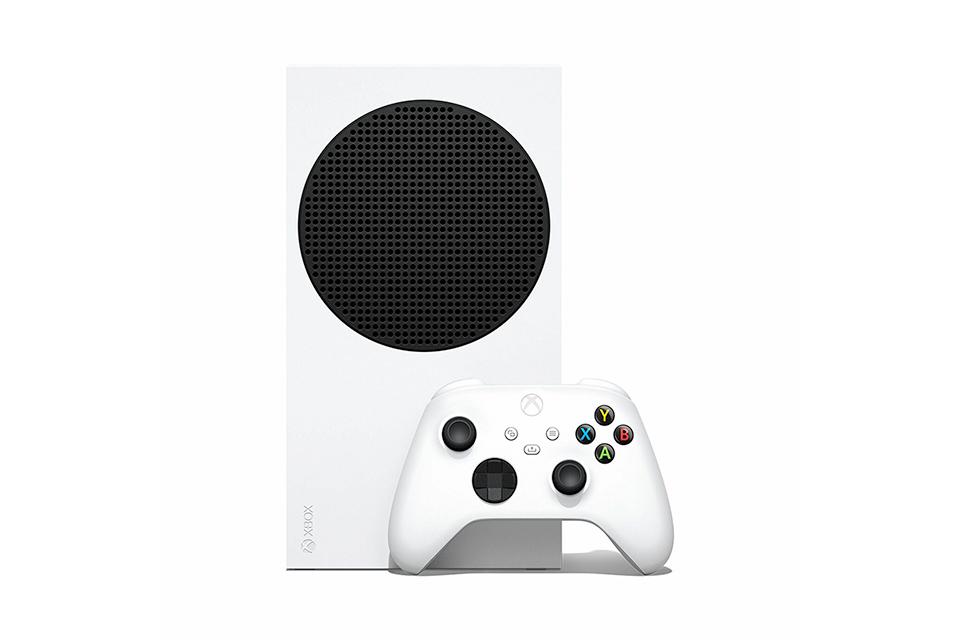 What do you need to know?
The biggest difference between the Series X and the Series S (pictured above) is that the Series X has a 4K Blu-Ray disc drive, so it can play physical game discs as well as other media like Blu-Rays and DVDs. The Series S is cheaper but has no disc drive, so you must download games online via the Microsoft Store.

The Series X is the fastest, most powerful Xbox yet with 12 teraflops of processing power and 4K resolution, while the Series S is the smallest Xbox ever at 275mm x 63.5mm x 151mm (height x width x depth).

You may want to consider investing in a TV with a HMDI 2.1 port to get the most out of your Xbox, but it's not necessary.

Please note, you will not be able to insert your old Xbox game discs into the Xbox Series S.
Xbox Series controllers
The new, updated Xbox controller features sculpted surfaces and refined geometry for enhanced comfort. It can pair with multiple devices including Xbox Series, Xbox One, Windows 10 PC, Android and iOS. Seamlessly capture screenshots and videos with the dedicated share button.
Xbox Series accessories
There are several different accessories available to elevate your gaming experience, including docking and charging stations for your Xbox controllers, rechargeable battery packs, and performance thumbsticks to give you the perfect advantage when playing against others.
Xbox Series games and Game Pass
There are a whole host of games to play on Xbox, including huge titles like Assassin's Creed: Valhalla and FIFA 21, and exclusives like Microsoft Flight Simulator. Want unlimited games? Consider Game Pass, which gives you access to over 100 high-quality games plus member deals and discounts.
Games coming to Xbox
There's a lot on the horizon for the Xbox Series. Look forward to games exclusive to Microsoft like Fable, State of Decay 3 and Halo: Infinite, as well as third party titles including Hogwarts Legacy and Far Cry 6.
Xbox Series must-haves
Nintendo Switch
Why choose the Nintendo Switch?
Enjoy HD gaming at home and play on the go with the adaptable Nintendo Switch. Its exclusive titles like Animal Crossing, Mario and Pokémon make the Switch a great choice for both families and grown-up fans.

There are multiple ways to play:
TV mode: Place the Nintendo Switch in its dock, which connect to your TV. The dock will also charge the Switch at the same time.

Handheld mode: Remove the Nintendo Switch from its dock and attach the Joy-Con controllers to the side of the screen to play anywhere.

Tabletop mode: Flip the stand on the back to stand the Switch up on the surface, making it an easy way to share the screen for multiplayer fun!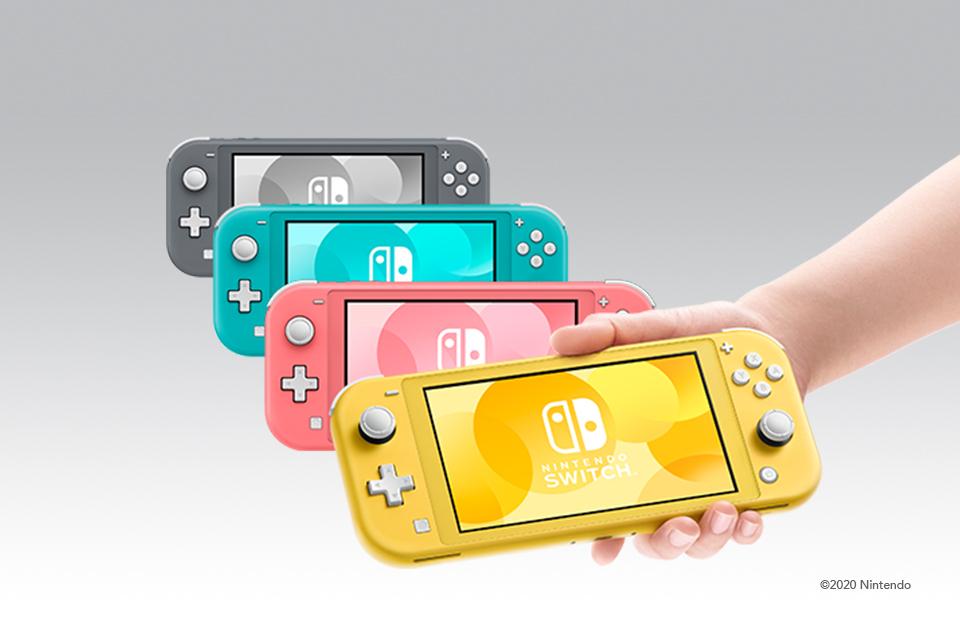 What do you need to know?
There's a big difference between the Nintendo Switch and the Nintendo Switch Lite. While the Nintendo Switch can be played on your TV and has removable controllers, the Nintendo Switch Lite is a handheld-only device. It's a compact, lighter option that supports all games that can be played in handheld mode. It's best to check any new games can be played in handheld mode before you buy.

You can play games with friends 'locally' by linking up to 8 consoles. For features like online play and cloud data saving, you'll need a Nintendo Switch Online subscription, which also includes access to a library of retro SNES and NES games as well as exclusive offers.

The family-friendly Nintendo Switch has a dedicated, free Parental Controls app. See our Gaming for Kids page for more details.
Nintendo Switch controllers
The versatile Joy-Con controllers can be used on their own (ideal for multiplayer) or together. Each has an HD rumble and can sense shape, movement and distance to add to your gaming experience. You can also use more traditional controllers like the Nintendo Switch Pro controller if you prefer.
Nintendo Switch acccessories
There are a ton of accessories for both the Switch and the Switch Lite. Find colourful bags and cases to game on-the-go, chargers for your Joy-Con collection and novelty accessories like steering wheels (great for winning at Mario Kart!) You may consider getting a memory card for extra storage.
Nintendo Switch games
The Nintendo Switch has many exclusives titles from your favourite Nintendo franchises, including Animal Crossing, Mario & Friends, Pokémon,and The Legend of Zelda. It can also play well-loved third party titles like Minecraft, Fortnite, and the LEGO video game series.
Nintendo Switch must-haves
Virtual reality headsets
Explore more with virtual reality
Take your gaming immersion to new heights with virtual reality, also known as VR. Using a headset with a screen inside and a controller or two, you can play the hero in thrilling action games or explore fantastical worlds in role-playing games.

You can get all-in-one headsets like the innovative Oculus Quest 2, which only requires wireless internet and a log-in to Facebook. You can then download games and apps using the Oculus Store. Other headsets need to connect to a PC, like the Oculus Rift S, or to your PlayStation, with the PSVR.

You should always read and follow health and safety guidelines that come with your headset and share them with any other users.
PlayStation 4
Why choose a PS4?
You're spoilt for choice when it comes to incredible games with the PS4, including some only available on PlayStation. You can play online with friends (requires a PS Plus membership), play DVDs and Blu-Rays, and access free and paid streaming services like YouTube, Netflix and Disney Plus.
PS4 controllers
The DualShock 4 V2 controller features precise wireless control, responsive triggers and a built-in rechargeable battery. The comfortable controller also includes a share button and extra sound effects.
PS4 accessories
Game for longer with extra long superfast charging cables and controller docking stations, enjoy extra storage with a gaming hard drive and get an edge on enemies with performance thumbsticks.
PS4 games
Choose from exclusives like The Last of Us Part II, Ghost of Tsushima, and Marvel's Spider-Man, as well as third party favourites including Grand Theft Auto V and Call of Duty: Black Ops Cold War.
Loved by gamers
Game with confidence
Need an upgrade now?
Spread the cost with the Argos Card.

Representative 34.9% APR variable.

Credit subject to status. T&Cs apply.
Keep on enjoying with Argos Care
We know that sometimes life just happens...protect your new stuff with one of our Argos Care policies. Each is tailored to your product and offers extra protection in addition to your standard manufacturer's guarantee.*
*Argos Monthly Care, Argos Breakdown Care, Argos Jewellery & Watch Care and Argos Replacement Care are provided by Domestic & General Insurance PLC.
More gaming advice and offers
Why buy at Argos?