The Fashion Edit
Discover the latest collections from
It's time to refresh that classic wardrobe staple - the jean. Let us help you decide what fit and style is best for you this season.
Womens jeans
Skinny
This fitted cut hugs the body from hips to ankle - embrace your beautiful curves. Tuck in an oversized shirt and wear with boots or heels, it's our favourite look.
Girlfriend
The weekend jean is here to stay! This relaxed fit is perfect for walks, shopping and you don't need to worry about saggy knees again, it's all part of the relaxed look.
Bootcut & flare
This traditional fit is perfect if you're looking for a classic fitting jean. We love wearing a bootcut jean with white trainers, a t-shirt and a duffle coat.
Straight
This classic style is a day to day staple. Dress up with heels and a blouse - perfect for the office. Or with an oversized jumper and trainers for a relaxed look.
Slim & jeggings
This fit is perfect for any occasion, dress up or down. We love the way it hugs our curves and goes with everything- so flattering.
Mens jeans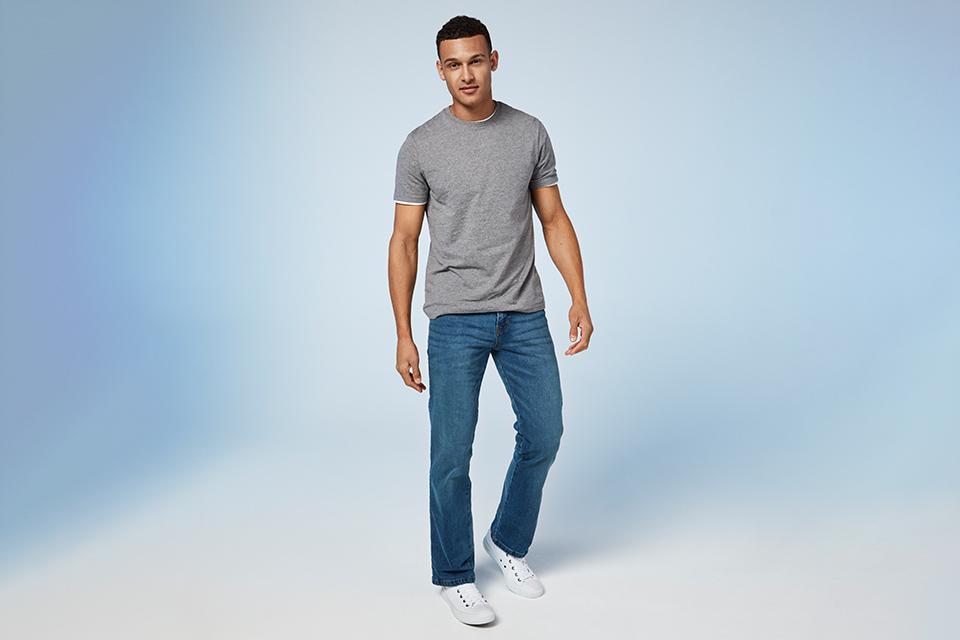 Everyone knows that when you find that perfect fitting jean, it makes your whole wardrobe come together. We pride ourselves on offering great fitting jeans, with great quality, at great prices.
Our straight leg, slim, bootcut and tapered, offer a timeless classic styling that will look great in any wardrobe with any style.
Our skinny and super skinny offer a modern look and fit. Best worn with t-shirts, shirts and sweats
It's not just about the jeans
Owning it
New Tu Clothing wardrobe additions? We'd love to see how you're owning it with your unique style. Tag @TuClothing with #TuTrending on Instagram to get your photo featured in the gallery below…
Why buy at Argos?
When it comes to women's clothing, there are so many choices, but by picking key items that work together and make you feel good, you'll have a wardrobe suitable for every occasion. For work or formal affairs, a blazer with a blouse and some trousers make a smart statement that you can then dress up with a necklace, earrings and bangle. Professional with personality.
For social occasions when you want to look your best whilst relaxing and having fun, midi dresses or jumpsuits are a tried-and-tested staple. They will take you through the day, right into the evening without having to stop to change. Top off the outfit with a pair of complimentary shoes and you'll be all set. For more formal evenings out you may wish to create a smooth silhouette with our range of shapewear.