Styling your outdoor living space
By Emma White (Apogee Interiors)
Styling your outdoor living space.
Turn your garden into a second living room
Blogger Emma shares her tips for creating a trendy outdoor living area, no matter the size of your space.
Bringing inside living outside
Comfortable seating and practical furniture
You wouldn't buy a sofa if it wasn't comfortable, so why stop at outside furniture? It's usually cost or size of space which stops us but this Argos Home Rattan Bistro Set ticks all the boxes. Being two chairs and a side table, it fits in even the smallest of outdoor spaces such as a balcony, while still being really comfy and great quality.
When outdoor works for indoors too
To add a personal touch, I've swapped out the side table for this wooden table, which is part of the Global Monochrome range. The wood and steel frame add another texture to lift the space, while being totally on trend. But once winter comes around, this can be moved inside and look just as good!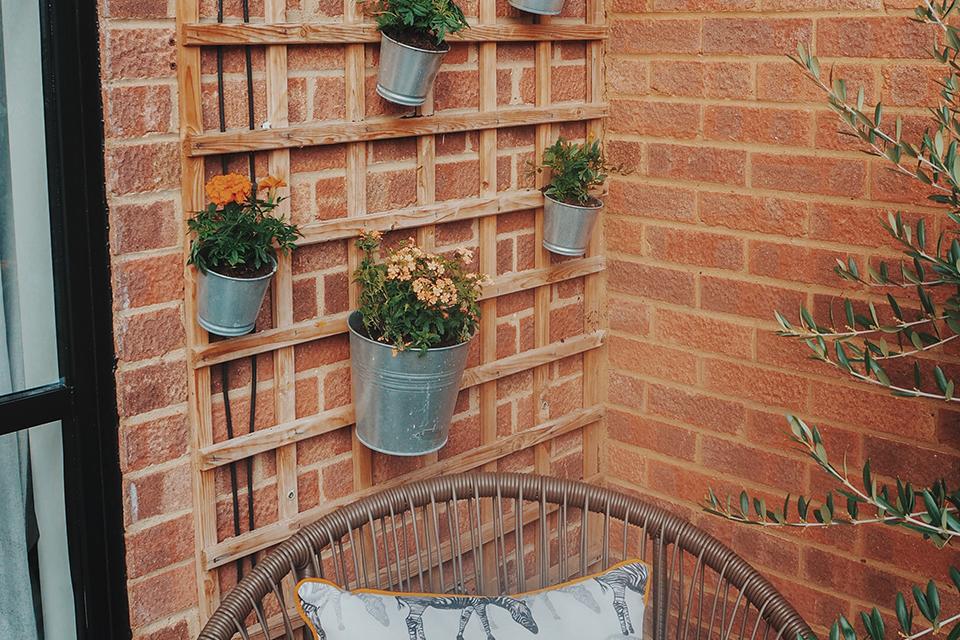 Style up your walls
In the house we add pictures, mirrors and shelves to our walls to add interest. But why stop outside? In this space I'm styling, we built our own DIY wall planter to add interest and life to a boring brick wall. You could also add a mirror to help bounce light and make the space feel bigger. Or add some simple shelves and style up your plant pots.
A patio packed with personality
Argos Home Global Monochrome wooden table.
Argos Home 2 seater Rattan string bistro set - Brown.
Mix and match your textiles
Softer accessories such as cushions are not only comfy but add a bit of your personality to the space. One of my favourite colours is yellow, so these zebra print outdoor cushions were pulling at my heart strings. Affordable, pretty and practical, they are also water repellent so you can wipe them clean. Fancy a bigger cushion? The Global Monochrome floor cushion will add a statement to your space. Use it to rest your feet, to sit, or accessorise with a complementing patterned metal tray.
Practical accessories for any space
Clever cover-ups
Outdoor rugs have also become more popular and are a great way to cover up your decking or patio without costing the earth. Adding a sturdy or colourful rug is a simple and affordable trick that can help to make your outside space feel like a second living room, while still being on-trend.
Let there be light
When the sun starts to set, light up your outside living space with a variety of lights. Haven't got access to mains power? Solar lights work just as well and are much greener. Add solar-powered festoons and drape them over your chairs, or have them hanging down a wall. I also love this black lantern which adds another gentle light source.
Grab your favourite drink and snacks
Last but not least, grab a jug full of your favourite drink in a Global Monochrome Bubble Pitcher - be it a smoothie or a cocktail - and serve them in the matching Hi-Ball Glasses. Hard-to-break melamine plates are not only stylish but great for outdoor use. Serve your favourite snack on them: from pastries to fruit, we're not fussy here.
Shop my favourites
Looking for more home decor ideas?
Visit our spot for talking the latest trends, inspiring interiors and handy improvement hints.
Why buy at Argos?