Cookware guide
Discover which pots and pans are best for you, what hobs they suit and how to make them last longer.
Shop all cookware at Argos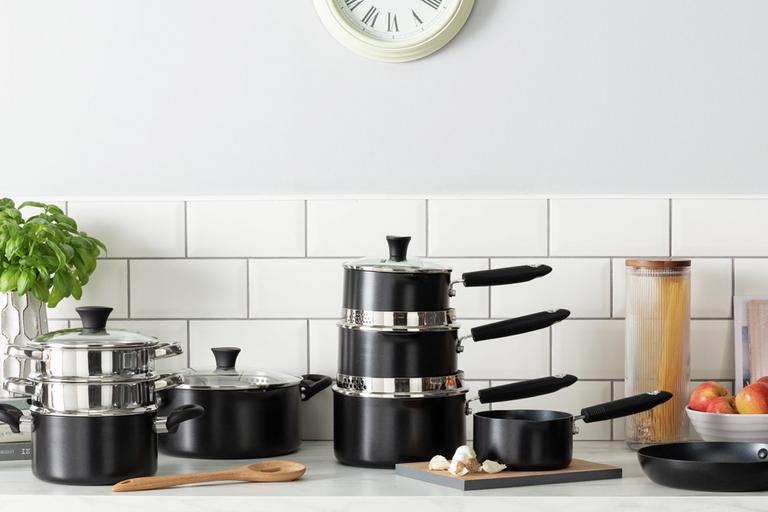 How to pick the best pots and pans for your kitchen
Whether you're a novice in the kitchen or an accomplished cook, it's essential to have the right cookware at hand. But with so many pans out there, from woks to griddles, how do you know which is right for you? Think about the types of meals you like to cook and what pots and pans will best fit those dishes.
Get to know your cookware
Don't know your sauté pan from your skillet? We're here to help you choose the right pan for the job.
Saucepan
Saucepans are typically deeper and taller than other pans, and have one long handle. They can be used for everything from heating sauces and soups to cooking rice and vegetables.
Best for - boiling and heating
Frying pan and skillet
These shallow pans have sloping sides and a wide, flat cooking surface. Unlike saucepans, they are mainly used for cooking foods quickly over a high heat.
Best for - cooking at higher heats
Sauté pan
Similar to a frying pan but deeper and with straight sides instead of sloping ones. They are specifically designed for searing meat and sautéing foods like vegetables.
Best for - cooking multiple ingredients together
Wok
A wok is a pan with a round bottom and high, slanted sides. It is commonly used in Asian cooking for braising, deep-frying, searing, steaming and stir-frying foods.
Best for - quickly searing and stir-frying
Griddle pan
Round or square in shape, these pans have raised ridges to keep food above the juices that are released during the cooking process. They are mostly used for grilling and searing meat.
Best for - healthier frying
Stock pot
Stock pots allow you to cook dishes like soups, stews and casseroles in large quantities. They traditionally come with a covering lid and two side handles for lifting.
Best for - stews, stocks and soups
Hob to oven pans
Some metal and ceramic pans are oven safe. This means you can start off a meal on the hob and then pop it in the oven to either finish cooking or keep it warm. So, before you buy your pans, check if they're oven safe and what's the maximum temperature they can handle.
Types of cookware materials
Different materials have different benefits, so make sure you choose one which suits your needs.
Aluminium cookware
Lightweight
Excellent heat conductor - heats quickly, cooks evenly
Easy to clean
Stainless steel cookware
Durable
Long-lasting
Non-reactive with foods
Resistant to scratching, chipping, flaking and peeling
Hard-anodised cookware
Electrochemically treated to give a hard surface
Highly durable
Cooks food quickly and evenly
Very non-stick
Copper-bottom cookware
Superb heat distribution
Heats quickly and evenly
High-shine, good looks
Scratch resistant
Great investment
Copper tri-ply cookware
Combines the benefits of 3 materials
Excellent heat retention - food still cooks even after heat is switched off
Durable and long lasting
Cast iron cookware
Heavily weighted
Excellent heat retention
Highly durable
Ideal for slow cooking
Best pans for your hob type
Make sure to match your new pots and pans to the hobs you have.
Gas or electric hobs
Most households have a gas or electric hob. All metal pans are suitable for these hob types.
Ceramic hobs
It's best to use pans with a thick, flat bottom to sit steadily on the smooth surface.
Solid hotplates
Use pans with a flat bottom to ensure they are heated evenly and reduce energy waste.
What pans work on induction hobs?
Induction hobs use electromagnets to heat pots and pans. They require cookware with a magnetic material in the base, such as cast iron. Some other pans have a base bonded with a magnetic metal to make them suitable.
Caring for your cookware
Keep your cookware in top condition with these useful tips.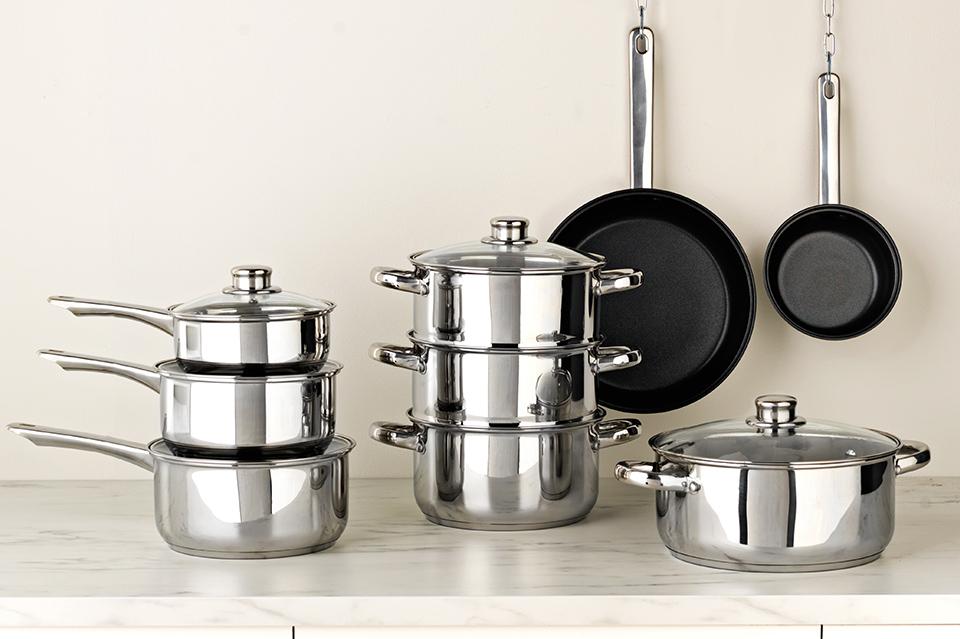 Pan care
Take care not to overheat your pans, as this can damage their non-stick coating. Leave your pans to cool before washing in hot water. It's best not to use metal utensils, scouring pans or steel wool on non-stick pans.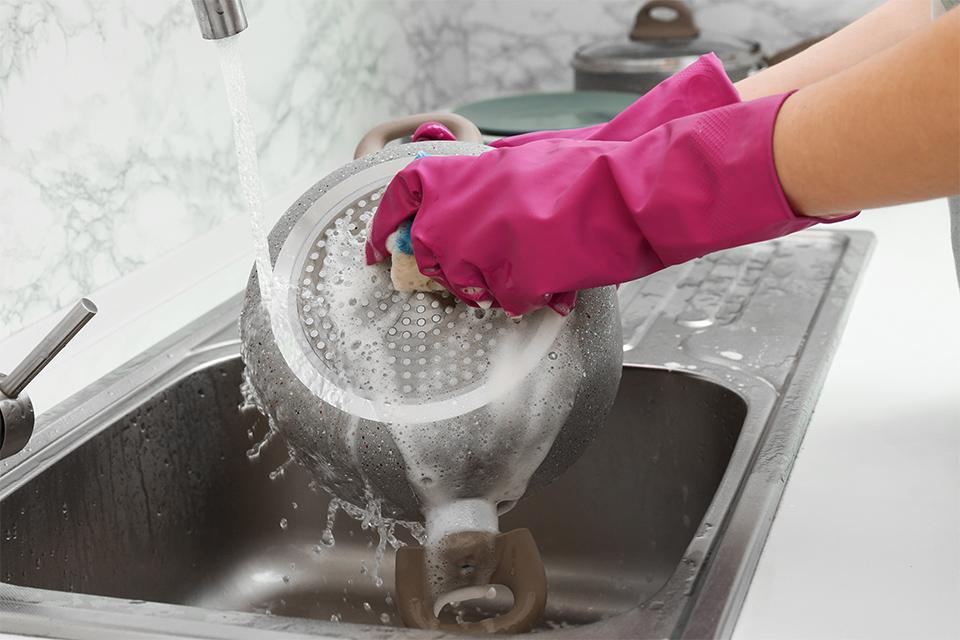 Cleaning pans
To keep your pans looking like new, use a gentle dishwashing detergent and non-abrasive scrubber. Many non-stick pans are not dishwasher friendly, so unless the manufacturer states otherwise, do not clean any cookware items in a dishwasher.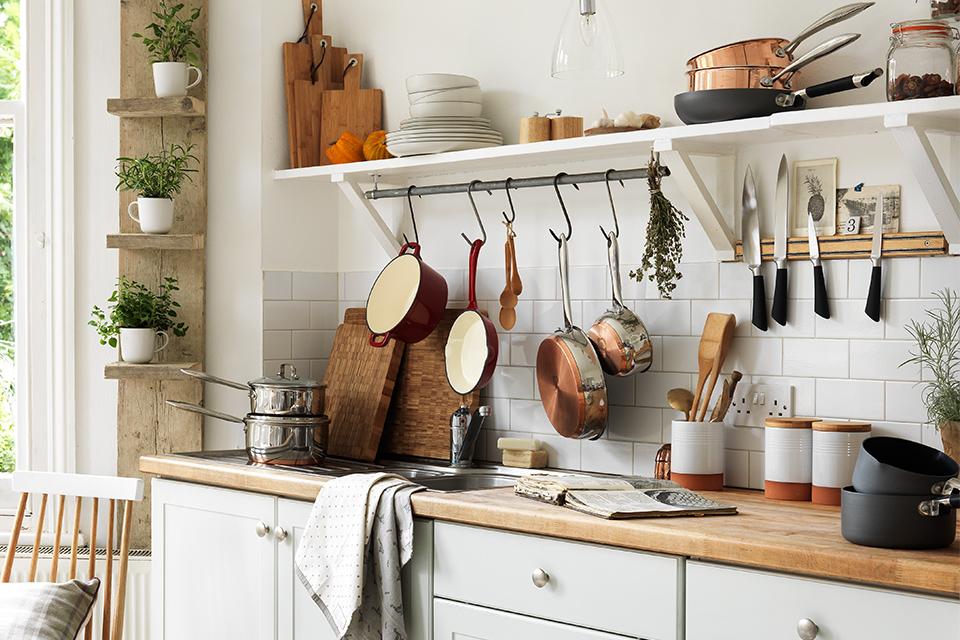 Pan storage
Instead of taking up precious cabinet space, why not put your cookware on display? A pan stand or hanging rack keeps pots and pans organised and close to hand. It also adds a decorative touch to an otherwise unused space.
Top of the pots
Cookware essentials our customers love.
More help and inspiration
Why buy at Argos?