Use up and down arrows to review and enter to select. Touch device users, explore by touch or with swipe gestures.
Buying a new cooker
Electric, gas or duel fuel? We'll run through the different types of cooker to help you choose the best one for your needs.
What is the difference between a cooker and an oven?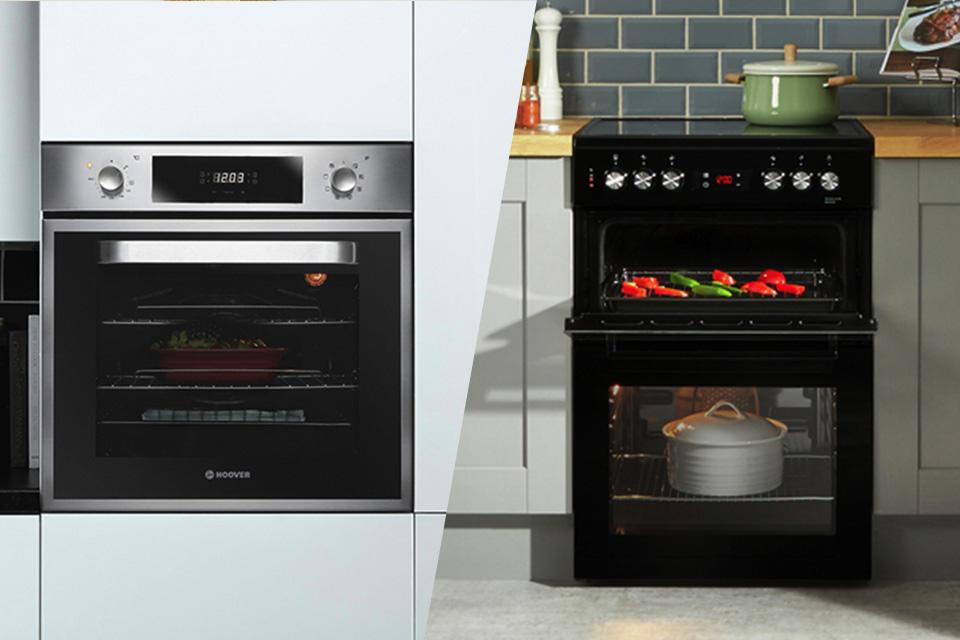 A cooker is a freestanding, all-in-one unit that contains at least one oven and a hob. It stands on the floor, and in most kitchens will slot into a gap between your units and counter. They range in size, but can be a great compact solution for smaller spaces - especially if you like to have all your 'cooking stations' kept together.
An oven refers to just the appliance used for roasting and baking, which can be bought and installed separately from a hob. If you want to create an integrated look, where your oven is fitted into your kitchen units, this is the way to go. You also have the option of installing your oven at eye level (a great solution if you can't bend easily) and in a separate area to your hob if that suits your kitchen design.
More interested in a built-in oven? Explore our range
What type of cooker is best?
There are three types of cooker available - gas, electric and dual fuel. Your choice will be largely dependent on what the current fuel supply is in your kitchen, as the easiest option is to purchase a like-for-like type. However, if you're changing your fuel supply as part of a kitchen redesign, here's an overview of the function and features of the three types available.
Electric cookers
A popular choice, especially in modern kitchens, these tend to offer fast cooking times, even cooking results and are easy to clean, but usually cost more to run vs gas hobs.
The details:
Electric ovens
Entry level electric cookers will usually contain one conventional or fan oven and possibly a grill. You can also get cookers that include two ovens which give you the freedom to cook dishes at different temperatures at the same time.
Electric hobs
You'll see three terms when looking at electric hobs; sealed plate, ceramic and induction.
Sealed plate hobs are slightly raised black plates that usually feature on lower price cookers. They work with any type of pot or pan.
Ceramic hobs come on most mid-range models. They are completely flat and quicker to heat up vs sealed plate hobs. You just need to avoid pans that have a copper or aluminium base when using them.
Induction hobs often sit at the top end in cooker ranges, and are the fastest to heat up and give you more features and temperature control. The way they heat up also means they're more energy efficient vs alternative electric and gas hobs - you'll just need to stick to stainless steel or cast iron pans.
Why they're great:
Sleek finish - Models with ceramic and induction hobs look great in contemporary kitchens.
Even cooking - Fan assisted ovens which create a more even oven temperature, making it easy to get consistent cooking results. This is especially useful if you do a lot of baking.
Easy-to-clean hobs - Electric ceramic and induction hobs are flat so it's really quick to wipe clean.
Intelligent features - Higher end models come with smart functionality like electronic controls and meat thermometers.
Consider:
More expensive - Electric cookers are typically more of an investment vs gas cookers as they cost slightly more to run.
Hob stays warm - Ceramic and sealed plate hobs take a while to cool down after they've been turned off, which can be a safety hazard if you have pets or kids. Induction hobs don't hold onto their heat as much.
Top rated electric cookers
Gas cookers
The traditional cooker type, these are known for their hob heat control and cheap running costs, making them a popular choice for pro chefs and entry level users alike.
The details:
Gas ovens
Both single oven and double oven gas cookers are available, usually featuring a grill or grilling function too. Unlike electric models, gas ovens don't usually have fans to circulate the heat around the oven. As heat naturally rises, this means the top of your oven will get hotter than the bottom. Some people prefer this as you can cook dishes at different temperatures even in a single oven - but it can make precise cooking (like baking) more challenging.
Gas hobs
These have a traditional look with a pan frame support that sits over the burners. They provide instant heat as soon as you turn on, compared to electric hobs which take a little longer to heat up, and you can easily control the heat by turning down the flame. Any style of pan can be used on a gas hob.
Why they're great:
Instant hob heat - Unlike electric hobs, you don't have to wait for them to heat up, so you'll be able to quickly start frying and bring water to a simmering point.
Less expensive to run - Gas is cheaper than electricity, which will make help cut your fuel costs.
Consider:
Difficult to clean - The frame support makes gas hobs more difficult to clean vs smooth electric hobs.
Professionally installed - You'll need to factor in the cost of fitting, as all gas cookers must be installed by an engineer that's registered to do so. We offer this service for gas and electric cookers.
Uneven oven temperature - It's not necessarily a con, as some people like having variable temperature, but you'll need to be aware of this when positioning dishes in the oven.
Top rated gas cookers
Dual fuel cookers
Dual fuel cookers always feature a gas hob and electric ovens. This gives you what many consider the best features of the two single-fuel cooker types; the even temperature control of an electric oven, and the precise, instant heat of a gas hob.
Entry level models are around £100 more expensive than entry level gas or electric-only models, and as they feature gas, they'll need to be installed by an appropriately certified engineer.
Buying a range cooker
Range cookers refer to a style that is usually wider than standard cookers (typically between 90-110cm), and feature multiple oven cavities and hobs. They're available for all fuel types, and their size and capabilities make them a great choice for larger families. Often they are associated with farmhouse kitchens, as many have a traditional, stove styling - but modern finishes are also available which suit contemporary kitchens.
Why they're great:
Aside from the fuel-type dependent features mentioned above, the main appeal of a range cooker over a standard cooker has to be their size. Typically a range cooker will come with two ovens, a separate grill and between 5 to 8 hob rings. The extra width means they'll usually feature a taller oven with a large capacity, some with room to cook up to 8 pizzas at once. Many also come with a warming drawer (ideal for proving bread) or built-in storage.
Consider:
They take up more room than a standard oven. Of course, with that extra width you're getting a lot more oven space and hobs, but if space saving is a priority, it would be worth looking at conventional cookers.
If you like the look of a traditional range cooker but don't have the room for one, you can get standard sized cookers that have the farmhouse styling often associated with range cookers.
Cooker sizes
Cooker sizes generally have a standardised depth of 60cm, and height of 90cm - which means they'll sit neatly alongside most kitchen units. You have a choice of widths to choose from depending on the space you have available in your kitchen, and how much oven and hob space you require for cooking.
Standard cookers
Width: 55-60cm
Oven capacity: Single oven options will usually have a capacity of between 50-65 litres. If the model has a second oven or grill it usually has a capacity of 30-35 litres.
Hob: Usually 2 large and 2 small hob rings or plates.
Slimline cookers
Width: 46-50cm
Oven capacity: Single oven option usually has a capacity between 35-50 litres, with a second oven or grill usually having a capacity of 30 litres.
Hob: Usually 4 hob rings or plates that are slightly smaller than on a standard cooker.
Range cookers
Width: 90-110cm
Oven capacity: These usually come with two large ovens, each with roughly 60 litre capacities, plus a separate grill. Some models may feature one large oven with a capacity of over 100 litres.
Hob: Between 5-10 suitable for a variety of pan sizes. There may be a griddle also.
Tips on oven capacity
Most brands measure capacity in litres, and the bigger your ovens are, the more flexibility you'll have to cook several dishes at once. If you're cooking for a family, we'd recommend choosing a model that has a main oven with at least a 60 litre capacity.
Cooker features explained
Top cooker brands
Our delivery and installation service
Thinking of opting for our paid installation service? Here's what to expect.
Cooker delivery and installation
To ensure your delivery and installation goes smoothly, we've put together a short video to walk you through the process, step by step. It's really important that these steps are met otherwise we may be not be able to deliver your new cooker to your home.

Before you order
Make sure the appliance will fit in your chosen space.
Check access points are wide enough to accommodate the delivery.
Preparing for your delivery
Fill out our installation survey and let us know of any access issues.
Ensure your electric or gas supply is in safe condition and within 1m of where the cooker is to be installed.
Check there are no electric sockets or flammable items in the 'hot zone' area directly above where the cooker will be placed.
On the day of delivery
We will need to complete a visual check of any gas appliances, boilers, meters and conduct safety testing on electrics which must be passed for us to be able to install.
We'll need to access your gas and/or electric meters and fuse box, so make sure there is access to these and credit on your meter.
Make sure a responsible adult will be home to receive the delivery.
Recycling your old appliance
If you've requested your old appliance to be recycled, we'll disconnect it as part of the service. For more details about our recycling service click here.
Installation & recycling update
For the safety of our customers and colleagues, we've made a few changes to this service. Whilst we deliver and install your item, customers will need to maintain a social distance of 2m. If you are self-isolating, please make us aware so we can rearrange your delivery.
Check here for our latest updates to this service.
Kitchen-spiration
Why buy at Argos?