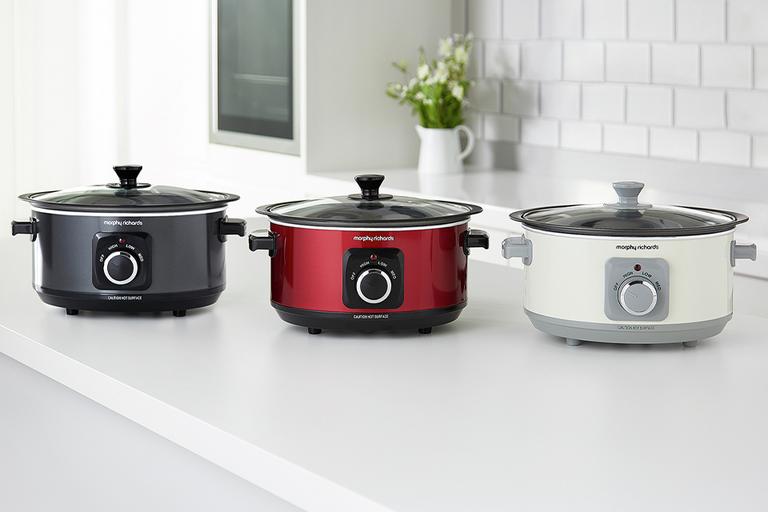 Your one-pot spot for easy, nutritious, home cooked dinners. And yes, they're safe to leave on throughout the day – saving you time, mess and stress.
Which is the best slow cooker for you?
How does a slow cooker work?
Let's break it down...
Slow cookers are mains operated and work by transferring heat from the bottom of the pot, whilst their lid keeps the heat in and stops liquid evaporating. There is a low (around 190 degrees) and high (around 300 degrees) temperature to choose between – a low setting will take a little longer, but both will thoroughly cook the contents inside.
Different types of cookers
Slow cookers, multi cookers and pressure cookers – all make delicious home cooked meals, but how do you know which one's for you? We've pulled out the best functions and features of each one, to help match the right cooker to you.
Slow cookers
Great for beginner chefs, expert cooks or those on the go. Pop in your ingredients and by the end of the day, you'll have a tasty homemade meal waiting for you.
Why they're great:
Easy to use.
Up to 6 litres bowl capacity.
Option of removable and dishwasher safe bowls.
Available in round or oval styles.
'Keep-warm' setting.
On premium models, cooking timers will adjust the temperature.
Multi cookers
With multiple functions including frying, steaming and slow cooking, you won't need any other appliances. Meaning they're perfect for small kitchens or busy lifestyles.
Why they're great:
Easy to use settings, temperatures and timings.
Simply switch between pre-set programmes.
Cooks food faster than traditional methods.
Reheat button for any leftovers.
Larger capacities (between 3-7.5 litres).
Option of removable and dishwasher safe bowls.
Pressure cookers
These increase the steam's pressure inside a sealed pot, raising the boiling point; cooking your food faster. Stick with a traditional style or opt for a multi cooker that incorporates this style of cooking.
Why they're great:
Safe locking system on lid.
Up to 6 litres bowl capacity.
Dishwasher safe pots on most models.
Built-in steamer basket on some models.
Suitable to use on electric, gas, ceramic and halogen hobs.
Visual pressure indicator.
Sensational slow cookers
What slow cooker size do I need?
Before you pick, think about who you're cooking for and how much storage space you have.
Cooking for 1-2 people
A small slow cooker will be enough for you. Holding between 1.5-3.5 litres, you'll have plenty of room for average meal portions. And a smaller model won't take up as much room in your kitchen.
Meals for 2-4 people
Look for models that can hold between 3.5–5 litres. These bowl capacities will provide plenty of food for larger groups and are ideal for family feasts, entertaining or Sunday suppers.
Entertaining 4 or more
There's plenty for everyone with larger sized slow cookers. With a bigger capacity of 5-7 litres, you can easily entertain, cook for larger families and have lots of left-overs for mid-week meals.
Why our customers love them...
Best slow cooker recipes
Slow cooked beef stew
Cookworks show us how easy it is to create a wholesome beef stew, ideal for any Sunday supper or chilly evening. Follow these simple steps and let your slow cooker do the rest…
Slow cooked teriyaki chicken
Enjoy the most tenderised, melt-in-your-mouth chicken you've ever tried – without lifting a finger. Sainsbury's slow cooked chicken recipe is definitely a flavoursome favourite.
Easy slow cooker recipes
Looking for more ideas? Sainsbury's slow cooking scrapbook is full of tasty dishes, you'll want to recreate again and again. Perfect for keeping those tummy grumblings at bay.
Slow cooker top tips
Cooked to perfection
Room temperature ingredients work best in a slow cooker.
You don't need to add oil – there should be enough moisture once your ingredients begin cooking.
Don't over-fill your slow cooker. Half to two-thirds is enough.
Liquids don't evaporate in a slow cooker. If you need to, use a ladle to easily remove any excess or add some flour to thicken your mixture.
Slow cookers with removable aluminium bowls, are great for searing meat on the hob before cooking.
A low temperature is the best temperature for a slow cooker – this'll really bring out those delicious flavours.
Leave it alone – slow cookers are designed to cook all your ingredients over a few hours, so you don't want to disturb them by releasing any heat.
Why buy at Argos?