Best hedge trimmers for tall & thick hedges
Keep on top of your topiary with our guide to the best corded, battery and petrol hedge trimmers.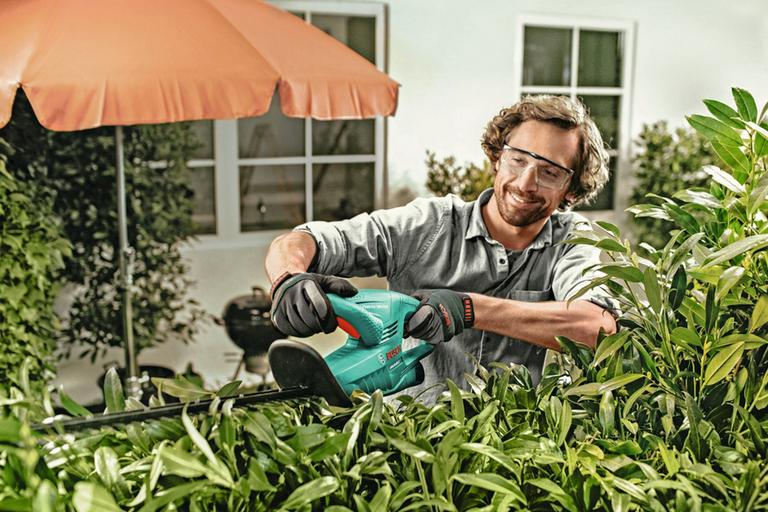 Best time to cut hedges
Hedges, shrubs and bushes can become unsightly if left to grow unhindered. To keep them in good shape, it's best to cut them early spring and late summer, when the bird nesting season has come to an end.
What type of hedge trimmer do you need?
If your hedges are cared for regularly and the branches are quite thin, lower powered trimmers should be suitable. But if your hedges or bushes are dense and difficult, more strength is needed, so you should go for a more powerful model.
Electric hedge trimmers
Electric hedge trimmers are typically smaller and lighter than their cordless counterparts. They are ideally suited to smaller gardens where a mains socket is easily accessible.
Why they're great:
Lightweight and affordable.
Less noisy than petrol-powered models.
Best for: Small gardens.
Cordless hedge trimmers
These trimmers are powered by a battery, allowing for greater flexibility of use. There's also no risk of cutting through a cable, so can be safer than other models too.
Why they're great:
No cord to restrict your movement.
Easy to use and store.
Best for: Medium gardens.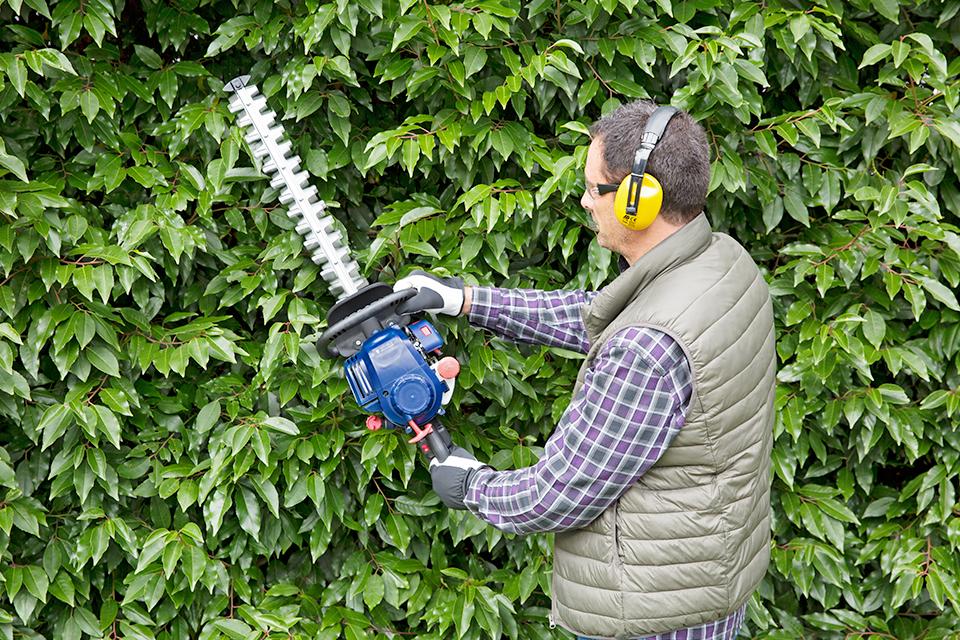 Petrol hedge trimmers
Petrol trimmers have more power and offer a longer cutting time. They're particularly useful for large garden hedging or hedges that are dense and overgrown.
Why they're great:
Freedom to work anywhere in your garden.
Can handle tougher trimming jobs.
Best for: Large gardens.
Long reach hedge trimmers
These trimmers are made with an extendable pole that allows you to reach up high. Some models also feature a pivoting head for trimming across the top of hedges.

Why they're great:
Can trim high hedges without requiring a ladder.
Flexible head can work at different angles.
Best for: Tall hedges.
Grass and hedge shears
Designed for detailing work, they're ideal if you're keen on creating hedge sculptures. Some models can be attached to a pole to give them more reach too.

Why they're great:
Can be used for shaping hedges and shrubs.
Lightweight for enhanced comfort and control.
Best for: Detail work.
Choosing a blade length
The longer the blade, the more hedge you can cut at once, making it quicker and neater. If you have small hedges, blades under 50cm should be suitable, but for larger hedges it's best to go for blades longer than this.
Hedge trimmer features explained
Check out some other things you should consider before making your choice.
Power output
Electric trimmers' power is measured in watts, ranging from 400w to 900w; cordless trimmers use volts, ranging from 18V to 36V and petrol trimmers use CCs, ranging from 20cc to 40cc.
Teeth spacing
Teeth spacing relates to branch thickness - the more space between a blade's teeth, the thicker the branches it can cut. Spacing ranges from 15mm to 34mm.
Cable length
If you're considering an electric trimmer, choose a model which offers enough cable to reach a household plug socket. If this isn't possible, an extension lead will come in useful.
Battery life
Running time of cordless trimmers can vary between 30 to 75 minutes. When the battery does run out, many have quick charging abilities, so you can get back to work within an hour.
Weight
You could be spending a lot of time carrying your trimmer, so make sure it's a weight you're comfortable with. Petrol trimmers are the heaviest, and electric trimmers the lightest.
270 degree power handle
Some types of hedge trimmer have a power handle that rotates 270 degrees. This allows you to comfortably hold down the handle no matter what position you hold the trimmer in.
Safety tips
When you purchase a hedge trimmer, you should also select some basic safety gear, like head and eye protection, and garden gloves, to keep you safe during trimming.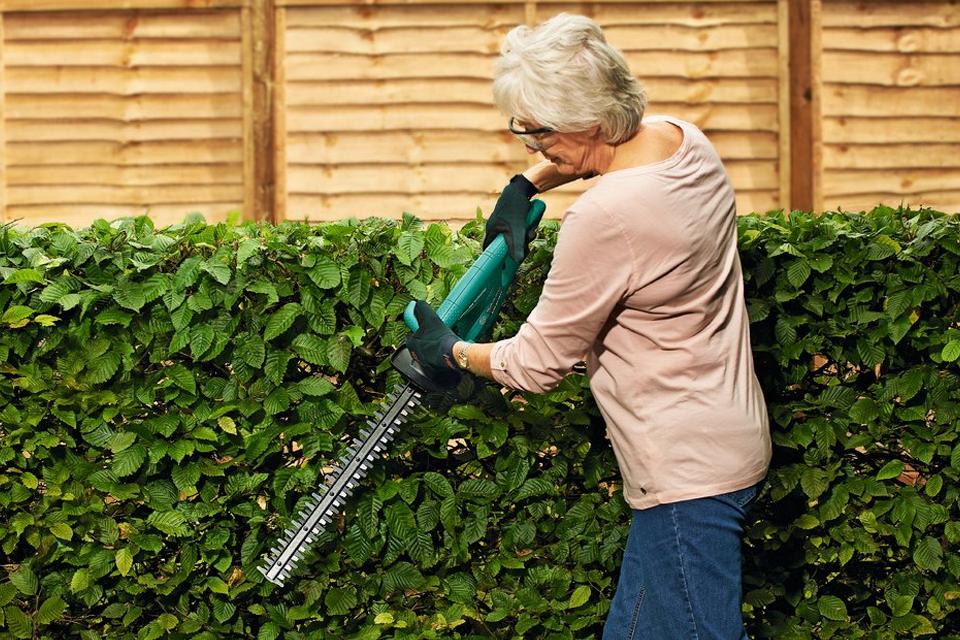 Four features for safe hedge trimming
Hand guard - All blades come with a hand guard that prevents your hands from slipping onto the blade. They also protect them from being scratched by flying debris during use.

Dual safety switch - This is where you have to press and hold two power switches before the hedge trimmer will turn on. The blade automatically turns off if a single switch is released, keeping you safe if you slip or drop it.

Quick stop brake - A brake system ensures that once you stop using the trimmer, the blades will cease moving in moments, reducing the risk of accidental injury.

Anti-jamming system - This will either stop the blades immediately if they become jammed due to a blockage, or they will reverse the blade's direction so the blockage can be dislodged.
Top rated trimmers
Shop hedge trimmers by brand
More garden inspiration
Why buy at Argos?