Use up and down arrows to review and enter to select. Touch device users, explore by touch or with swipe gestures.
How to choose the best garden furniture
Make the most of your garden, patio or decking with our guide to garden furniture.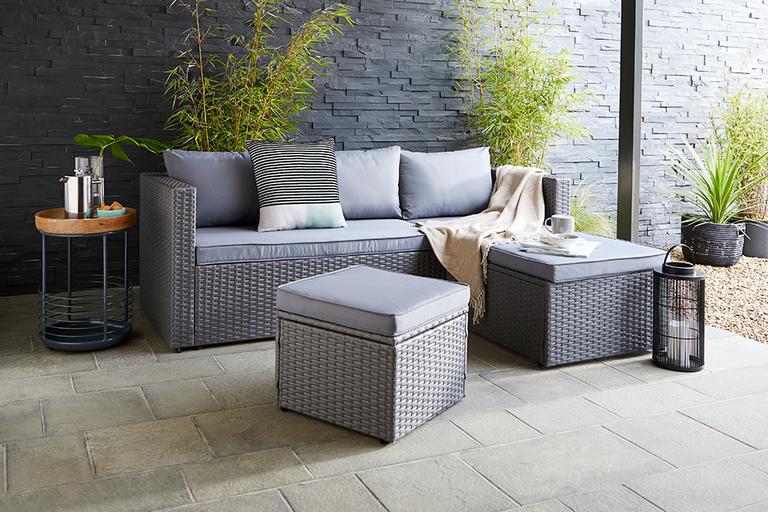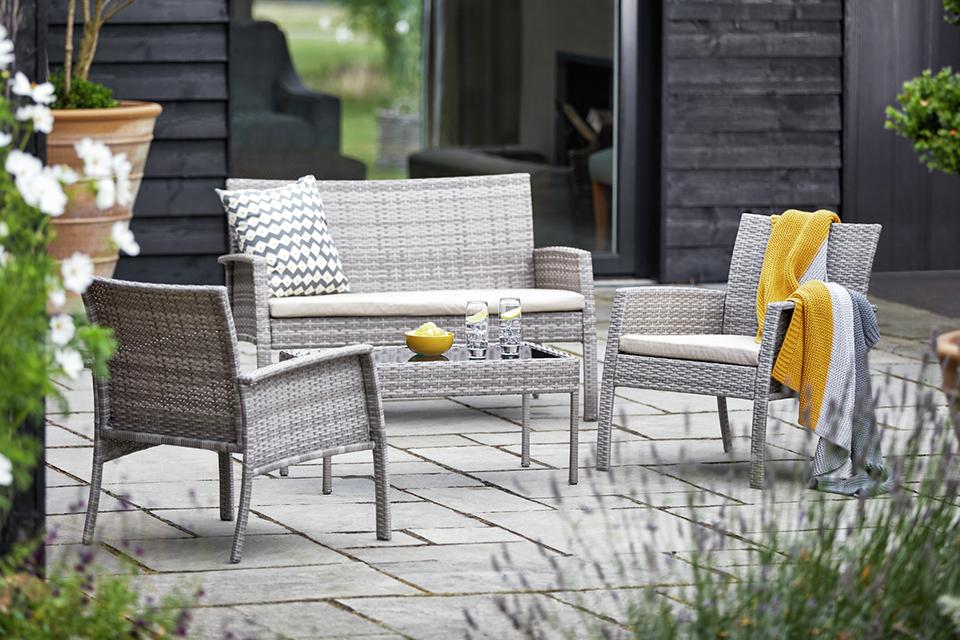 Garden furniture ideas
Whether you want space to entertain in the summer or somewhere quiet to unwind in the sunshine, it's important to pick the pieces that match how you like to enjoy the outdoors.
1. Eat alfresco with garden dining sets
The perfect seating for when the barbies on. With 2, 4, 6 and 8 seater sets available, there's something to suit any size of gathering, and garden. Great for eating outside on warm evenings and making the most of sizzling summer days.
2. Garden furniture sets for small spaces
Don't let space stop you catching some rays. bistro sets are a cute and compact option for patios, balconies and smaller gardens. With less pieces, they're also easy to keep stored away.
3. Informal entertaining with garden lounge sets
Get the living room feeling outside with something a little more chilled. These comfy sets usually include a 2, 3 or corner seat sofa, and give you more space to relax and put your feet up. They're sure to wow your guests too.
4. Super relaxing hammocks and swings
Less about entertaining and more about enjoying some me-time. A hammock or swing is the ideal place for some solo chill-out time in the sun. Just make sure you have somewhere to store it during bad weather.
5. Garden seats and benches
If you just enjoy sitting out amongst the greenery, then a garden bench is a classic option. A picnic table is a great choice for families, while sun loungers are a must-have for topping up your tan.
6. All weather furniture
Short on time or storage space? All weather garden furniture is designed to survive the elements and doesn't need to be stored away. You may still want to invest in a garden furniture cover for added protection.
Types of garden furniture
Rattan-effect garden furniture
What are the benefits?
Loved for its woven style, rattan-effect garden furniture is a flexible choice – suitable for conservatories, patios, lawns and decking. It's durable, lightweight and easy to clean.
How to take care of rattan garden furniture?
Despite being weather resistant, rattan-effect pieces still shouldn't be left outside during the colder months. You should also be sure to keep any cushions or sofa style pieces out of the cold and wet weather. When cleaning, use a damp cloth or hose.
Wooden garden furniture
What are the benefits?
Wood is a popular choice for patios and gardens, with the main benefits being its durability and natural look. As it doesn't retain heat, it shouldn't get too warm on summer days.
How to take care of wooden garden furniture?
Although generally long-lasting, wooden garden furniture does require some care. Treat it annually with oil or stain to protect against cold and bad weather. Hard wood should be scrubbed with warm, soapy water, while a waxy finish requires cleaning with a soft, dry cloth.
Metal garden furniture
What are the benefits?
Metal garden furniture is a durable choice, although it can be heavier than other options. Hardwearing by design, most sets are now rust-resistant too. It's best suited to patio and decking spaces.
How to take care of metal garden furniture?
Despite its durability and rust-resistance, metal garden furniture should be covered or stored away in the winter. You can clean with warm soapy water, or a pressure washer, on a low setting.
Plastic garden furniture
What are the benefits?
Plastic is often a lightweight and low-cost option. The chairs are usually stackable, making it the easiest type of garden furniture to store away. Plastic is also weather resistant.
How to take care of plastic garden furniture?
Plastic garden furniture is weather resistant but can warp if left in the sun too long. Counter this by keeping it stored in a shaded area during the summer. Clean with soapy water or a pressure washer on a low setting.
Spread the cost with the Argos Card
Representative 34.9% APR variable
Credit subject to status. T&Cs apply
Essential extras
More help and inspiration
Why buy at Argos?