Chainsaw guide
Whether it's for cutting up logs for firewood or pruning back trees, our guide to chainsaws will help you find the best tool for your needs.
Shop all chainsaws at Argos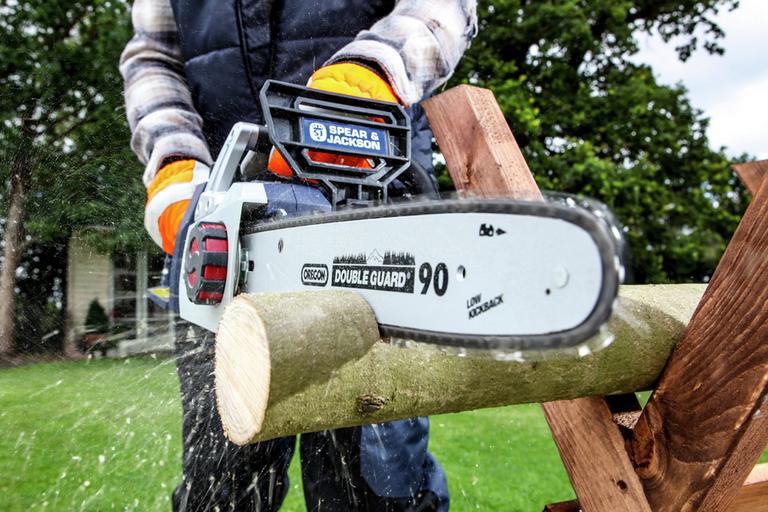 Chainsaws are available in three different power types - electric, cordless and petrol. Electric and cordless saws are smaller and less powerful, making them ideal for most gardens, while petrol models are best suited to heavy duty tasks.
Types of chainsaws and their uses
The key to choosing the right chainsaw is finding a model that best suits your requirements, without choosing one that is too powerful.
Electric chainsaws
These chainsaws need to be plugged into a power source and are better suited to lighter jobs. They're lightweight and reasonably quiet, but offer less oomph than their petrol-powered counterparts.

Why they're great:
Lightweight, quiet and low maintenance.
Can be used straight out the box.

Best for: Light cutting and pruning.
Cordless chainsaws
Cordless battery chainsaws give you full freedom to roam without the restriction of a power cable. They're often measured in cuts per charge, giving you an idea how long each battery charge will last.

Why they're great:
Lighter than petrol models, so easier to carry.
Require little maintenance.

Best for: Light to moderate cutting jobs.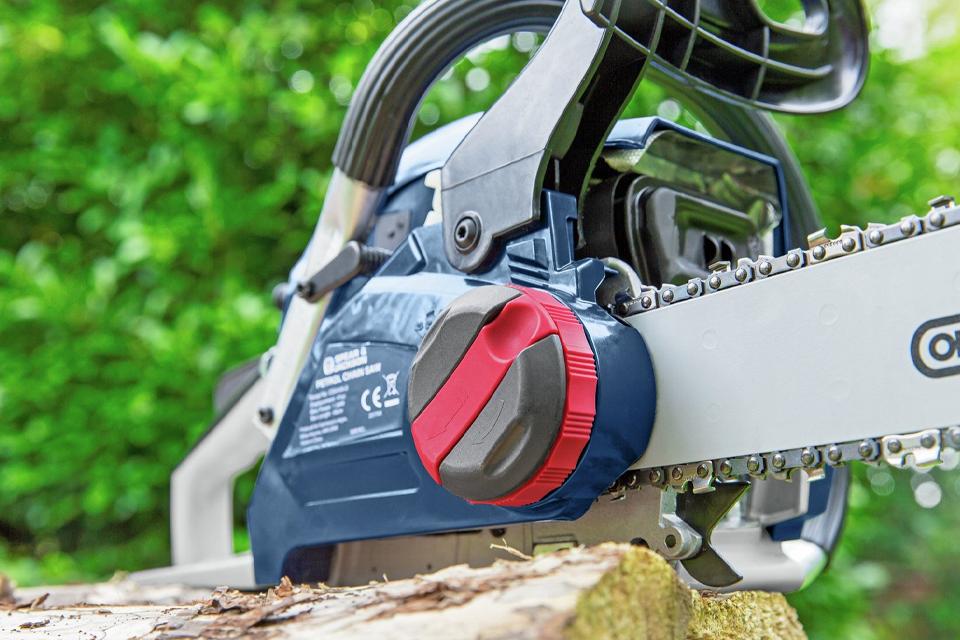 Petrol chainsaws
Portable and powerful, petrol chainsaws are best for heavy duty or tough jobs like cutting down large trees, logs or thick branches. They usually come equipped with 32cc or higher motors.

Why they're great:
Cut through thick branches or trees with ease.
Designed to work in any weather.

Best for: Heavy duty cutting.
Small chainsaws
With a shorter blade, these chainsaws are ideal for less demanding cutting tasks such as pruning or preparing firewood. They are more portable than other chainsaws, so you can carry them around without getting tired or sore arms.

Why they're great:
Lightweight and easier to manoeuvre.
Smaller design puts less strain on your arms and back.

Best for: Cutting branches and pruning small trees.
Pole saws
Pole saws are smaller chainsaws that are designed to cut high branches. Most pole saws extend to reach the branches on average sized trees. They are generally less powerful compared to electric and petrol chainsaws.

Why they're great:
Cuts branches out of the reach of standard chainsaws.
Extendable for when you need extra reach.

Best for: Trimming small to medium trees.
Chainsaw bars and chains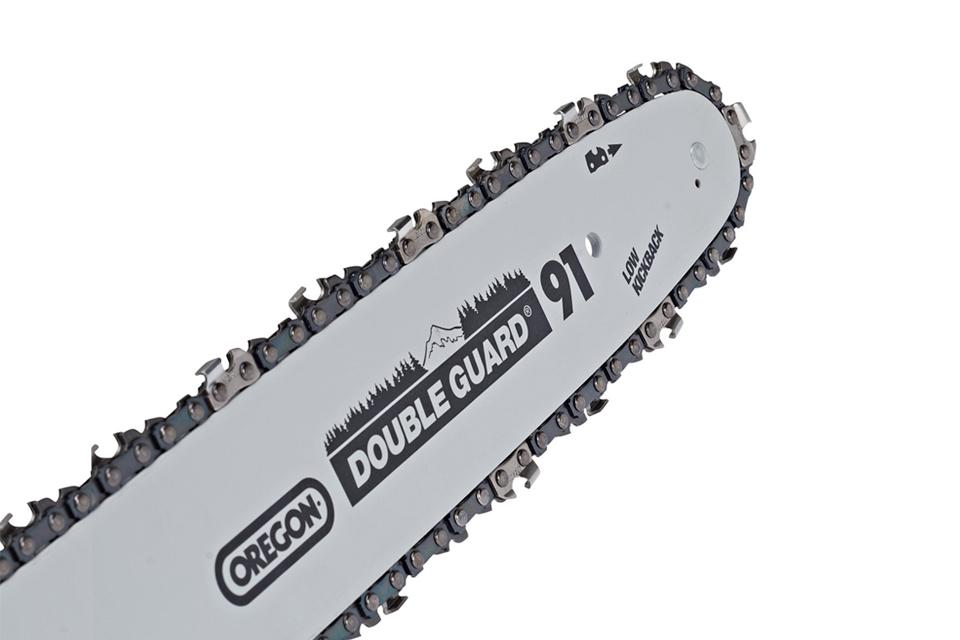 Chainsaw blade sizes
The longer the chain bar is, the larger the branch or log you can cut with it. For example, if you want to cut a 60cm tree in one pass, then a 30cm chain bar or bigger is ideal.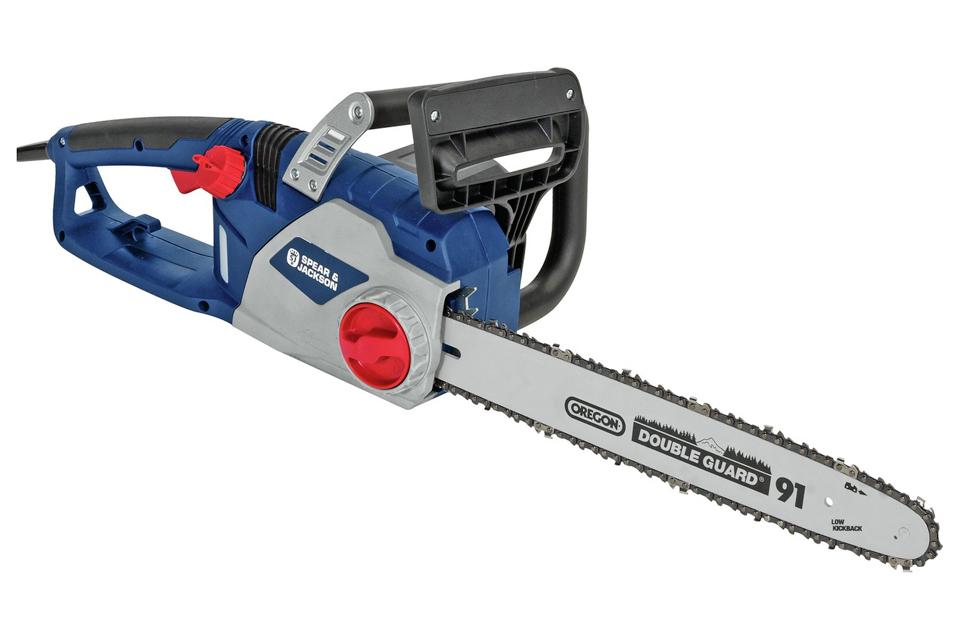 How to measure a chainsaw bar
The length of the chain bar is measured from its tip to the point where it meets the motor casing. Bar lengths for most consumer chainsaws range between 20 and 61 centimetres.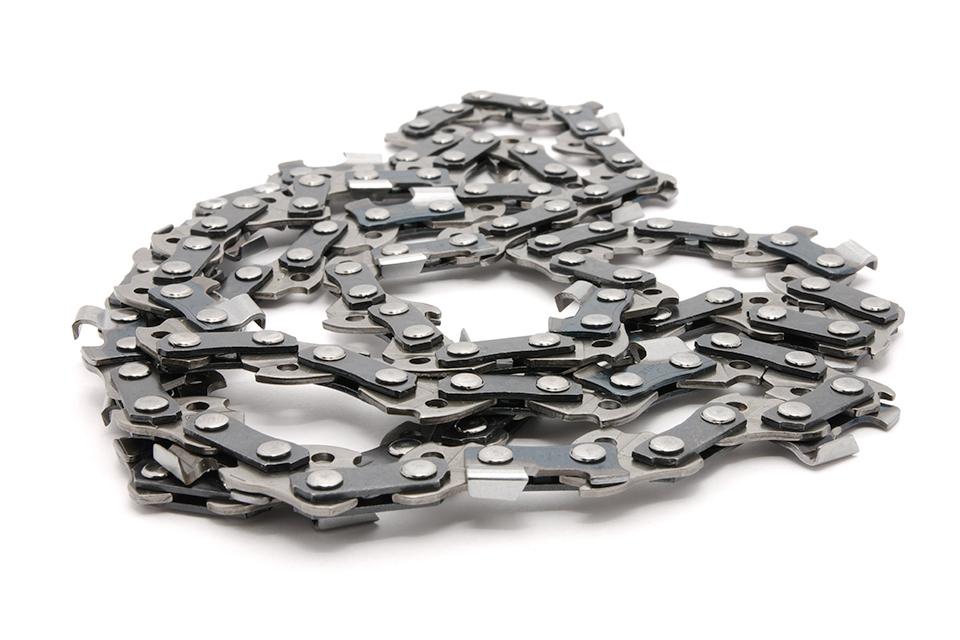 Pitch and gauge
A chainsaw chain is typically measured by its pitch and gauge. The pitch is the distance between the chain's drive links. Gauge refers to the thickness of the teeth along the length of the chain.
Things to look out for
Chainsaw size
The larger and more powerful a chainsaw is, the harder it is to use. As safety is so important with chainsaws, you should never take on more work than you need to.
Chainsaw weight
Chainsaws can be very heavy and are hard work to use. Make sure you choose a model with a weight you are comfortable with as fatigue during use could lead to an accident.
Chain cutting speed
The cutting speed of the chain is measured in metres per second (m/s). The faster the cutting speed, the faster the chainsaw will cut through large branches and logs.
Chain lubrication
Lubrication is important for keeping the chain moving smoothly. Many models include automatic lubrication, while others need lubricating manually using a compatible oil.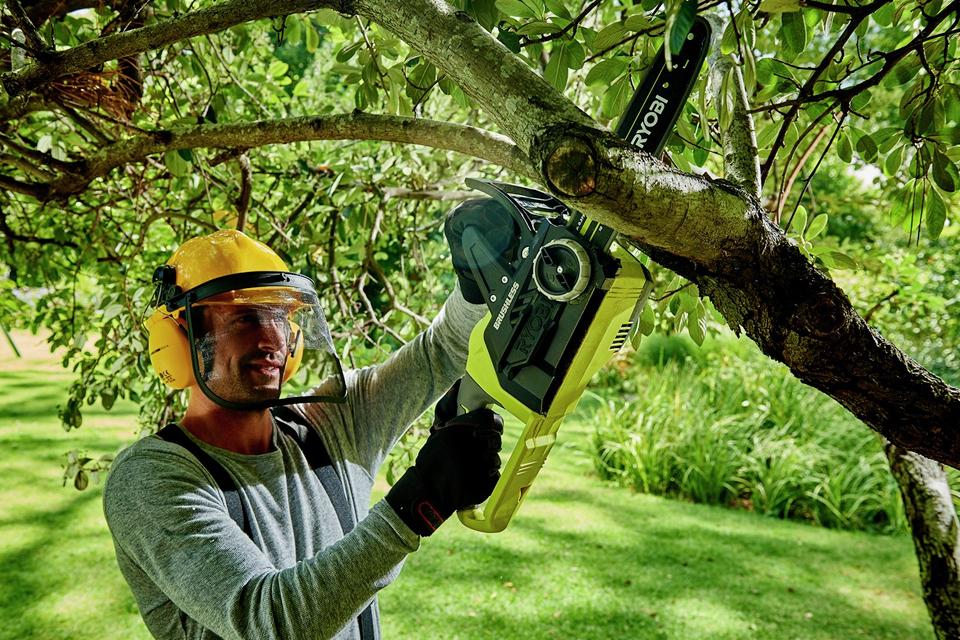 Six safety features of a chainsaw
An anti-vibration system keeps vibration to a minimum to make sawing more comfortable.
If the chain breaks, a chain catcher makes sure that it does not fly loose and cause injury.
Most models come with a safety trigger, which prevents the chainsaw from accidentally starting.
The chain brake stops the chainsaw if you experience a sudden movement, such as kickback, reducing the risk of injury.
A safety guard prevents your hands from being hit by splinters and slipping onto the blade if you experience kickback.
Using a blade cover when the chainsaw isn't in use will prevent any wear, as well as any accidents.
Chainsaw safety gear
It is essential that you wear safety equipment whilst using a chainsaw, including a helmet, gloves and chaps. To operate a chainsaw, a user must be on or near the age of 16 years, depending on when the last day of the school year falls.
Chainsaw chain replacement
If your chain isn't cutting as quickly or as well as it should, you may need to replace it to avoid damage to the rest of the machine. Replacement chains can be fitted to almost all chainsaws. When buying a spare or replacement chain, be sure to check the instruction manual for your chainsaw to determine the correct model and size you need.
More garden inspiration
Why buy at Argos?