As BBQ season draws closer, it's time to get your grilling setup just right. Whether you prefer authentic charcoal or easy gas BBQs, we've pulled together all you need to know to become king of the grill.
What size BBQ do I need?
Things to consider...
Every BBQ will grill slightly differently depending on its size, features and fuel. Which one is best for you can depend on multiple factors:
How often are you BBQing?
How many are you cooking for?
How much storage space do you have?
How do you like your food cooked?
We've grilled our specialists and gathered the best bits of each type of BBQ, to help you answer these questions.
Charcoal vs gas BBQs
Classic charcoal
If you want a more authentic BBQ experience, then charcoal is for you. From lighting the coals to stocking the fire, you'll achieve that unique BBQ flavour.

Charcoal will take more time to heat up (30-40 mins), as the embers need to be piping hot. Cooking will also take a little longer as the temperature can fluctuate depending on the position of your coals. But by taking your time, you'll lock in more of that succulent, delicious flavour.
Cooking on gas
Although seen as a more expensive choice, gas BBQs are a convenient and flexible cooking option, and ideal for novices.

Simply hook your BBQ up to a gas canister (propane or butane are most suitable), press the ignition button and start cooking. You can control the heat more evenly with a gas BBQ, and with most models boasting multiple burners, you can easily alternate your cooking temperatures – giving you a more even cook.
Smaller BBQs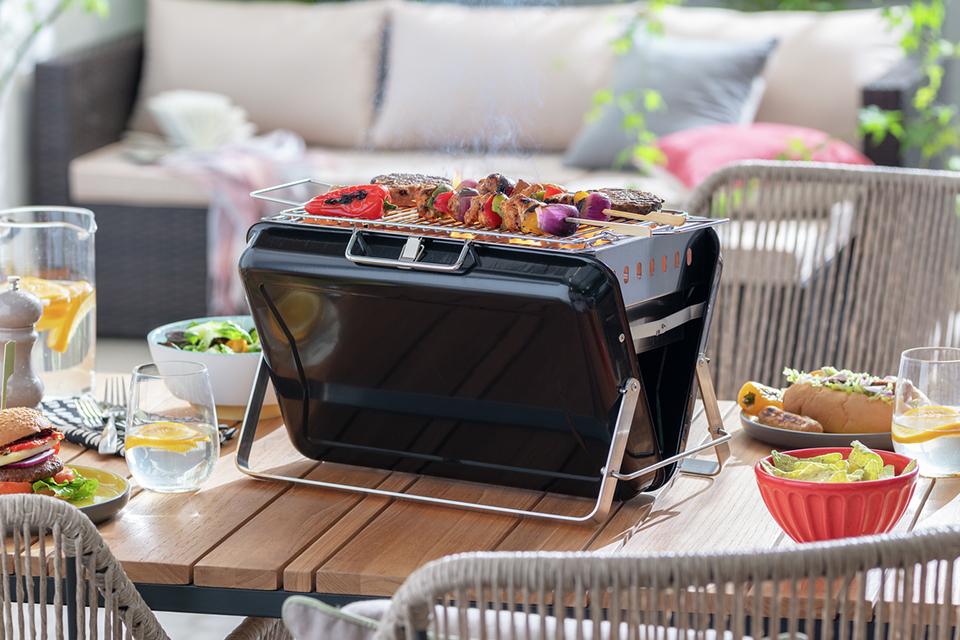 Grillin' on the go
If you're limited on outdoor space, only cooking for a couple of people or are travelling with a BBQ – you've got lots of options:
Portable BBQ – great for camping, with a hood to aid cooking and keep everything compact.
Electric BBQ – convenience cooking for both inside or outside. Make sure a mains socket is nearby.
Our top BBQs
The best BBQ features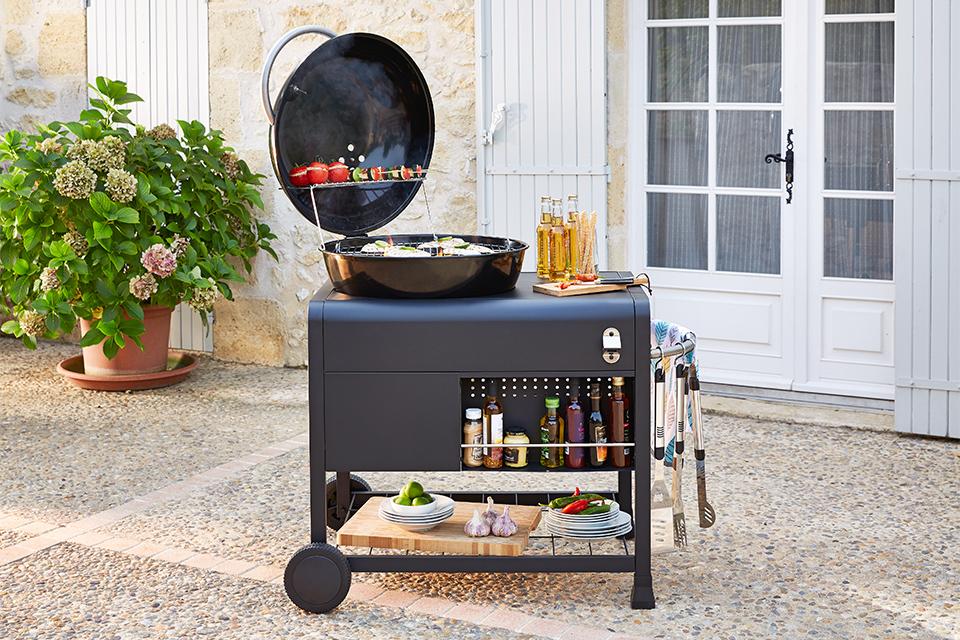 Up your grillin' game
Get the most out of alfresco cooking and look for our favourite features:
Wheels – easily manoeuvre yourself to cook in the sun.
Warming rack – keep food warm whilst you cook the rest.
Ash collection tray – this will save you cleaning time later.
Adjustable grill – have more control over your cooking by moving food to or from the heat.
Shelves – ideal spots to hold dishes, trays, condiments and beverages for the chef.
Loading door – safely and easily reload your charcoal BBQ with a handy door.
Hoods and chimneys – keep food warm with a hood, whilst chimneys will disperse excess smoke.
Fireboxes – an extra chamber for fuel such as wood for infusing your food with extra smokey succulence.
Must-have BBQ accessories
Useful utensils
Poke it, flip it, cut it. Have all your cooking equipment close to hand for easy grilling.
Effective covers
BBQ covers are great when you're short on space – especially when summer showers make a surprise visit.
Light it up
Classic charcoal, barbeque briquettes or easy fire logs. Pick up essential fuel to get your BBQ going.
Sizzling reviews
BBQ top tips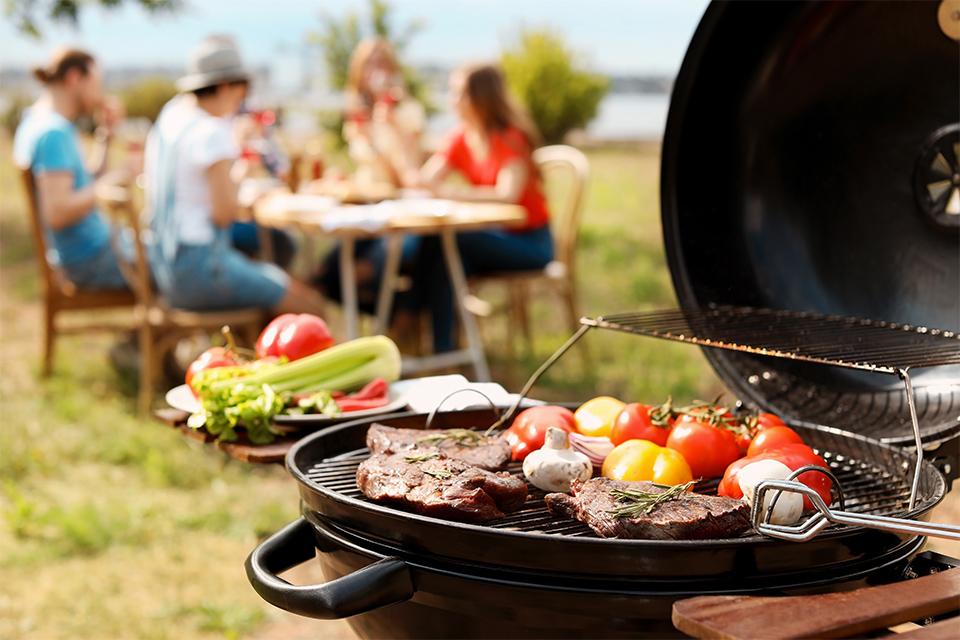 Sun's out, (burger) buns out
Check for any dietary requirements as you may need separate tools or dishes.
Add your food once the flames have died down to avoid scorched edges.
Marinade any meat the night before to save time and get the best flavours.
Line your BBQ with a bit of foil for a quicker clean-up.
Wait until your BBQ is cool before cleaning. Most grills are dishwasher safe or you can use a wire brush. Oven cleaner is ideal for the rest of your BBQ.
Clean your utensils too so they'll last longer.
Dive into side dishes – corn on the cob, coleslaw, potato salad…we could go on!
Set the mood with a top garden party playlist.
BBQ recipes
Chilli-lime corn on the cob
Spice up your side dishes and give your corn on the cob a bit of a kick. But can you handle the heat?
Veggie burgers
See how high you can stack your burger with this twist on a classic – great for veggie and non-veggie guests.
Chicken kebabs
So easy to create and so delicious to taste. Enjoy the succulent chicken taste and mix n match your choice of veg.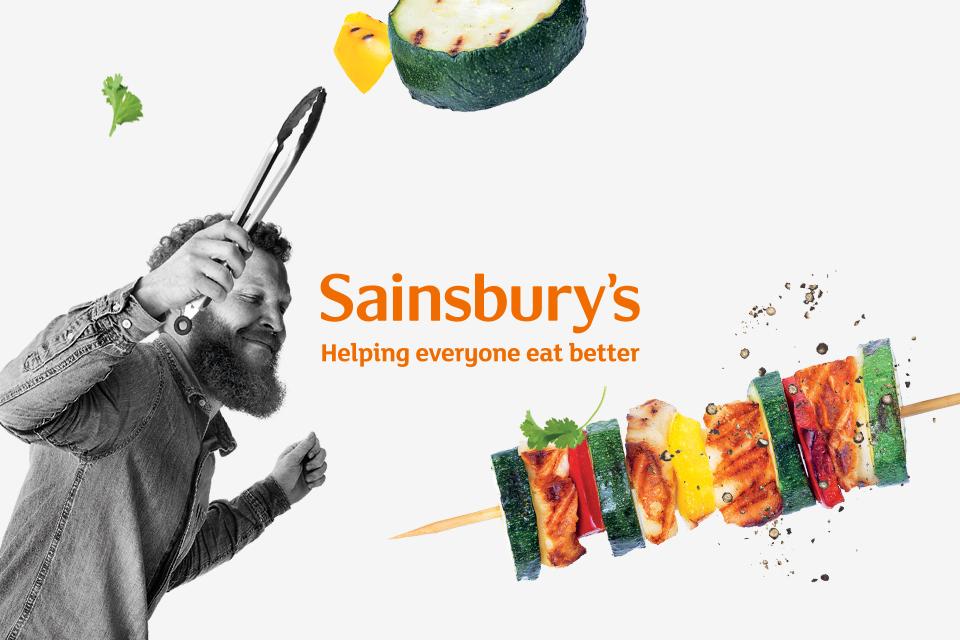 Fire up the BBQ
Explore BBQ food at Sainsbury's to enjoy delicious sausages, burgers, kebabs and more.
Enjoy your outdoor space
Garden furniture
Choose your perfect style. There's something for every garden.
Why buy at Argos?