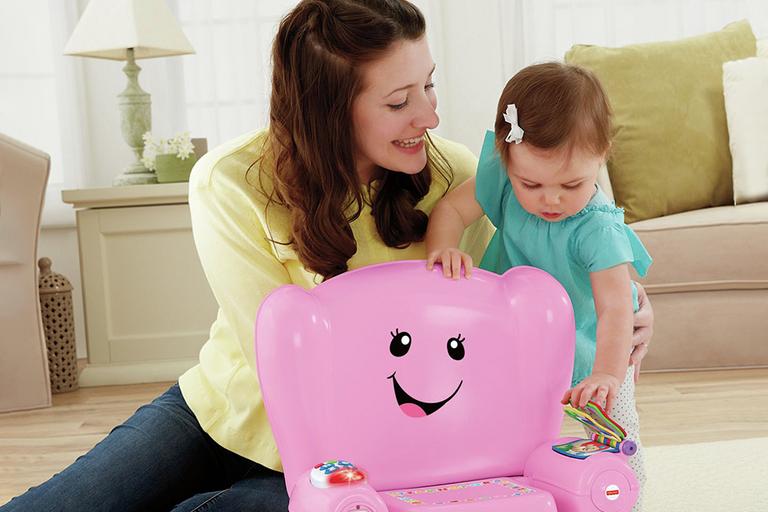 Allowing your child to learn through play is such a fun and rewarding experience. And you'll soon see how their favourite games, songs and books help develop their day-to-day abilities.
Brain development
Making positive connections
You'll see your little ones trying to solve problems, such as sorting shapes and colours, or following objects you've hidden. Encourage them to test new abilities like shaking or banging as they explore the effects.
Activities to try...
Activity and water tables
Let them explore different textures, shapes and sounds whilst they discover how things work. A table also helps them build up their strength to stand and walk.
Colourful puzzles
A puzzle is great way for them to learn about colours, numbers, shapes and so much more. They're great to do together or let them figure it out on their own.
Shape sorters
To develop fine motor skills, choose from a variety of colours, shapes and themes, allowing your little one to think about which shape fits where.
Physical development
Fine & gross motor skills
Your child will use their fine motor skills to synchronise smaller muscles like hands, feet and eyes for everyday movements. Gross motor skills engage their larger core muscles, helping bigger movements like walking.
Activities to try...
Obstacle course
Set up a soft and squishy obstacle course for your baby to crawl, climb and walk through, allowing them to roam freely. This will help to build their muscle strength.
Chasing bubbles
Encourage your child to use their gross motor skills to sit, stand, chase and reach, as the bubbles float in different directions.
Walkers
Help them build their confidence as they take their first steps, with a walker. Their bright colours, characters and interactive features also helps develop other skills too.
Social skills
Communication & friendship
An important part of your child's development is their ability to communicate. This can be through facial expressions, body language or short sentences. Although independent play is a big part of their lives, they'll soon be interacting with others.
Activities to try...
Read together
Cuddle up and read to your baby. Bring the story to life through funny voices, noises and talking about the story. Ask your child to point to things to keep their attention.
Pretend phones
Kids love to mimic our actions and conversations. Before they cover your phone with fingerprints, give them their own phone so they can catch up with Nan and Grandad.
Nursery rhymes
Nursery rhymes help your baby learn new vocabulary. Use actions alongside the rhymes, to help them remember the song, or how about adding some musical instruments too?
Top toys
Products our customers love...
Looking to learn more?
Why buy at Argos?