Use up and down arrows to review and enter to select. Touch device users, explore by touch or with swipe gestures.
Chest workouts
Best chest exercises to do at home.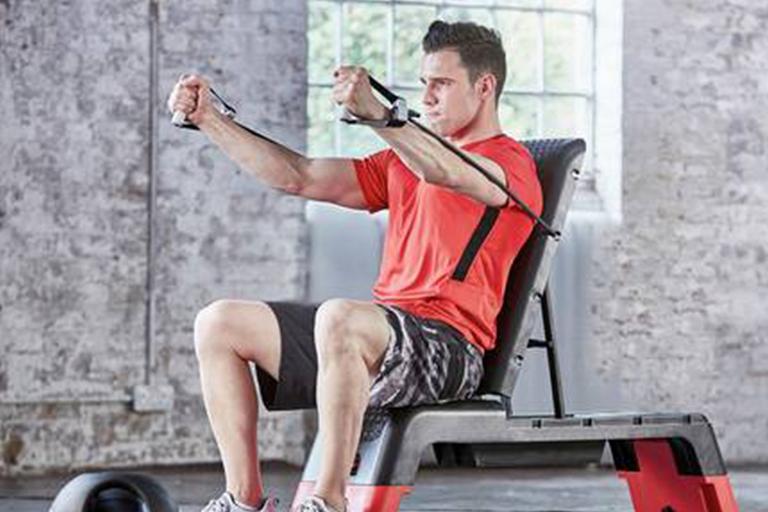 How to build chest muscles
To build chest muscles, you have to lift relatively heavy. Your muscles respond better when they are challenged so lighter weights are not going to have too much impact. It's important not to rush into heavy weightlifting though – always choose a weight you're comfortable with and able to lift.
Try a variety of compound exercises (ones that use more than 1 muscle group), mixed with a healthy diet high in protein, to get the best results.
Toned chest exercises
Alternating medicine ball push-up
As well as giving your chest a good workout, this exercise will work your core, arms and shoulders too. Make sure you're completely stable on the ball when lowering yourself down though - we don't want any injuries!
Step 1
Start in standard push-up position with one hand on the floor and the other hand on top of the medicine ball. Slowly lower your torso towards the floor.
Step 2
Pause and press back up to the starting position. Roll the medicine ball beneath the other hand before repeating the movement.
Michael Jennings, Men's Health fitness editor, says:
Keeping a rigid core and swapping from hand-to-hand on a spherical medball requires more coordination than the average gym-goer can muster. The uneven surface forces your stabilising core to work overtime, while the extra motions are guaranteed to make you sweat.
Renegade row
This compound exercise works almost every major muscle in the upper body. It puts emphasis on your back and shoulders because of the rowing movement and if you include a push-up in between steps, you'll definitely feel the burn in your chest and abs.
Step 1
Get in to a plank position, with a weight in both hands.
Step 2
Lift alternative hands towards the chest and then place on the ground.
Michael Jennings, Men's Health fitness editor, says:
Fancy making it harder? Increase the weight and throw a press-up in the end of each set of rows. We suggest doing a static plank for 60 seconds, then straight in to the renegade row for 20 reps.
Begin your quest for perfect pecs
Discover Opti
Want to tone up other areas?
Exercise your imagination
Why buy at Argos?