Use up and down arrows to review and enter to select. Touch device users, explore by touch or with swipe gestures.
How to choose the best tumble dryer
Our guide can help you decide on the best type for your home.
Shop all tumble dryers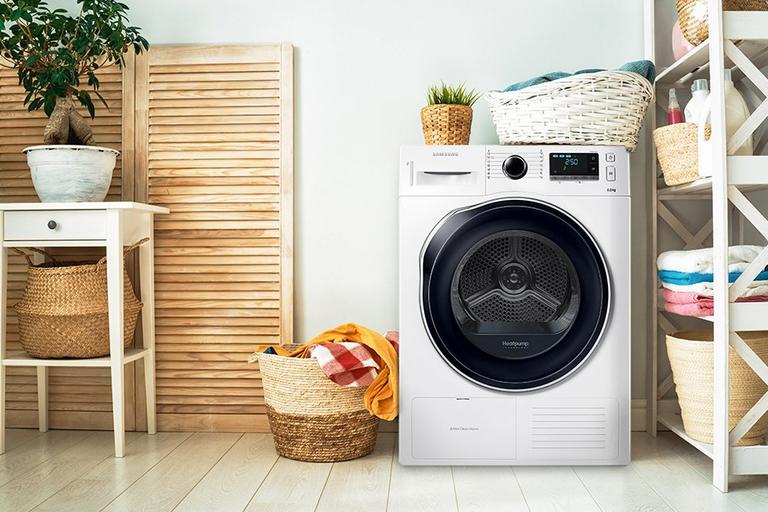 Types of tumble dryer
Heat pump tumble dryer
The most eco-friendly option, a heat pump tumble dryer uses low temperatures and re-used hot air to dry your laundry.
Not only is this more eco-friendly, but will also cost you less to run.
Why choose a heat pump tumble dryer?
Provides better protection for your laundry
No external pipes or hoses
Eco-friendly and low running costs
Condenser tumble dryer
A condenser tumble dryer can be used anywhere in your home and doesn't require an external vented hose.
A condenser collects moisture from your clothes and stores it in a container, which requires emptying when full.
Why choose a condenser tumble dryer?
Can be installed anywhere in your home
Often more energy-efficient than vented models
Vented tumble dryer
Vented tumble dryers remove moisture from your clothes through a hose, which can be placed through an open window or professionally installed vent.
They tend to be the least energy-efficient type of tumble dryer and they must be near a window or vent.
Why choose a vented tumble dryer?
Usually less expensive upfront
No water container to empty
Dries clothes quickly
What our customers say
Tumble dryer sizes - What capacity should you choose?
Small tumble dryers for flats
If you live in a flat or smaller home, you may want to opt for a more compact model which offers enough drying space for a single person or couple. These tumble dryers take up a lot less room than full size machines, making them convenient for places with limited space.
Tumble dryer features
Dry cycles and features vary from machine to machine, so when choosing a dryer, make sure it includes the features you need before you buy.
Anti-crease
If you don't take your clothes out when the cycle finishes, the dryer will spin the drum to stop creases from setting in.
Delay start
You can program your dryer to have your clothes ready at a certain time, such as when you get home from work.
Half load
A half load setting helps save energy and time when you only need to dry a few items of clothing.
Reverse tumble
The drum can rotate both ways during the drying cycle. This helps to prevent tangles and reduce creases.
Filter full indicator
Alerts you to when the filter needs changing. Not cleaning the filter is one of the main reasons dryers become damaged.
Freshen up cycle
Using cool air, a freshen up cycle helps refresh clothes that have become dusty or have a slight odour.
Automatic sensor, manual and smart tumble dryers
Sensor tumble dryers
These detect when your laundry is dry and stop the dryer. There's no need to set a timer. The dryer doesn't run longer than it needs to and your clothes should be properly dried when you open the dryer.
Manual tumble dryers
These use a programmable timer. Any pre-sets are based on an estimate, it may take less or more time to dry your clothes. They are usually less expensive than an automatic sensor dryer.
Smart tumble dryers
Smart tumble dryers can be controlled by an app on your phone. You can program the timer to have your clothes ready at a certain time, and get alerts when your fabrics are dry.
Energy efficient ratings
Energy ratings for tumble dryers range from A+++ to C. The higher the energy rating, the more electricity you'll save per cycle and the cheaper your utility bills will be. Most heat-pump tumble dryers are rated A+ to A+++.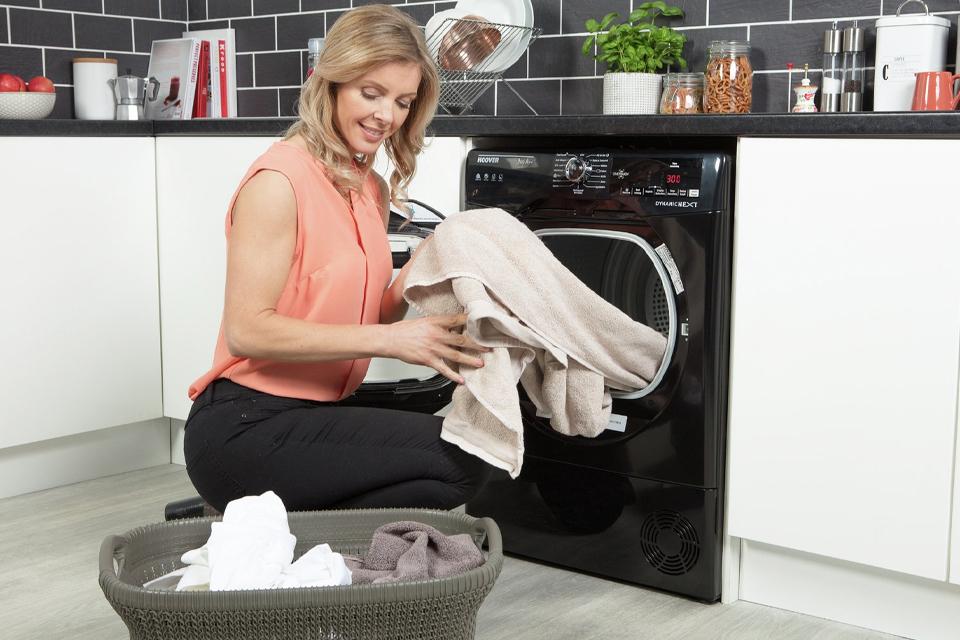 Cost of running a tumble dryer
It's hard to estimate the exact cost of running a dryer, as prices and efficiency ratings vary, as do electricity costs. On average, the most energy efficient models will cost around £30 per year, whereas a dryer with an energy rating of 'C' could cost close to £100 to run.
Below is a list of costs based on averages across many models, each with an 8kg drum being used three times a week with a full load.
Vented dryer - £77 per year
Condenser dryer - £80 per year
Heat pump dryer - £30 per year
Recycling and installation
For the safety of our customers and colleagues we have temporarily removed our recycling and installation services.
Top brands
Tumble dryer delivery
Heavy and bulky item delivery
To ensure your delivery goes smoothly, we've put together a short video to walk you through the process, step by step. It's really important that these steps are met otherwise we may not be able to deliver your new purchase to your home.

Before you order
•Make sure the appliance will fit in your chosen space.
•Check access points are wide enough to accommodate the delivery.
Preparing for your delivery
•Fill out our installation survey and let us know of any access issues.
•Check that the plug sockets are easily accessible.
On the day of delivery
•Make sure a responsible adult will be home to receive the delivery.
More help and inspiration
Why buy at Argos?