Use up and down arrows to review and enter to select. Touch device users, explore by touch or with swipe gestures.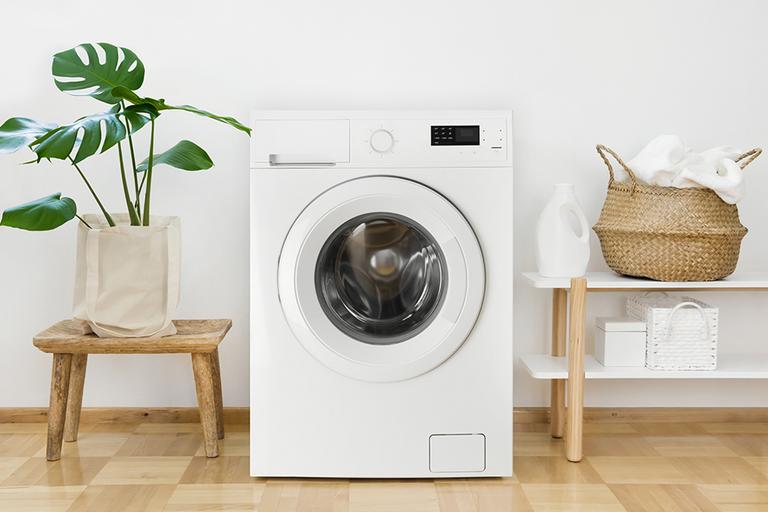 The energy label has changed
From the 1st of March 2021, the energy label has changed. To make it easier for customers to find the most energy efficient products, the old energy-efficiency scale of A+++ to D has been changed to A-G.
What's the best washing machine for me?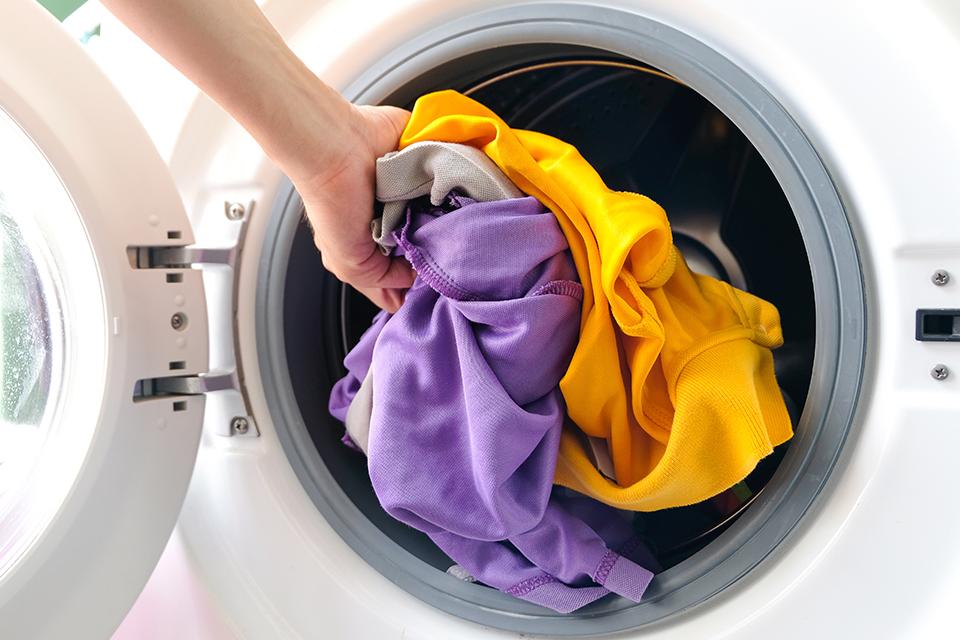 Best for families
Family with lots of washing to do? Large capacity washing machines have more space, meaning you can put more laundry in each wash.
Families will also benefit from a machine with more wash programmes, such as baby cycles for little ones, or intensive washes for stained sport clothes.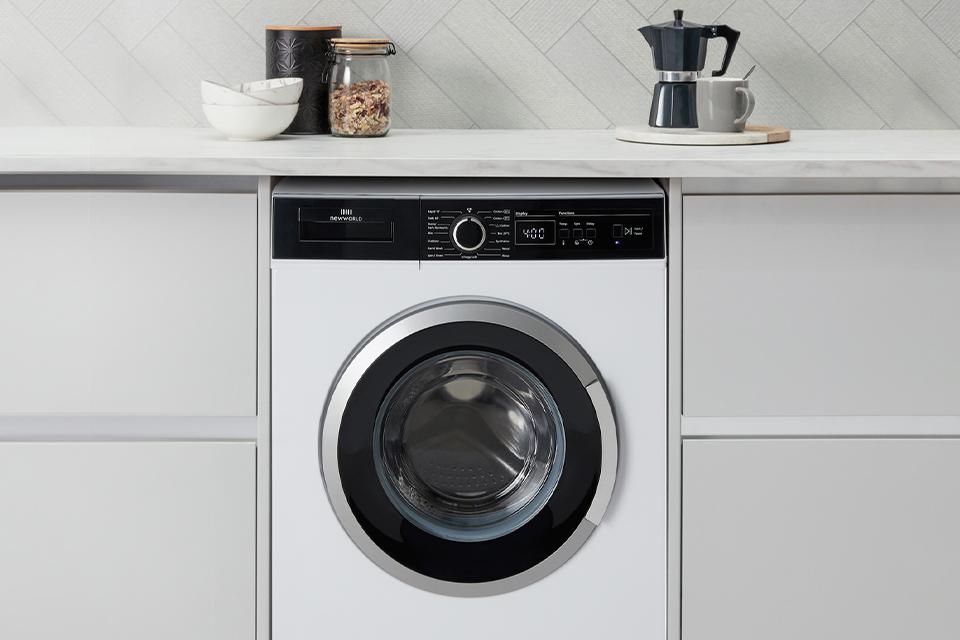 Best for individuals and couples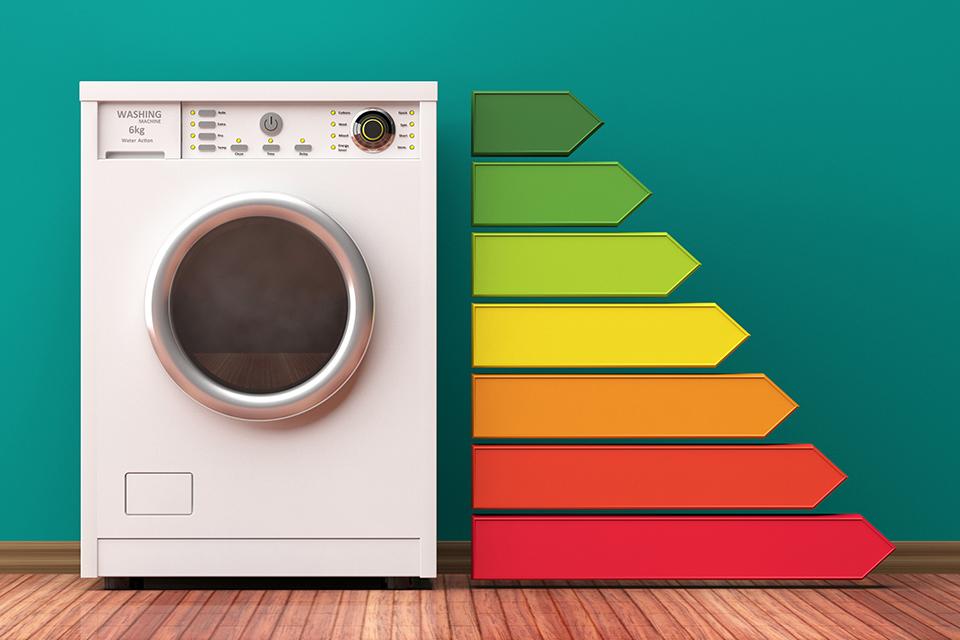 Best for energy efficiency
Choosing a more energy efficient model can have many benefits. Not only are they better for the environment, but you could also lower your bills.

The most energy efficient washing machines are rated A and the least efficient are rated G. Learn more about the energy label.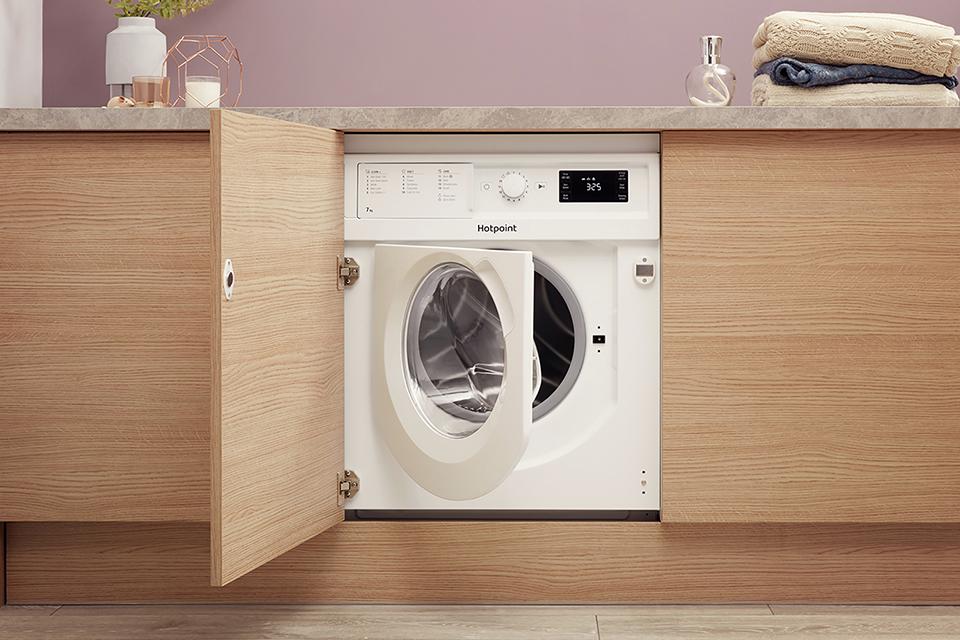 Integrated washing machines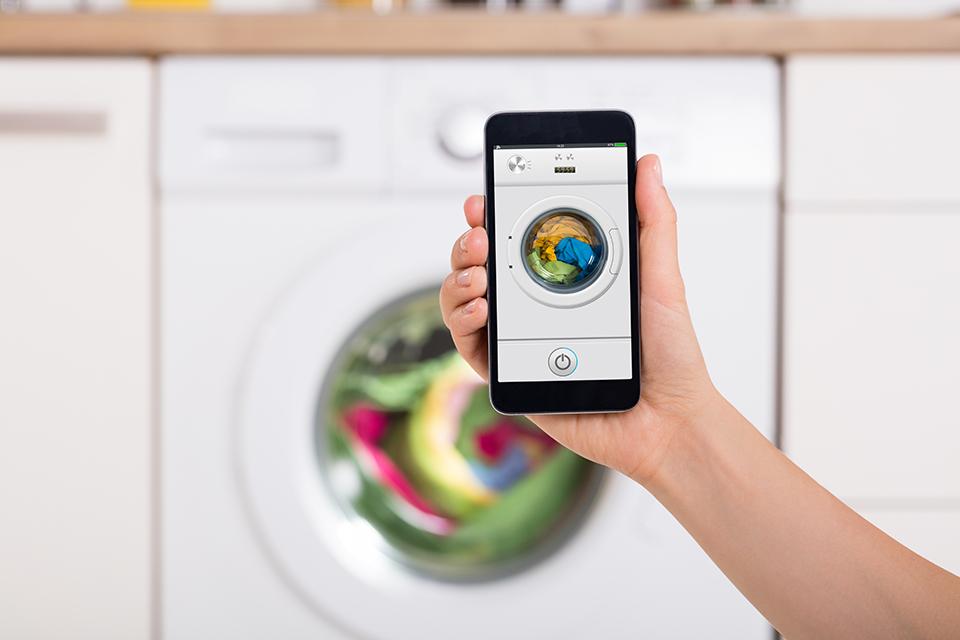 Smart washing machines
A smart washing machine can connect to your smartphone. From there, you can control and monitor your washing machine from the app linked to your model.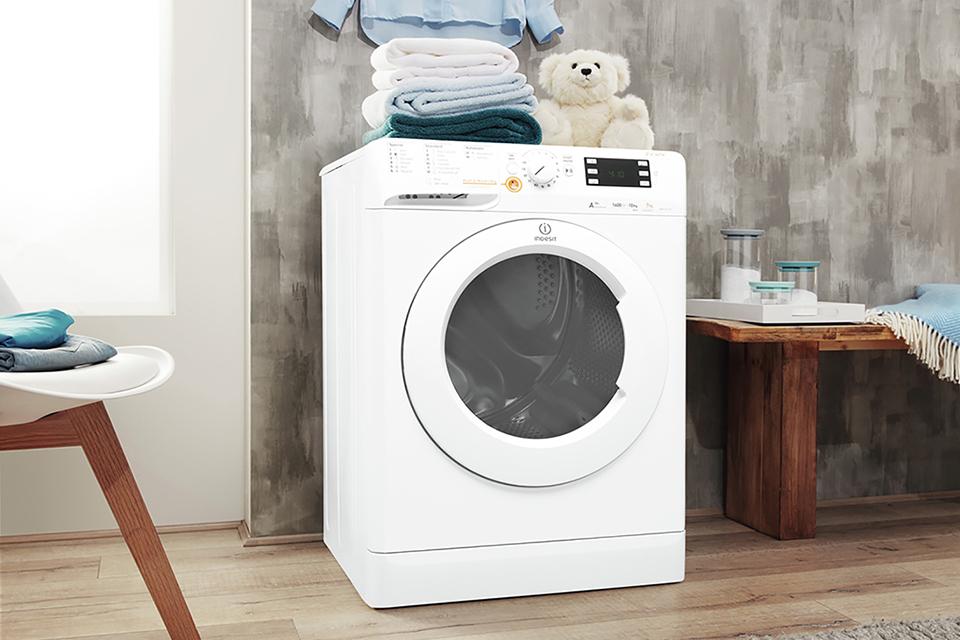 Washer dryers
Washer dryers have both washing and drying functions – great if you don't have room for a separate tumble dryer.
Washing machine guide
Before you buy
There's two important questions to consider before you buy a new washing machine. What size do you need? And do you have the right connections?
Will it fit? – There's nothing worse than your new machine arriving and you don't have enough space. It's important to measure up beforehand to make sure your new washing machine isn't too wide for the intended space, too tall to go under a counter or, or has too much depth and sticks out at the front.
If a machine is too wide it won't fit where you want it to go. If it's too tall, it won't fit under the counter and if it has too much depth then the front will stick out.
What connections do I need? – Washing machines need to be connected to a cold water supply, waste pipe and mains plug. Make sure that all of these are in reach or you won't be able to install your machine.
Wash capacity - what drum size do you need?
5-6kg washing machines
Our smallest machines - these have capacity for around 30 adult t-shirts.
7-8kg washing machines
Our standard size of washing machine, these have space for around 40 adult t-shirts.
9kg+ washing machines
Our biggest washing machines - these have space for around 50 adult t-shirts, or more, depending on size.
Washing machine features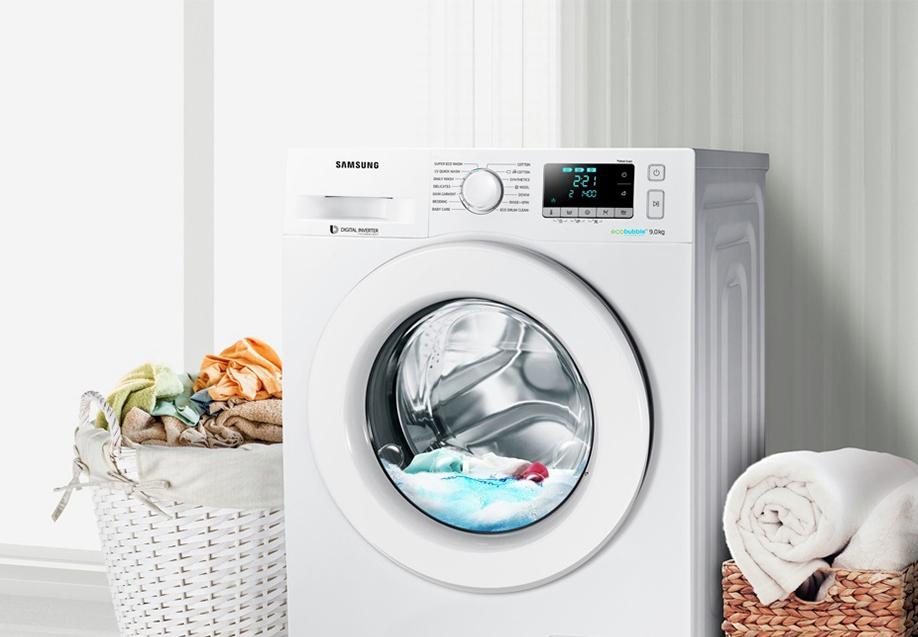 Six things to look out for
Spin speed – Spin speed is measured in RPM (rotations per minute) and is literally the speed that the drum can spin. A machine with higher RPM spins faster and leaves your clothes drier when the wash finishes. Some machines have a variable spin speed feature which lets you choose the speed the machine spins at.
Pause button - A pause button is a handy feature that lets you stop mid-wash and add any laundry that you might have missed.
Variable temperature - This feature lets you change the temperature of your wash. Lower temperatures can reduce running costs and preserve the colour of your clothing, while higher temperatures provide a more intensive clean.
Max washing time - This number, featured on our product pages, is the maximum amount of time that a wash is likely to take with that machine.
Smart functions - If a washing machine is smart, it means it can be connected to your phone or smart home setup. NFC means it can connect to your smartphone, using the same technology that you'd use for contactless payments.
Control panel - Most washing machine control panels have a knob for selecting wash programs, as well as an indicator light or screen for monitoring the progress of a wash. More advanced models may feature LCD or touch screens.
Washing machine programmes and cycles explained
Quick wash
Machines with quick wash can complete a full wash in 30 minutes. It's fast and energy efficient.
Material washes
Most washing machines have programs for specific fabrics, usually including silks, woollens, cotton, sport wear, synthetics, darks and delicates.
Baby cycle
A baby cycle is an intensive cycle that protects your little ones clothes from washing powder and detergent.
Half load
If you're doing a wash but not using the full drum capacity, a half load program or automatic load adjustment uses less water than if the drum was full.
Intensive
An intensive wash is best used when you have some particularly tough stains that you want to remove. Can be paired with a pre-wash or extra-rinse program to give something a thorough clean.
Easy iron
This program runs at a lower spin speed so that your clothes come out of the wash less creased.
Eco wash
Economy cycles use a lower temperature to consume less water and energy.
Spin and drain
This cycle removes the water once the wash is done, and then spins the clothes dry - reducing the post-wash drying time.
Pause/add wash
Dropped a sock on the way? Pause functions make sure you can add it in mid-cycle.
Hygiene steam
Steam is injected directly into the drum to remove bacteria and reduce allergens.
Auto dosing
The machine knows just the right amount of detergent for any load.
Sensitive cycle
This programme reduces allergens that irritate sensitive skin.
Our top rated washing machines
Washing machines with dryers
What is a washer dryer?
A washer dryer is a good choice if you don't have space for a separate washing machine and tumble dryer. These machines have both washing and drying functions.
The upside is that you only need one machine rather than two, while the downside can be that the drying takes a lot longer than with a standalone tumble dryer.
Our delivery and installation service
Thinking of opting for our paid installation service? To ensure your delivery and installation goes smoothly, we've put together a short video to walk you through the process, step by step. It's really important that these steps are met otherwise we may not be able to deliver your new washing machine to your home.
Washing machine delivery and installation
Before you order
Check your measurements – where your appliance will fit as well as access to your room of choice, including gates, doorways and stairways.
Preparing for your delivery
Before we arrive, you'll need to check that your cold-water feed and waste pipe are in good condition, and that an electrical socket is nearby and accessible.
If we're unable to connect your appliance due to one of the above checks not taking place, we won't be able to refund your delivery and connection charge (this does not affect your statutory rights).
We'll text you the day before your delivery with a 2-hour time slot.
On the day of delivery
Make sure someone is home as we can't leave these items in a safe place.
Ensure there's space for our delivery lorry (they're quite big).
For our driver's safety, please clear their delivery route from lorry to location.
It'll take around 25 minutes for delivery and installation.
Installation and recycling update
For the safety of our customers and colleagues, we've made a few changes to this service. Whilst we deliver and install your item, customers will need to maintain a social distance of 2m. If you are self-isolating, please make us aware so we can rearrange your delivery.

Check here for our latest updates to this service.
Did you know you can recycle your old electronic items in-store for free, when purchasing a new item?
We'll recycle items if the store sells similar items and you've purchased a replacement item from us within the last 28 days, click here for full details.
More help and inspiration
Why buy at Argos?