Use up and down arrows to review and enter to select. Touch device users, explore by touch or with swipe gestures.
Looking for a more powerful and dedicated workspace? Then a desktop computer is just for you. By figuring out what you're using your PC for, our guide can help you find the right one to suit your needs, space and lifestyle.
What are the different types of desktop computers?
From the traditional tower block to customisable RGB lighting, there's something to suit every desk. But how much space you have in your chosen room, and the purpose for your purchase, may determine which style of computer is the best fit for you.
Desktop tower
Although desktop towers may seem a little old school, they're user-friendly, simple to update and easy to customise. They also vary in price points, allowing you to buy the tower and monitor together or separately. You just need to make sure there's enough space for the extra equipment.
All-in-one PC
With an all-in-one, the system features are already built into the back of the monitor, meaning it's user-friendly and you lose the bulky tower. You can't update internal components like other PCs, due to their limited space - so just be mindful that their components can be less powerful.
Gaming desktop
Designed for playing video games, these PCs require a lot of computing power. They are often packed with high-end components, such as graphics cards and faster RAM. Most have advanced cooling systems to keep temperatures under control during long gaming sessions.
Working in a creative industry?
Although PCs offer similar software and programmes, many believe that iMac computers are better suited for creative tasks such as graphic design and photo editing. Check out our dedicated Mac page to help you decide whether a PC or Mac is the best option for you.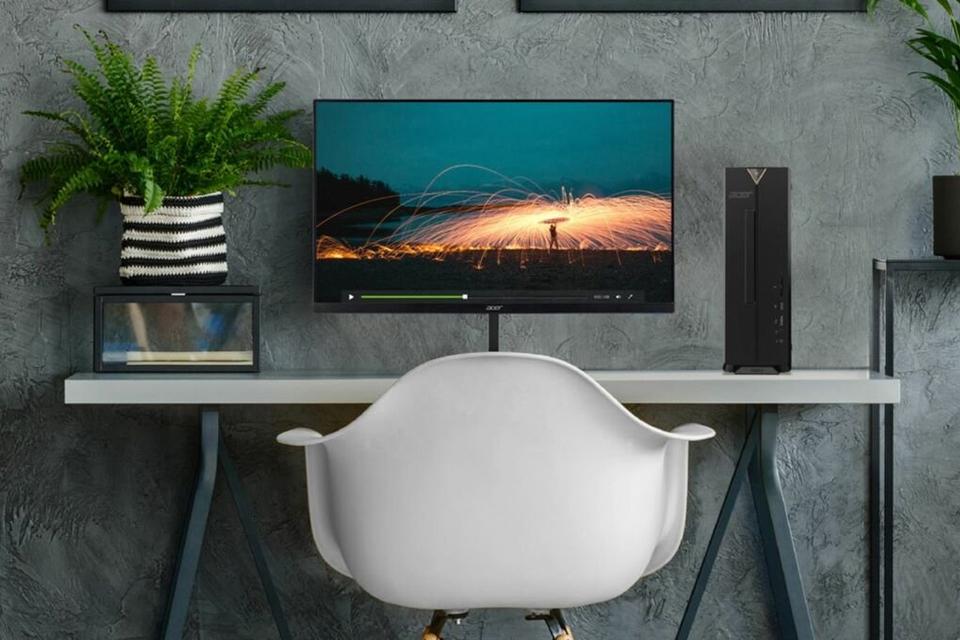 RAM, OS, processor speed? Understanding computer specs
A computer is made up of multiple components, and the importance of each one comes down to what you're doing. To find out more, read our computer guide and advice page, but here's a little preview for you:
RAM - Random Access Memory is your PC's short-term memory space, allowing your computer to work on the jobs it's doing at any given moment.

Operation System - Or OS, is how your computer is designed to function. Choose between Chrome, Windows or macOS depending on your needs.

Processor - Essentially, your computer's brain which determines its performance. Most processors are produced by either Intel or AMD.
Getting the best display for your desktop computer
Selecting the right screen will not only put less strain on your eyes, but will also enhance the tasks you're completing. Sometimes seeing that extra detail can really make the difference.
What to look for in a monitor
Size - There's no right or wrong here, this again relates to what you're using your PC for and the amount of desk space you have. If you do need a high resolution, we'd recommend a larger screen.
Brightness - This is measured in candelas (cd/m2). The brightest monitors can go over 300cd/m2, meaning you can still see the screen even in direct sunlight. However, a lower amount will reduce strain on your eyes.
Contrast ratio - Linked to brightness, this is simply the difference between the darkest and brightest peaks of a monitor. It's debated that the more contrast a monitor has the better. However, the recommended 100000:1 or above is plenty for most computing tasks.
Other features to consider
Curved screen
Looking for a more immersive viewing experience? Try a curved screen - wrapping around your field of vision to really submerge you into your content.
4K & HDR
By enhancing the colours of an image and defining every detail you can see, these high resolution screens make a great choice for streaming or gaming.
Resolution
Monitors are available with three levels of resolution, measured in pixels - the higher the resolution, the more detailed the image on screen.
Which screen size is best for you?
Desktop computer accessories
Keeping your kids safe online
Get free expert advice from Internet Matters on how to make your children's online life fulfilling, fun and above all safe. An organisation dedicated to helping keep children safe online, they offer simple advice on the main issues children may be exposed to when browsing the internet, alongside safeguarding tips for setting up appropriate controls and filters across your devices.
Need more advice?