Black History Month
We want to celebrate Black heritage with our colleagues and customers at Sainsbury's, Argos, Tu, Habitat, Nectar and Sainsbury's Bank.
What is Black History Month?
Celebrated throughout October, Black History Month is an annual celebration of the contributions that Black people have made to Britain. It is an opportunity to reflect, understand and celebrate Black history in the UK and around the world. Going beyond stories of racism and slavery, Black History Month gives the spotlight to achievements Black people have made.
Throughout October we want to encourage our colleagues and customers to take the time to find out more about Black people and the difference Black people have made in the UK.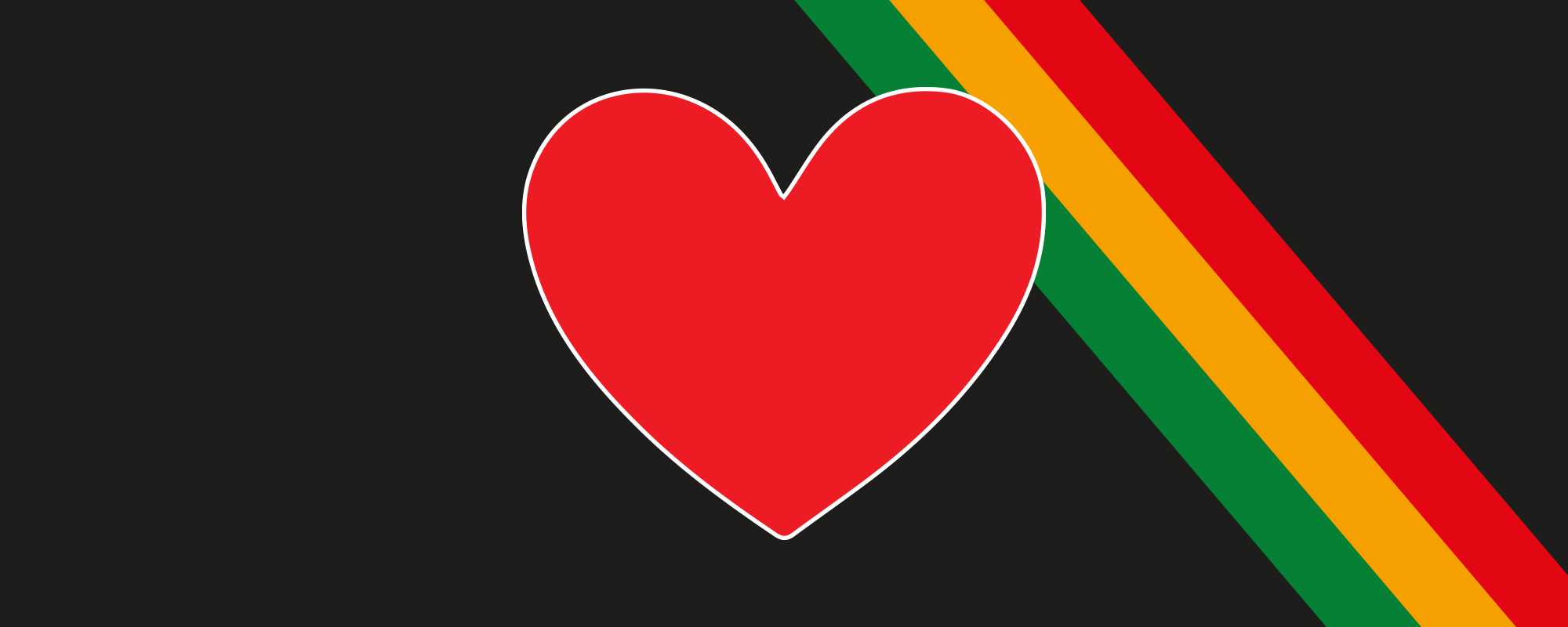 Our aim
At Sainsbury's and Argos, we want to be a truly inclusive retailer where people love to work and shop. October is always an important month to celebrate Black culture, recognise the contributions Black people have made and to make sure we all use Black History Month as an opportunity to learn year on year.
Being black in the UK by Bakita Kasadha
We worked with the talented Bakita Kasadha to produce a spoken word style video, using poetry she wrote for us. Sharing the powerful video pulled on heartstrings of everyone who watched and listened. Click here to read the poem and a short summary of the meaning.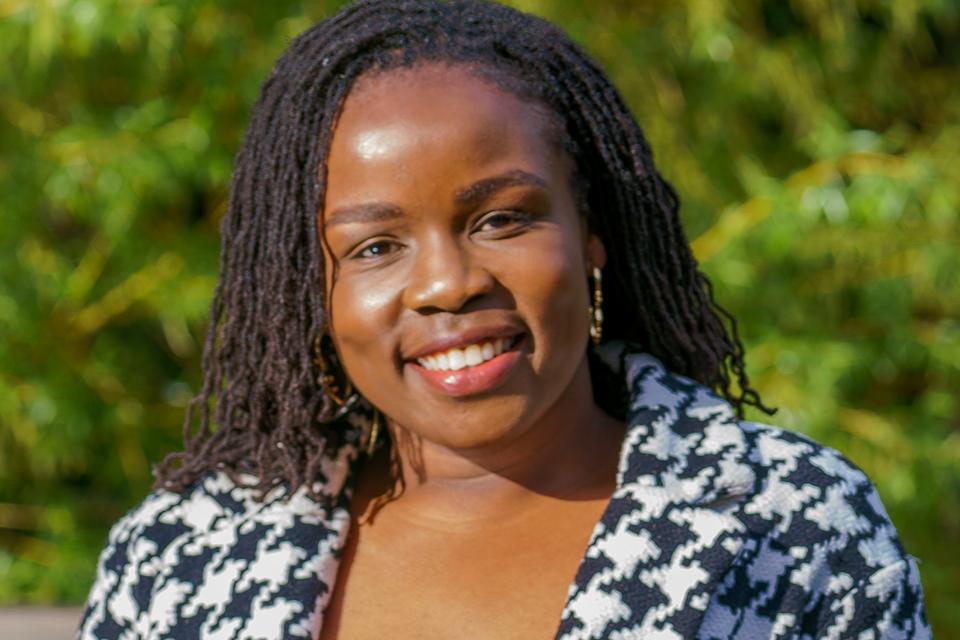 Bakita Kasadha is a poet, health writer and health researcher based in the UK. She has shared her poetry internationally and performed at Latitude Festival. She uses her creativity as advocacy, exploring the tensions between identities and social constructs. Bakita has been commissioned to commemorate National Stephen Lawrence Day, the 40th anniversary of the UK AIDS Memorial Quilt event and was a semi-finalist in the 2020 UN Women Feminist and Women's Movement Action Poetry Contest.
She has recently contributed to two books: More Than Talk: Perspectives of Black and People of Colour (BPOC) working in Sexual and Reproductive Health (SRH) in the United Kingdom (UK) and Hairvolution.
To find out more follow her on Twitter and Instagram (@BakitaKK) or visit her website www.bakitakk.com.
Black History Month for our colleagues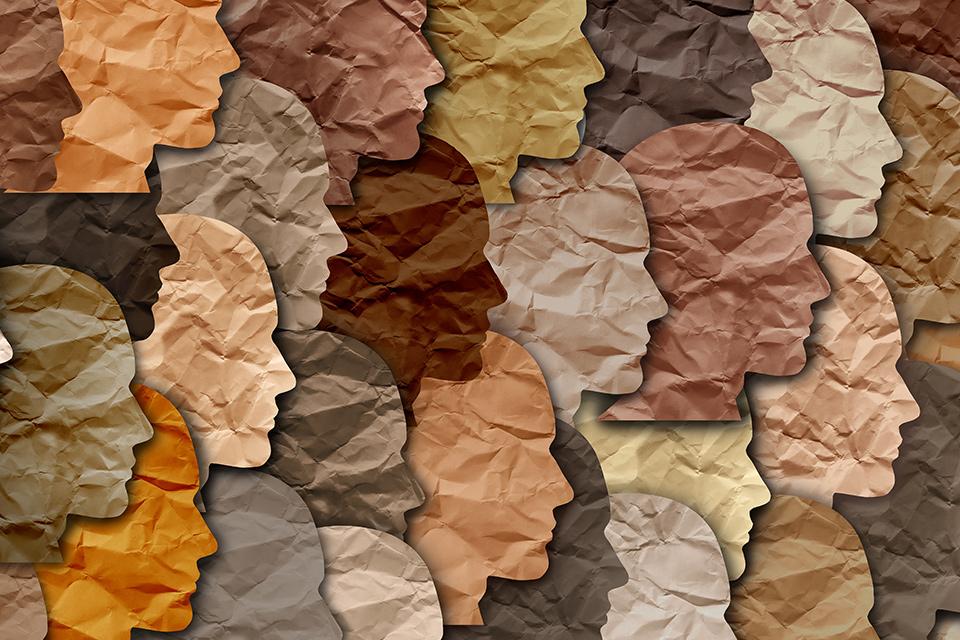 Supporting colleagues
For Black History Month this year for our colleagues across all our brands, we are focusing on four key themes, around celebrating African and Caribbean food, exploring Black owned businesses, celebrating Black hair and supporting the Black community. We are also celebrating the brilliant work that's happened through the commitment of many teams and the I AM ME Network (our Ethnically Diverse colleague network) over the past 12 months. Examples of this are:
1,400 Senior Leaders completed 'Let's talk about race' training, helping them talk confidently about race and ethnicity, understand the experiences of our ethnically diverse colleagues, and create a foundation for change.
We tripled our investment in a development programme for ethnically diverse colleagues, which 250 colleagues joined last year.
We joined the Black British Network to help improve inclusivity and representation across the business.
We've set ourselves new Black, ethnically diverse and gender targets for 2024 to improve diversity in senior roles.
Adopting the Halo Code and updating our dress code policies to embrace afro-textured hair for all our colleagues.
What does Black History mean to our colleagues?
Ways to take part in Black History Month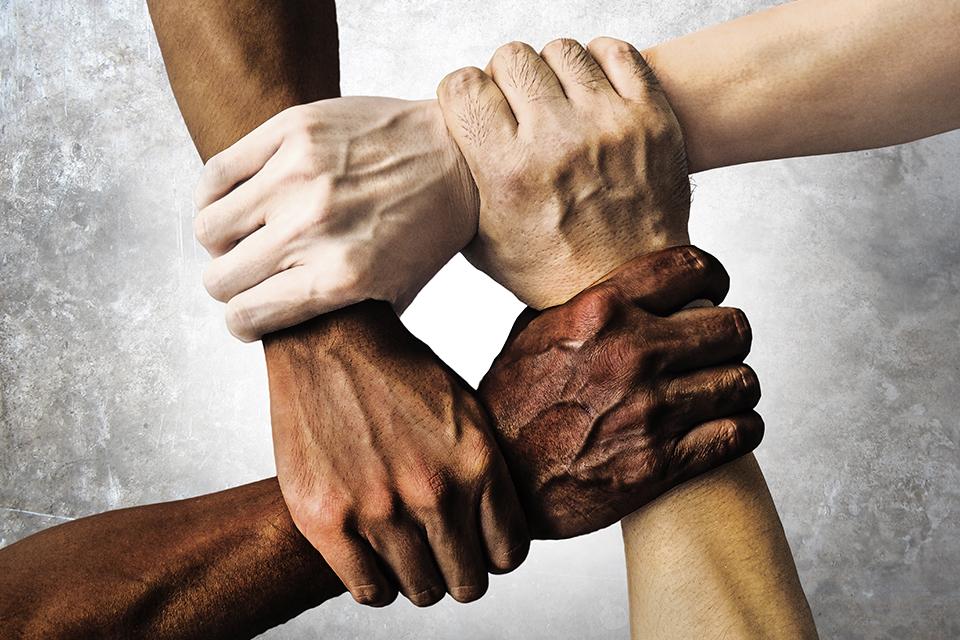 Ways to mark and celebrate Black History Month
There's lots of ways to celebrate and mark Black History Month, here's just a few ideas of things you can do:
Spend time learning about Black history and influential Black people from Britain and around the world.
Through literature - This year in several of our Sainsbury's stores, we will be shining the spotlight on a range of books by Black authors, in support of Black History Month with a portion of profits going to the Sickle Cell Charity.
Support a Black-owned business - support ethnic minority entrepreneurs and businesses and fight systematic racism by building a better economy for all.
Through food – why not spice up an evening meal for friends or family and cook up the jerk sausages and sweet potato recipe by Wilfred Emmanuel-Jones himself.
Through entertainment – from music to films and TV shows. Dedicate an evening on the sofa to celebrate and enjoy the best of black entertainment.
Donate or volunteer your time to charities that support anti-racism and equality.
Supporting Sickle Cell in 2021
In July 2020, we made public commitments to improve the Black and ethnically diverse colleague experience at Sainsbury's. Supporting the Sickle Cell Society has been one way in which our commitment is growing.
We made a donation which has been invested in the following areas to improve the Give Blood, Spread Love project, which raises awareness about the importance of blood donation and engaging individuals with Black heritage.
Recipe ideas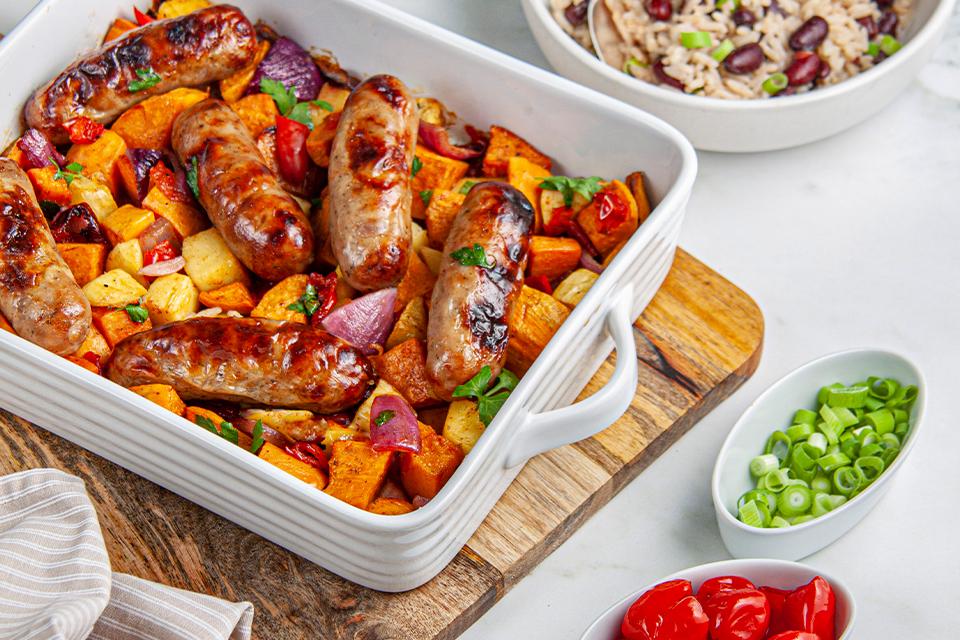 Jerk sausages with sweet potato
Discover Wilfred Emmanual-Jones' delicious recipe that combines his award winning sausages with fantastic Caribbean flavours.
What you'll need:
8 Black Farmer Jerk Sausages (chicken or pork)
1 red onion
1 sweet potato
150g Mango (cut into chunks) – Sainsbury's Mango Slices in Syrup 425g
2tsp The Groovy Food Company Agave syrup
50g Karyatis Roasted Red Pepper
1 or 2tbsp Sainsbury's Jerk Paste
1 tbsp Olive oil
Fresh parsley (chopped)

For the Rice and Peas (optional)
200g Sainsbury's Kidney Beans
200ml Sainsbury's Coconut milk Light
½ teaspoon of allspice
4 Spring onions
A sprig of thyme
200g Long grain rice
Cooking time: 40 mins
Serves: 4
Method:
1. Heat oven to 200°C, gas mark 6. Place the red onion, mango chunks, sweet potato, agave syrup and peppadew peppers into a roasting tin. Add the Jerk spice mix and olive oil and toss well to cover all.
2. Add sausages to the tin.
3. Roast the sausages for 25-30 mins, toss halfway.
4. Meanwhile for the rice, put the kidney beans, coconut milk, thyme, allspice, 4 of the spring onions and 100ml of water in a pan and bring to a simmer. Seasons with plenty of salt and black pepper.
5. Rinse the rice a few times in a sieve until the water runs clear. Tip into the pan and simmer for 10 mins over a medium heat, stirring occasionally, before lowering the heat. Put the lid on and cook for another 5 mins until the grains are tender and the liquid has been absorbed. Fluff up the rice with a fork before serving and scatter with the reserved spring onions.
6. Sprinkle with fresh parsley to serve.