The best hair straighteners
Everything you need to know to find the best straighteners for your hair type.
Shop all straighteners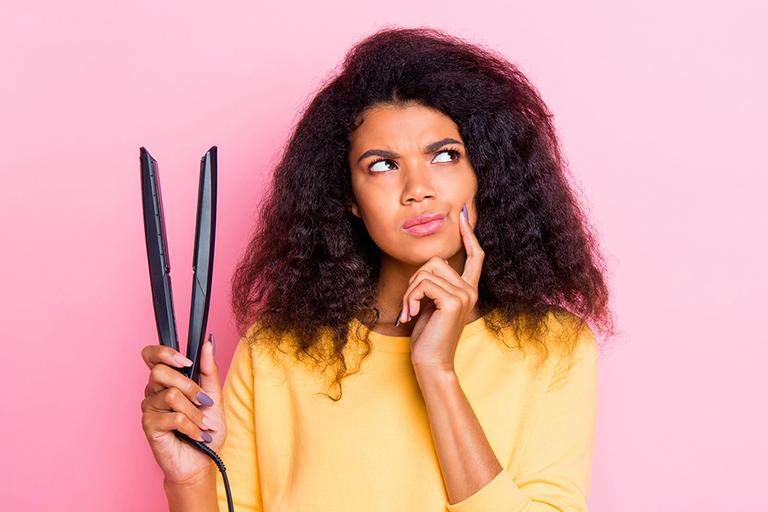 With so many options out there, picking the right hair straightener can be tricky. Here's a handy guide to help you choose the right straightener for your hair's type and texture, to give you the best results while avoiding damage.
What's the best straightener for your hair type?
Best hair straighteners for thick hair
Thick hair? Look for straighteners with a higher heat setting and titanium plates. The titanium plates reach high heats very quickly, making them the perfect pick for thick hair.We also recommend choosing straighteners with wide plates which offer faster straightening, saving you time when taming your mane.
Best hair straighteners for curly hair
Tourmaline plated straighteners are ideal for people with curly curly hair. The tourmaline gives the plates a super-smooth snag-free finish meaning they'll glide through even the curliest of hair without catching. Highly effective even at lower temperatures, they'll help you avoid damaging your hair.
Best hair straighteners Afro hair
When it comes to straightening Afro hair, ceramic plates are the best tool for the job. Great at distributing heat quickly and evenly, they glide smoothly through hair, minimising damage. Afro hair can be time-consuming to straighten, so look for straighteners with wide plates, which can straighten more hair at a time and help you save time.
Best hair straighteners for frizzy hair
Frizzy hair is caused by a lack of moisture and static energy. The best straighteners to combat frizz use Ionic conditioning to remove the static. Opt for ceramic plates which offer even heat distribution and help lock in moisture. This frizz taming combo will give you a sleek, silky smooth finish.
Best hair straighteners for fine hair
Fine hair is easily damaged by heat, so we'd recommend going for straighteners with adjustable heat settings and sticking to the lower temperatures. Choose straighteners with Tourmaline ceramic plates, which give fast, even heat to reduce damaging hot-spots, and glide effortlessly through hair, making them the perfect pick for thin hair.
Best hair straighteners for straight hair
If your hair doesn't need too much taming, we'd recommend going for ceramic plates as you won't need the high heats of titanium plated straighteners. If you're mainly going to use your straighteners to create curls then look out for straighteners with floating plates, these will give you the most flexibility.
Shop hair straighteners by price
Popular picks
Hair straightener plate types
The results you'll get from your straighteners depend on the material their plates are coated with. From locking in moisture for a silky smooth finish to eliminating frizz, different materials have different results. Here's all you need to know.
Ceramic plates
Ceramic plates distribute heat evenly, ensuring there aren't hot-spots or cold-spots. The super smooth ceramic finish allows them to glide easily through hair without catching or pulling, they're often coated or infused with other materials which give them different properties:
Tourmaline coated plates are great for damaged hair, the tourmaline helps eliminate static and frizz to give you soft, shiny hair.
Keratin infused plates will help lock in moisture and preserve your hair's natural proteins.
Diamond oil infused plates reduce frizz and give hair an intense shine.
Titanium plates
Perfect for thicker hair that just won't co-operate, titanium plates heat up rapidly to high temperatures which they maintain well. Using such high temperatures makes straightening faster, as you won't have to pass over the same hair repeatedly.
Titanium plates are often coated with ceramic, giving you the best of both worlds - a very short heating up time and even heat distribution.
Extras to look for in a straightener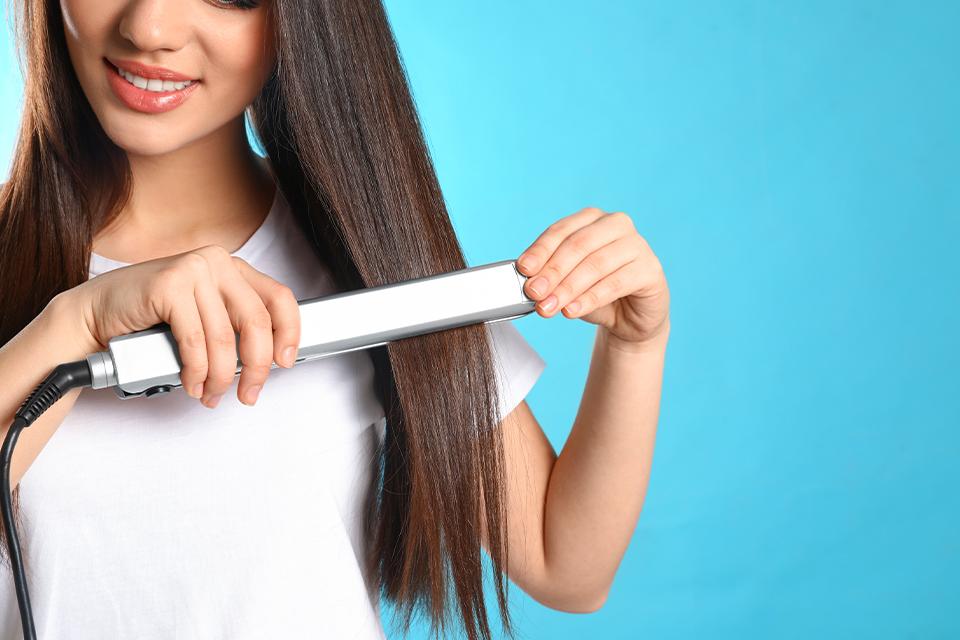 Other features to consider
Floating plates: Looking to create complex curls? Floating plates are your new best friend. As the name suggests,the plates aren't fixed rigidly, giving you greater control to crimp and curl.
Ionic technology: Designed to fight frizz, ionic technology neutralises static for an ultra-smooth finish.
Auto shut-off: Perfect if you're a little forgetful, this safety feature will automatically power down your straighteners after a set period of time, usually between 10-30 minutes.
Swivel cord: Designed to prevent you getting in a tangle when straightening, swivel cords move with you, giving you greater flexibility. Nearly all hair straighteners come equipped with swivel cords.
Variable temperature settings: Perfect if you plan to share straighteners, the wide range of temperatures will suit most hair types.
Bluetooth: With an accompanying app that guides you through a personalised selection process to find the very best temperature and care settings for your own style, these smart straighteners are fully customisable to your favourite settings.
Worldwide voltage: Heading on holiday doesn't mean your hair style has to suffer. These models can be plugged in all over the globe, so you can maintain that salon style wherever
Cordless: Perfect for camping, festivals and anywhere you can't access a plug, these rechargeable straighteners are just as capable as their corded counterparts.
Tried, tested and customer recommended
Shop by brand
More hair inspiration
Why buy at Argos?