Best hair curlers
We've got all you need to create enviable curls and waves that wow.
Shop all hair curlers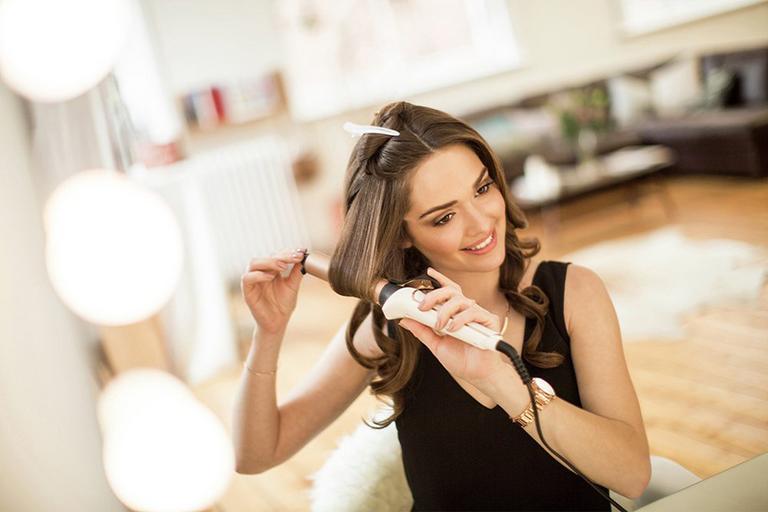 Curling wand vs. curling tong
From Hollywood curls to beachy waves and even corkscrew spirals, whatever curly hair you desire, we've got all the tools for the job. The most popular hair curlers are the curling wand and the classic curling tong (or curling iron as it's sometimes known). What's the difference? Read on...
Curling wands
Create beachy, natural and flowing waves with a curling wand. They don't have a clamp or clasp, so you won't get that dreaded kink in your hair. As you wrap the ends of your hair last, wands can reduce the chance of split ends. They can take a while to master, so we recommend using heat protection gloves to protect your fingertips. However, once you get the knack of using them, wands can be a quicker way to curl.
Curling tongs
Create perfectly polished curls; everything from ringlets to loose waves. Curling tongs tend to have clamps to hold your hair in place. This makes it easier for you to curl and less likely that you'll burn your fingers. If you're a beginner, tongs may be the better option. Although you may get that tell-tale kink from the clamp, the advantage of tongs is that you'll get uniform curls over your entire head of hair.
We also have some other alternative ways to achieve those curly locks you so desire...
Hot air stylers and hot brushes
Achieve a voluminous at-home salon blow-dry. Hot air stylers and hot brushes are a hybrid of hair dryers, hair straighteners and curling irons in one. They detangle your hair and help to reduce frizz. As well as straightening hair, they're also fab for adding some luscious waves and loose curls.
Automatic curlers
Take the hard work out of curling your hair with an automatic curler. Simply place a section of hair in and it will draw it inside the curling chamber. After a few seconds, it will release your hair, transformed into a gorgeous curl. They work fast, are easy to handle and the results tend to last longer. They're perfect if you struggle with a curling wand or tong.
Hair rollers
Let's not overlook trusty heated hair rollers. Whilst curling wands and tongs are popular modern choices, these retro rollers offer a great way to curl your hair. Promising big, bouncy waves, they give your hair body and lift. Volume in abundance!
Shop hair curlers and curling tongs by price
What is the best hair curler for your hair type?
Curling choices
Features of hair curlers
Barrel size
The barrel size of your curling wand or tong will produce different types of curls, so it's really important to check the size before you buy. For tighter curls go for a smaller barrel, for looser curls go for a larger barrel. Your hair length will also need to be taken into consideration when selecting a hair curler. We've outlined the best options for your hair type below.
Small barrel (11-20mm)
Hair type: All hair lengths, especially short and fine hair.
A small barrel will give tighter, springier curls. The thinner the wand, the tighter the curl. Think ringlets, disco and corkscrew curls. They're great too if you have wavy hair but want to add a little definition.
Medium barrel (21-30mm)
Hair type: Best all-rounder; great for all hair lengths.
Create natural curls and effortless waves with a medium-sized barrel. These tongs will create defined and bouncy waves or brush them out for a softer curl. They're versatile, as they work well for all hair lengths.
Large barrel (30mm+)
Hair type: Great for medium and long hair.
A large barrel promises big waves and loose curls. If you like beachy waves, this is the barrel size to go for. If you brush these curls out, it will give you a shiny glam wave.
Barrel material
Ceramic
A ceramic curler provides a consistent temperature throughout the barrel, meaning each curl is set at the same heat. The barrel is smooth, so hair won't snag or break. This type of curler can get very hot, so you may need to use gloves. It's a good choice for fine and damaged hair because of the even heat distribution.
Tourmaline
Like ceramic, the heat is consistent throughout with tourmaline curlers. This semi-precious gemstone prevents friction from occurring when you curl. This means less snagging, tangling and breakage. It releases negative ions that eliminate frizz and retain moisture. They're great for fine hair.
Titanium
Titanium is durable and a great heat conductor. It's lightweight too, so it's ideal for thicker hair that takes longer to curl. It seals the hairs natural oils and moisture to protect it from the heat. It doesn't protect against frizz though so bear that in mind. The high heats can put the hair at risk of damage, so avoid titanium if you have fine, delicate hair.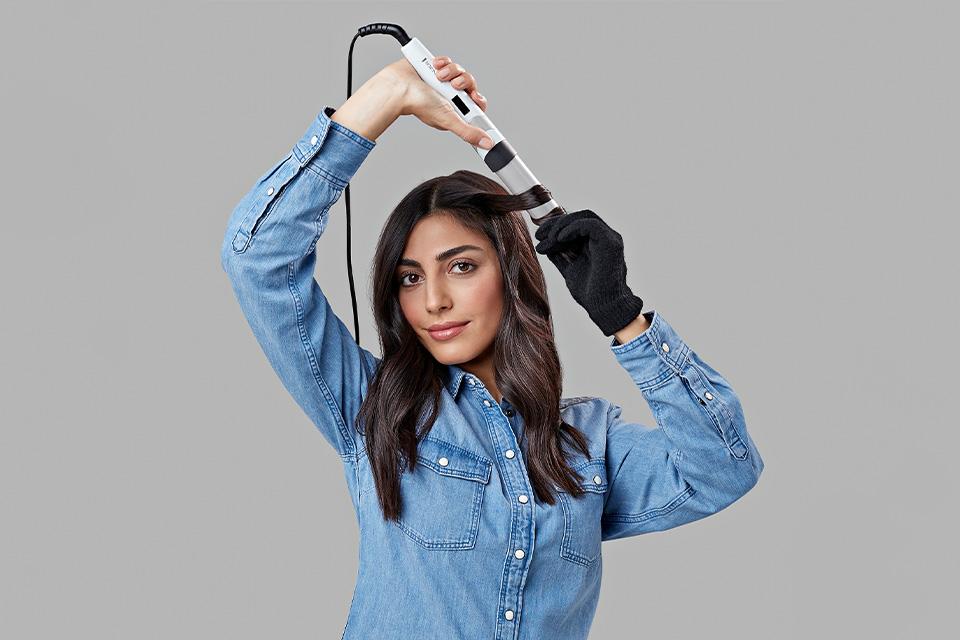 Other features to consider:
Temperature settings - it's important to check the heat range of the hair curlers. Whilst some have a fixed temperature, others can be set to a heat of your choice. High heats may damage your hair. If you have fine or delicate hair, a good rule of thumb is to set your curlers below 200°C. This temperature may not be high enough for curls to take on thicker hair, so look for curlers that heat above 200°C.
Heat-proof glove/mat included - gloves are particularly important if you go for a curling wand, as your fingers are always close to the heated element.
Automatic safety shut off - no panicking that you've left the tongs on when you leave for the day!
Heat up time - important for those busy rush-around mornings.
Cord length - to ensure it reaches your mirror or dressing table.
What type of curl do you want?
Some of our hair curlers in action...
If waves are what you crave, the Remington PROluxe 4-in-1 hair waver promises four hairstyles. From super cool beachy curls to alluring mermaid waves that even Ariel herself would envy. Go on, ride the wave...
FAQ about hair curlers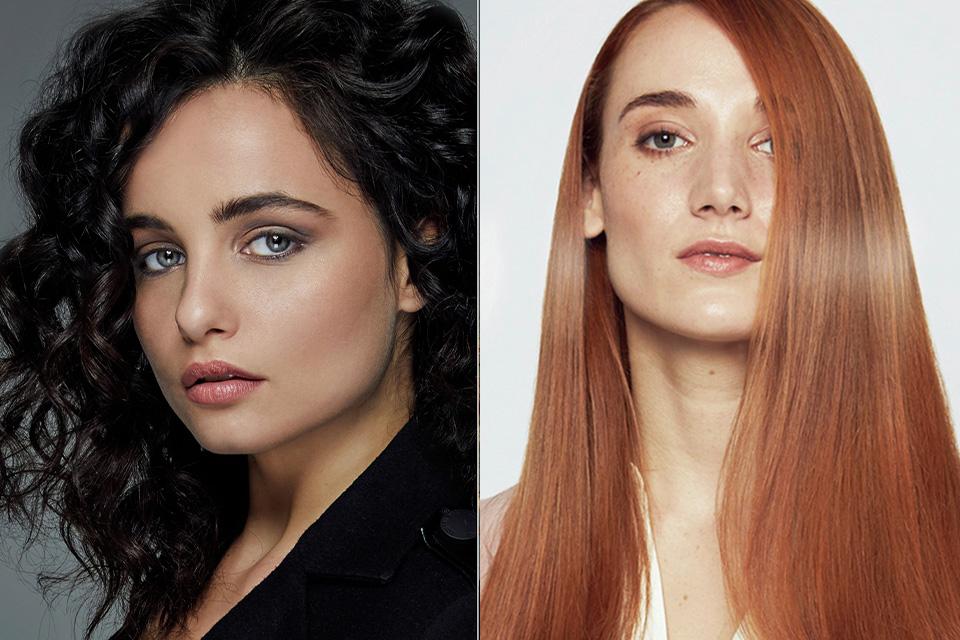 What length of hair will it work on?
If you have short hair we recommend going for a small or medium-sized barrel. Read the customer reviews for recommendations. Customers give honest feedback on how well it works on their hair length.
Can it be used on wet hair?
We do have hair curlers that can be used on wet hair. If it isn't stated in the product information then it would only be suitable for use on dry hair. Check the product information before you buy.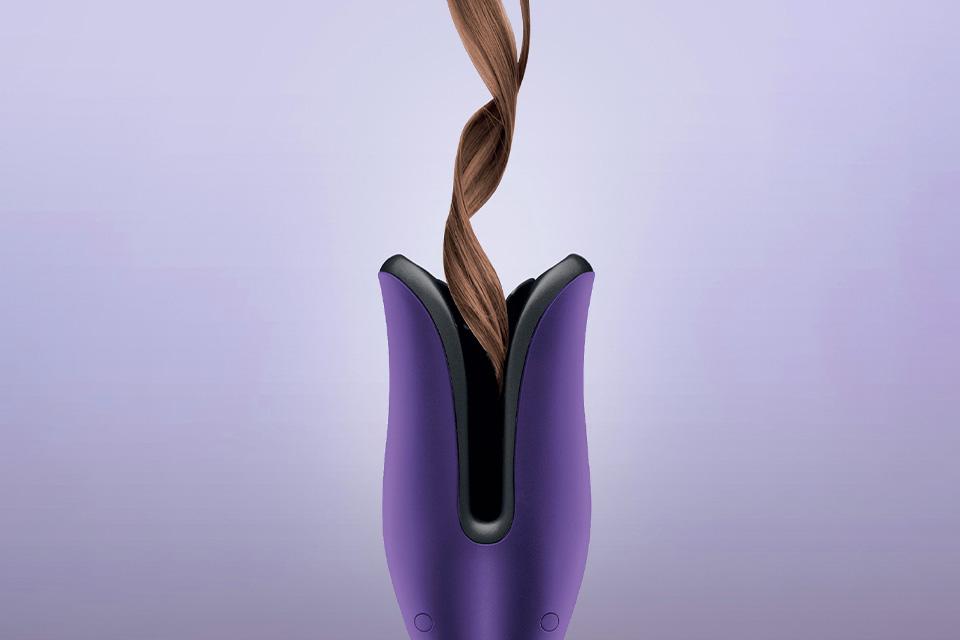 Can it be used on hair extensions?
We would recommend that you check with your hairdresser before you buy. It would really depend on the hair extensions that you have and the model of the hair curler.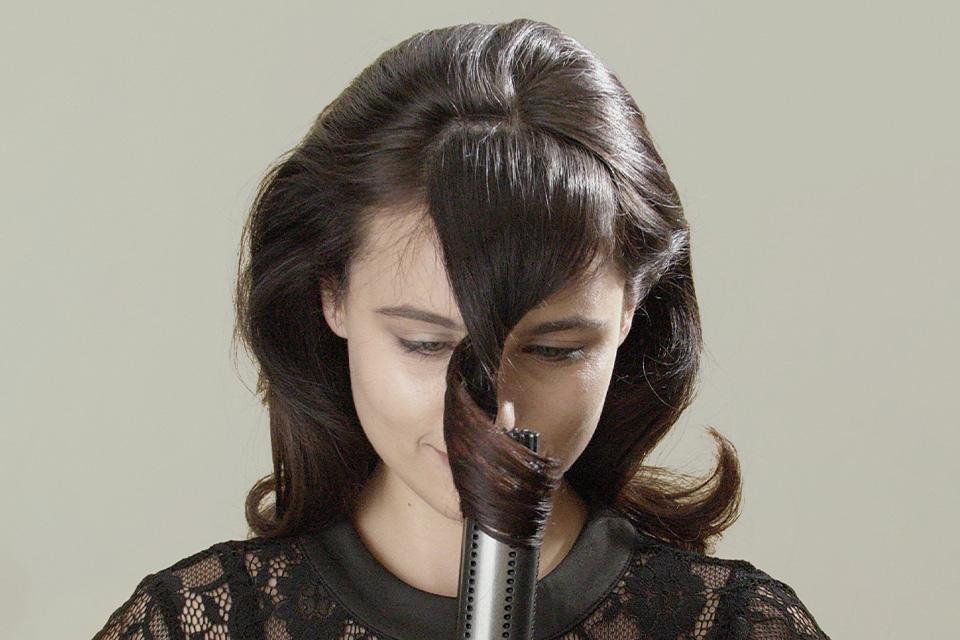 What do the results look like?
Check out the product images and videos to see examples of the curls achieved. We also strongly recommend looking at the reviews. Some of our customers like to post images of the final results. That way, you get to see realistic results and unbiased opinions.
Tried, tested and customer recommended
Why buy at Argos?