Guitar buying guide
Looking for a new guitar? Whether you're just starting out, or buying for a child, we'll help you choose the right size and style.
Shop all guitars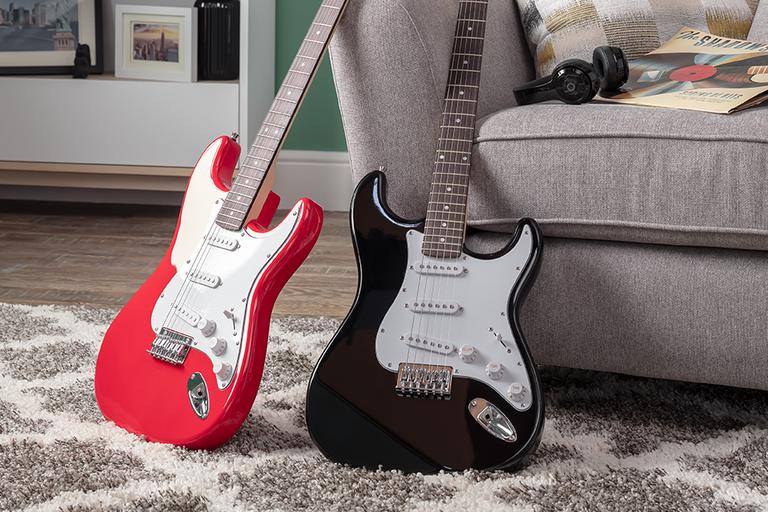 Types of guitar
Start by considering what type of guitar you want to play. Here's an overview of the three mains types available.
Electric guitars
When plugged into an amp these produce a powerful sound suited to rock, pop and metal music.
Are they good for beginners?
They feature light strings and a thinner neck vs acoustic guitars, so many newbies find them more comfortable to play. However learning chords can be a little more fiddly as the strings are closer together.
Consider:
These are usually more expensive vs acoustic guitars, and you'll need to buy an amp. This essential extra piece of kit also makes these guitars a less portable option.
Acoustic guitars
This guitar doesn't need an amp and is often used for soft rock or folk music. Similar in style, a classical guitar is used for traditional music and a popular choice for kids.
Are they good for beginners?
For lessons, especially when kids learn, acoustic or classical guitars are often recommended. They usually run a little cheaper vs electric guitars - great if you're trying it out as a hobby.
Consider:
A bigger body and harder strings can make these awkward to play at first, but you'll get used to the feeling quickly.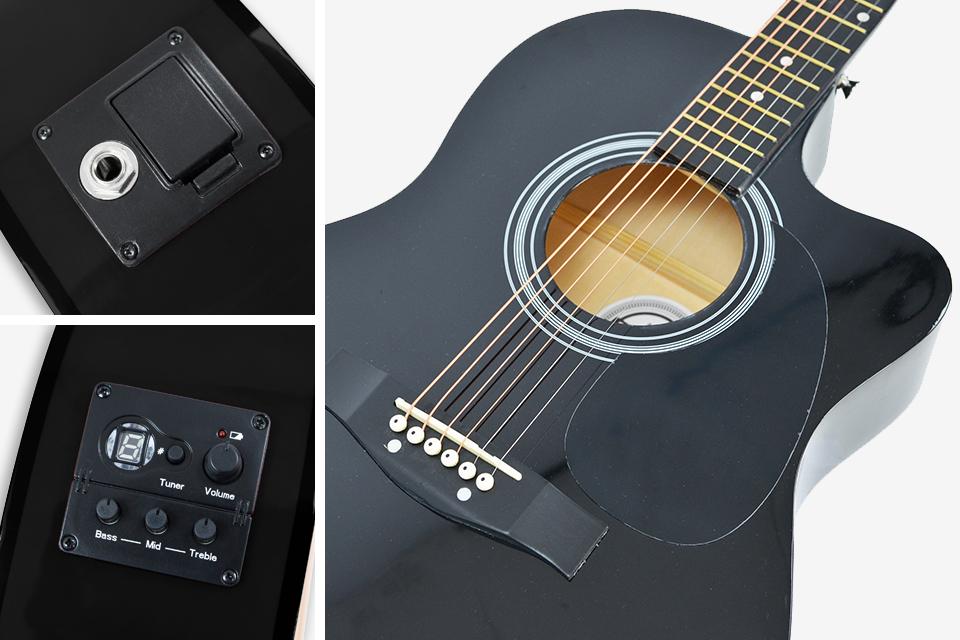 Acoustic-electric guitars
These have the same look and tonal quality of an acoustic guitar, but you can plug them into an amp or soundboard.
Are they good for beginners?
These give you the option of playing when plugged in or unplugged, so if you like the tone of an acoustic guitar but want the option of volume control (i.e. if you're planning on playing your music live) this is a good choice.
Consider:
The price of these usually sits in between an acoustic and electric guitar, but if you want to play plugged in you'll need to buy an amp too.
Bass guitars
Compared to guitars, a bass guitar has a much lower pitch, and is used to help provide the rhythm and set the base notes of a harmony. They typically have 4 strings and, like an electric guitar, they need to be plugged into an amplifier.
Parts of a guitar
You might come across a few unfamiliar terms when researching your new guitar - here's an overview of the key parts and where you'll find them on an acoustic and electric guitar.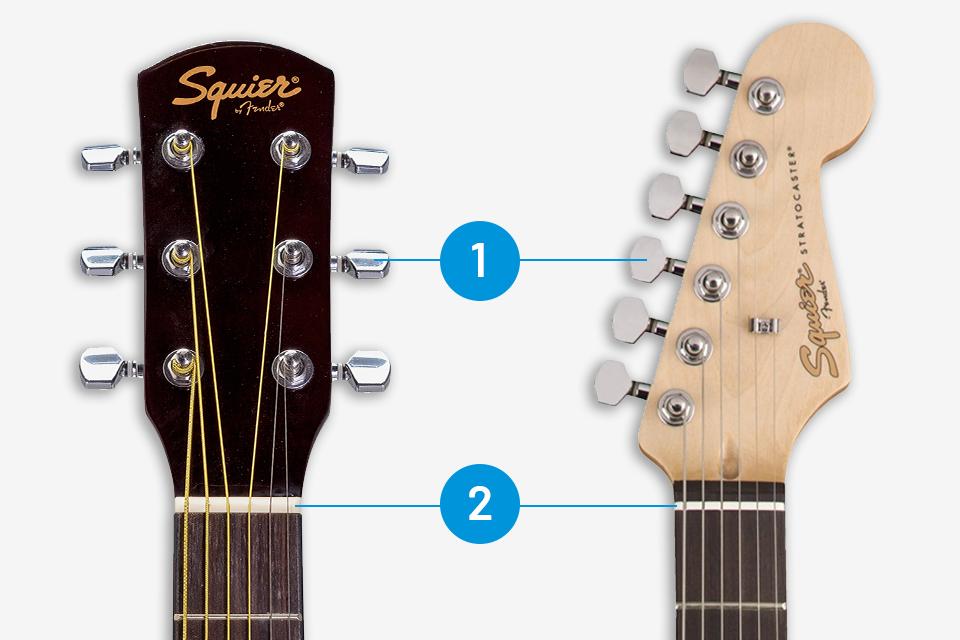 The head
At this end you can control the pitch of each string on your guitar.
1) Tuners/tuning pegs: By turning the tuners you can loosen or tighten the strings, which will change the pitch. This is how you'll tune your guitar.
2) Nut: The strings pass through the nut, which keeps each one correctly aligned.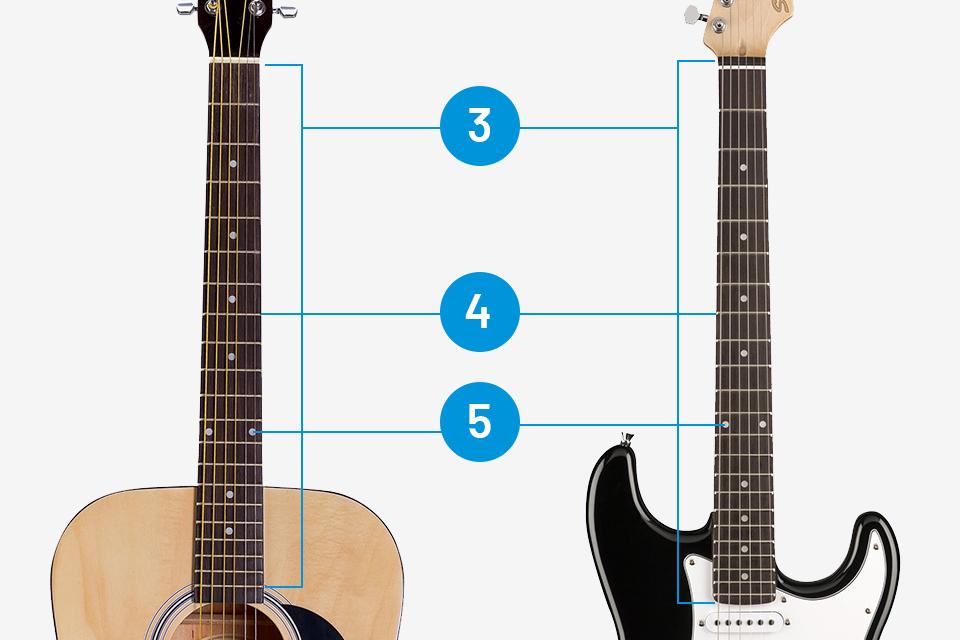 The neck
In this middle section you'll control the notes that you play.
3) Fretboard: This is a piece of wood runs the full length of the neck, sitting under the strings. Embedded in the fretboard are the frets and markers.
4) Fret: These are the metal strips that divide the fretboard. Acoustic guitars typically have 19 while electric and bass guitars can have up to 24. Pressing the string between these frets as you strum will change the note you play.
5) Position markers: These 'dots' act as a visual aid to help you find the right fret.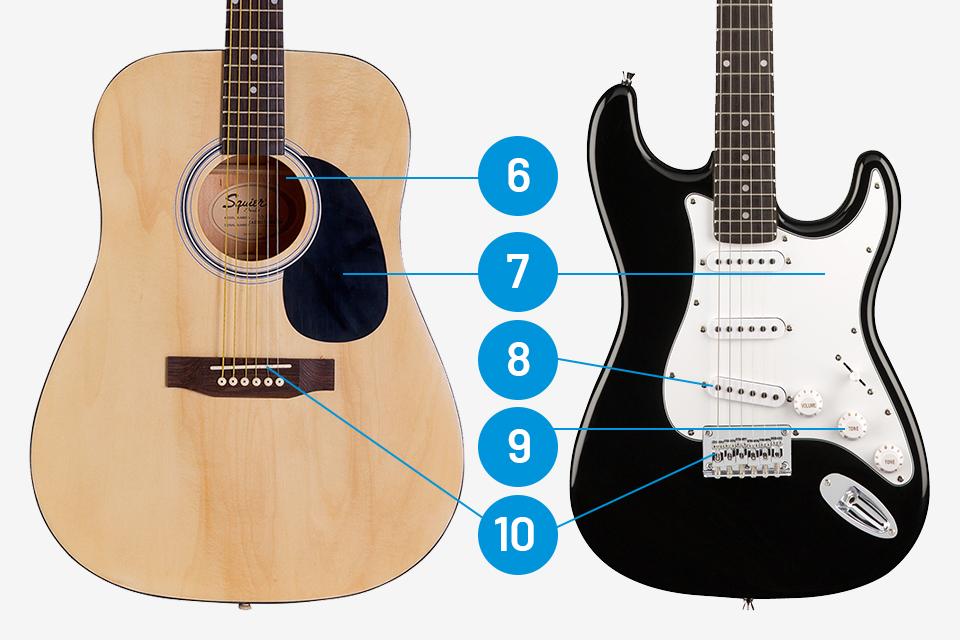 The body
On an acoustic guitar the body is hollow, while it can be hollow or solid on an electric guitar. The size, material and shape of the body will affect the sound the guitar makes.
6) Sound hole: This opening is found on acoustic guitars and it helps to project the sound (meaning you don't need an amp to play).
7) Pickguard: This piece of material (usually plastic) helps protect the finish of the guitar from getting scratched as you play.
8) Pickups: This device converts the vibrations from the strings of an electric or bass guitar into the electrical signal that then plays out of your amplifier.
9) Volume & tone controls: Play around with these to change the sound of your electric or bass guitar.
10) Bridge: This holds up the strings over the guitar body to help amplify the sound. On some electric guitars these can be adjusted to suit your playing style.
Guitars for beginners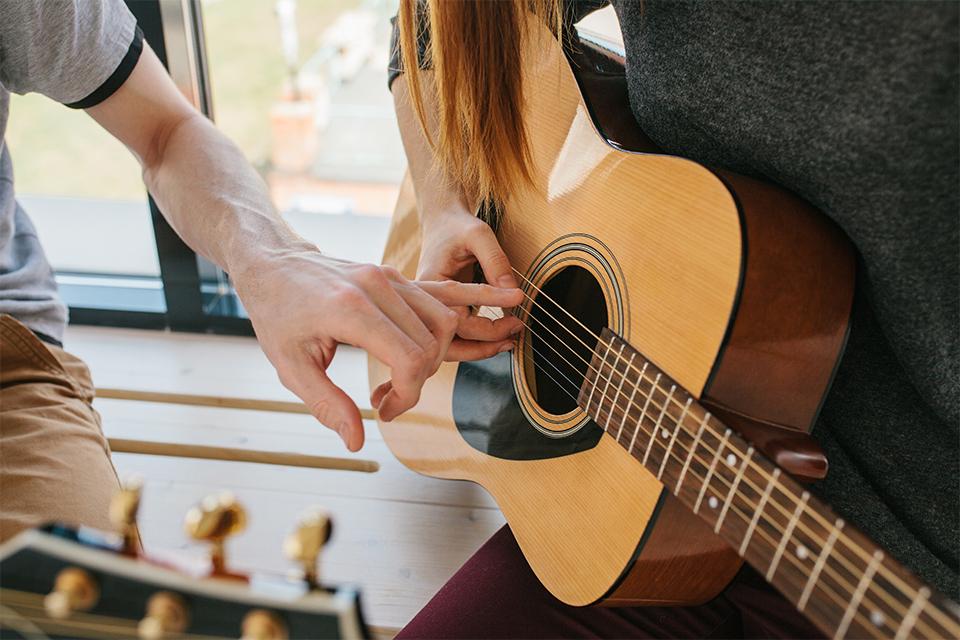 What type of guitar is best for beginners?
Electric guitars can be what attracts new players, but acoustic guitars are often recommended as you learn the basic techniques - they also have the benefit of being cheaper. Ultimately you should choose a style that will motivate you to pick it up and practice.
Consider a bundle
Just starting out? A bundle, which includes the guitar and essential accessories, is often a cost-effective and quick way of getting you set up.
Guitars for kids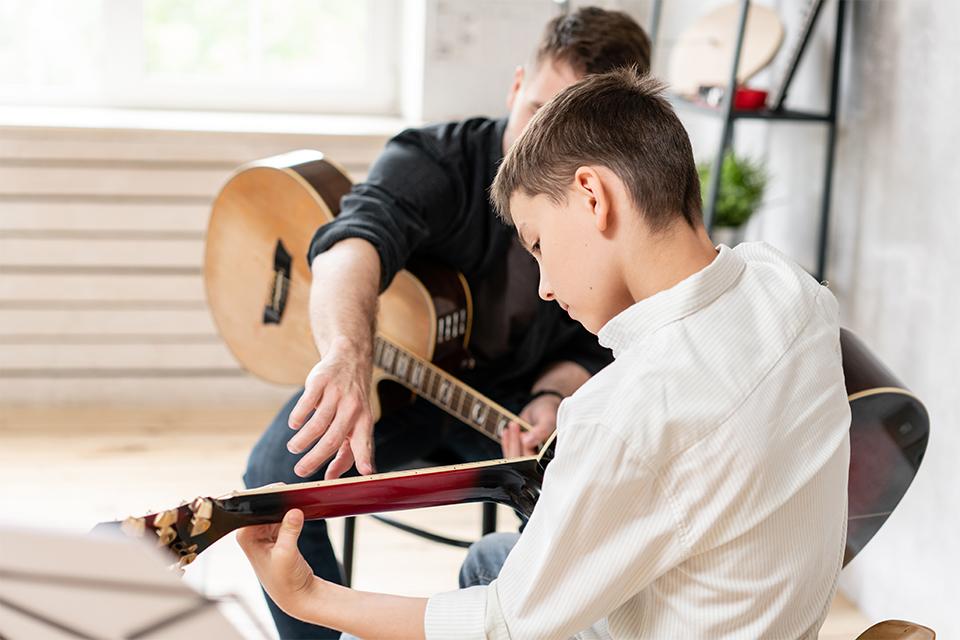 What type of guitar is best for kids?
If they are taking lessons, check with the teacher before you buy to see if they teach using a certain style of guitar. Most often they teach classical guitar, but to keep them motivated you should choose a style that they are most interested in playing.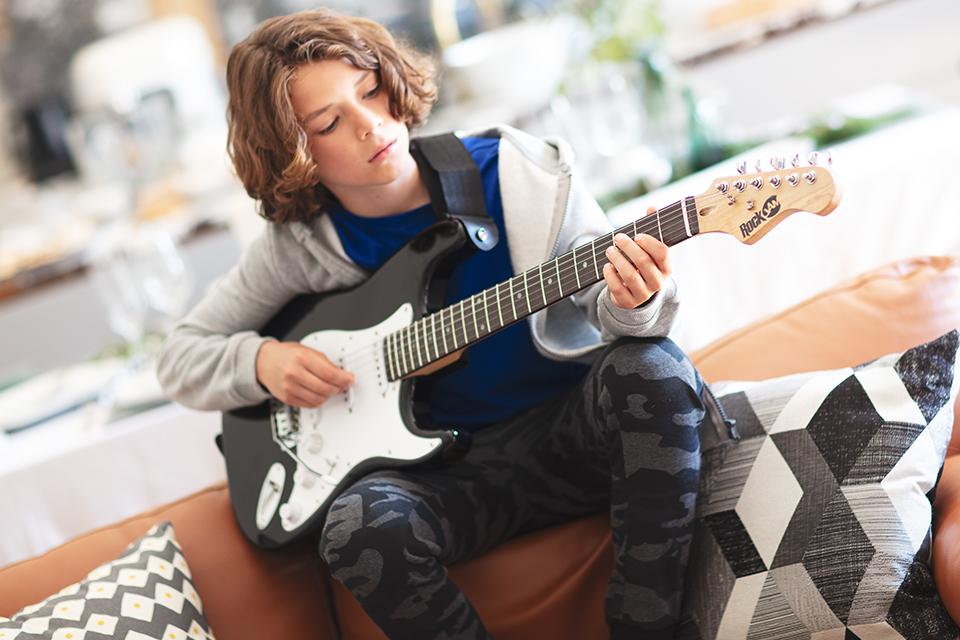 Choosing the right size
Start by measuring how tall your child is. You can then filter our guitars to find the size we recommend. If your child is on the border of a range, it's a good idea to size up to the larger guitar, as they'll quickly grow into it.
Guitar sizing
Full size guitars
While there may be some variation in body size depending on the style, but this is the biggest guitar size.
3/4 size guitars
A popular choice for tweens (8-12 year olds), they're also a great choice for petite adults.
1/2 size guitars
Half the size of a standard guitar, these are a popular choice for children who are about 6-8 years old.
1/4 size guitars
These are the smallest guitar size available and are not very common. They'll best fit 5-6 year olds.
Accessories
To get the most out of your new guitar, consider these extra accessories.
Why buy at Argos?