Coffee making tips
Brew like a barista with our tips, advice and recipe inspiration.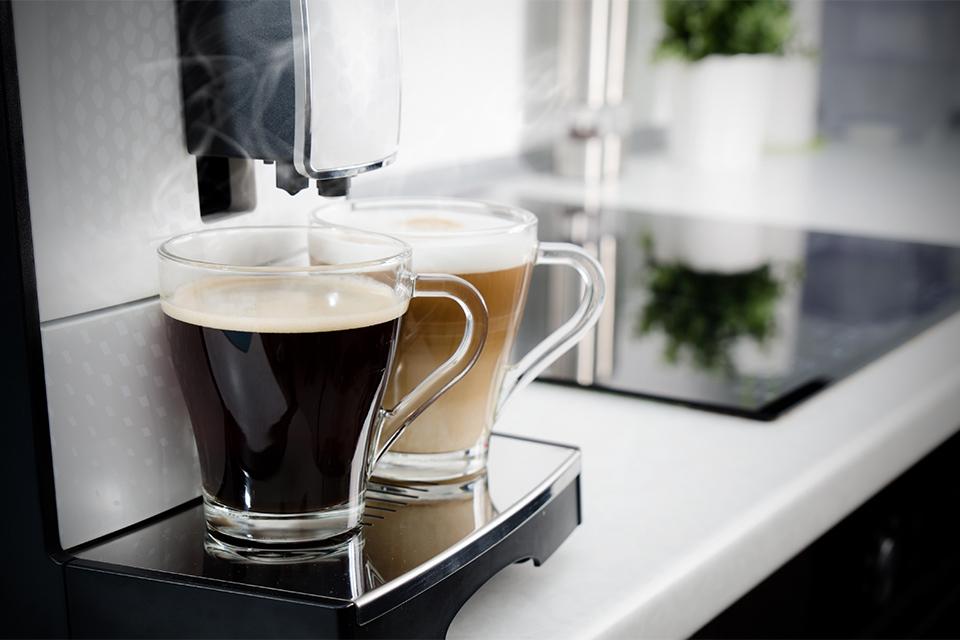 Why we love coffee
We're crazy about coffee in the UK and we've been enjoying it for centuries now. Although traditionally a nation of tea drinkers, coffee is quickly becoming the nations new favourite beverage.

Loved the world over for waking you up in the morning, there's also an important social aspect of coffee. The 'coffee break' is commonplace in most workplaces and is often accompanied by a sweet treat too.

The Swedes call this Fika, which essentially means 'coffee and cake break'. And with so many coffee machines to choose from, it's easy to make your own amazing brews at home.

Need some inspiration? Find recipe ideas, brewing tips and coffee machine buying advice below.
How to make coffee using a traditional machine
In partnership with De'Longhi and Union Coffee.
Making an espresso
Love the full flavour of espresso? Here's how to brew your own cup at home using a traditional coffee machine.
Creating latte art with steamed milk
Ever wondered how baristas create latte art? In this quick guide, we'll show you how to make your own milk foam masterpieces.
How to make coffee using a bean to cup machine
In partnership with De'Longhi and Union Coffee.
Setting up your machine
Discover how to replicate your favourite coffee shop drinks at home using a bean to cup machine.
Using the milk settings
Tips on how to perfectly froth your milk for creating a latte, flat white or cappuccino.
Barista basics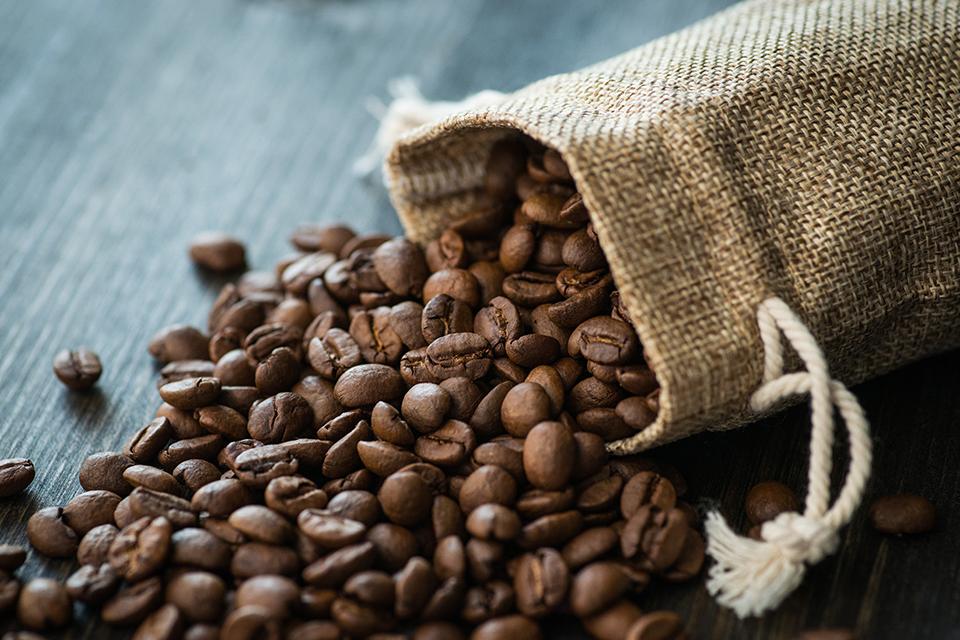 Grinding coffee beans
Use a grinder to crush coffee beans to your desired grind. There are three main types of grind - coarse, medium and fine. Coarser grinds are typically used for French press coffee whereas finer grinds are better for espresso.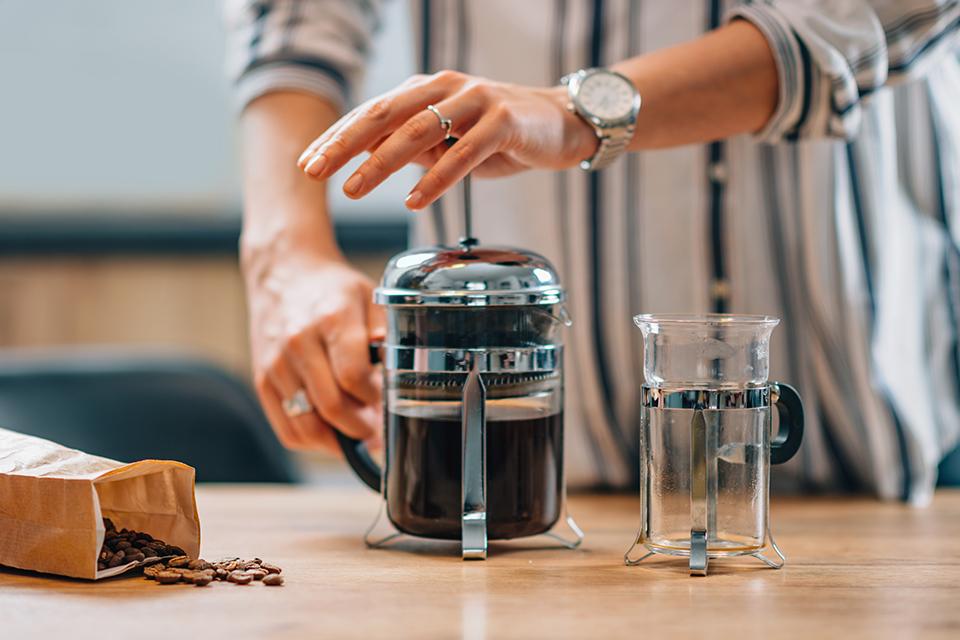 Using a coffee press
When brewing with a coffee press, it's best to use a coarser grind. Brew with hot but not boiling water for approximately four minutes, then slowly press the plunger down to separate the ground coffee from your brew.
Delicious coffee recipes to try at home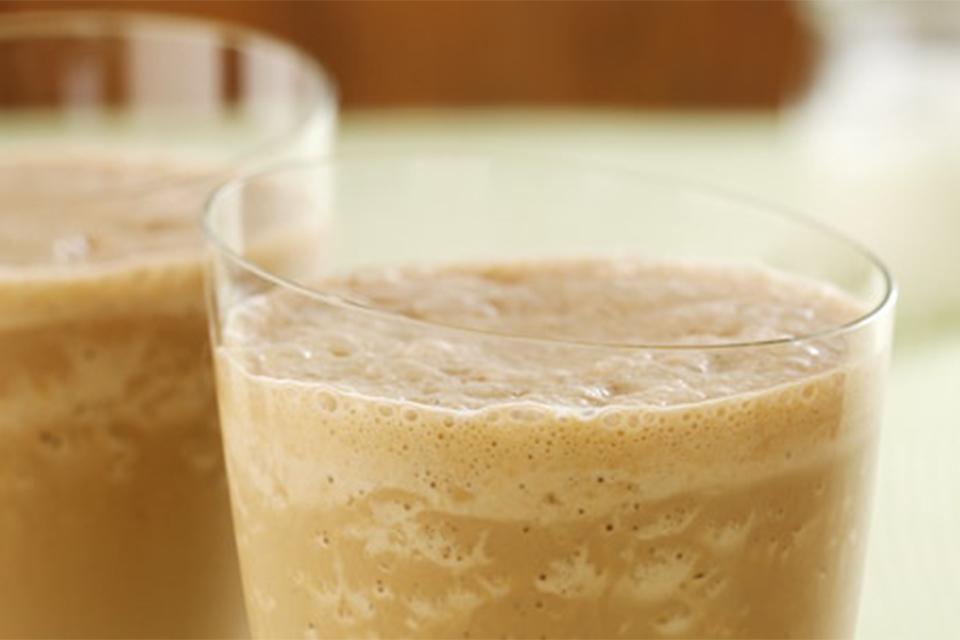 Kickstarter Morning Smoothie
Get the day going with this caffeine-infused smoothie.

Ingredients
1 tsp cocoa powder
1 tsp cold milk
1 shot espresso
120ml Greek plain yoghurt, chilled
¼ vanilla pod (or ½ tsp real vanilla extract instead)
1 banana
Pinch of cinnamon
½ tsp agave nectar, or 1 tsp sugar syrup or honey

Method
Mix the cocoa and milk together thoroughly to form a paste. Add it along with all the other ingredients to a blender and blitz until smooth. Serve in a tall glass.
Rosemary tonic
A refreshing coffee drink with espresso, tonic and rosemary.

Ingredients
25ml Italian espresso
100ml tonic
3 sprigs of rosemary

Method
Muddle rosemary with the tonic, add to a highball glass filled with ice and slowly pour the espresso over the top.
Need some advice? Our guide to the best coffee machines for your home
Discover the different types of coffee machines and find the one that makes the perfect brew for you. See the different types of machines and the ones that are best for each of your favourite hot drinks.
Shop by coffee type
Coffee machine reviews
Tried and tested by fellow coffee lovers.
Shop by brand
More help and inspiration
Go get baking
Whether you're just starting out or an experienced baker, find everything you need to create a showstopper right here.
Tea lovers and tea gifts
More of a tea person? Check out our guide to tea gifts, afternoon tea and the essentials for making great cuppa.
Coffee pods
You've got the machine, now get the coffee. Visit Sainsbury's and view the full range of coffee products.
Why buy at Argos?
Are you or someone you know a coffee connoisseur? Well you've come to the right place. We've put together a special selection of products dedicated to all the self-proclaimed bean experts and caffeine enthusiasts. Whether you prefer the slow grind of bean-to-cup models or the fast brew of a coffee-pod machine, you'll find the perfect gift to treat yourself or someone who appreciates a quality cup of coffee just like you do.

Coffee machines
Whether you need a cup of fresh homemade coffee in the morning or a mid-day pick me up in the office, our coffee machines come in different sizes and offer varied functions, so you can have your desired brew whenever you like, just the way you like it. There's no doubt the coffee lover you're gifting is already clued up on the latest machines and methods of making coffee so, we're here to help you pick the right one. Check out our Nespresso machines, widely loved and wildly recommended, you simply cannot go wrong. They'll feel like a certified barista with one of our stylish coffee machines sat on their kitchen counter top. Choose from compact designs or more traditional café style models for a coffee making experience like no other!

Coffee making accessories
There's nothing like a fresh, full-bodied and rich cup of coffee in the morning and if you enjoy a more personal and raw coffee making experience then our coffee grinders are a must-have. Achieve the perfect texture and intensity with our stylish coffee grinders. Enjoy a freshly brewed cup of your favourite coffee bean made precisely how you like it, every time.

Coffee cups
For such a sophisticated drink, it's only right that you have an equally glamourous cup for your brew to flow in to. Sip your coffee in style with our glass coffee cups for a modern yet chic drinking experience; pair with one of our beautiful placemats and coasters for a look that's totally Instagram worthy. Or if you prefer the traditional ceramic feel of a coffee cup in your hands, then our mugs would be the perfect finishing touch to complete your experience. Choose from modern or contemporary mug designs for a minimal touch or traditional patterns for a charming and rustic look. For the coffee lovers that are always on the go, get them a trusty travel mug to keep their drink warm and on hand throughout their busy day.