Beginner's guide to sewing
New to sewing or just looking for a new machine? Our guide can help you decide.
Shop all sewing machines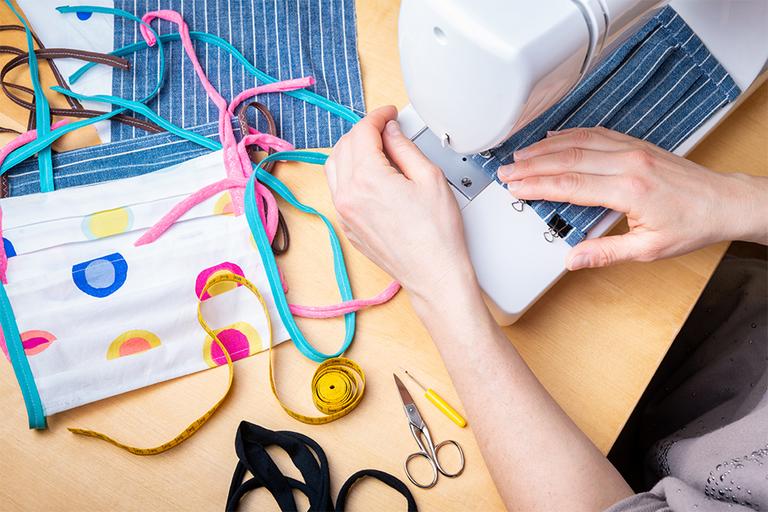 From foot types to bobbins and stitch settings, here are the all-important info you need to know about sewing machines.
Types of sewing machine
We offer three types of sewing machine; electronic, computerised and overlocker. Let's break down the differences between them.
Electronic sewing machines
The most common type of sewing machine and an excellent choice for beginners to start with.
Speed is controlled by applying pressure to a pedal with your foot.
Uses a lever for reverse stitching.
Stitching settings selected using a dial.
Computerised sewing machines
Best suited to experienced sewers and professional seamsters.
Wide range of stitching types and finishes programmed into an onboard computer.
Many features automated to save you time.
Overlockers
Overlockers are specialist machines used to create a professional finish when working on hems.
Must-have if you need to create clothing or upholstery at pace.
Best suited to professional sewers who require speed and a high quality finish.
Sewing machine features
Types of feet
The feet are what surrounds the needle and holds your fabric in place. Different feet are needed depending on what type of sewing you are doing.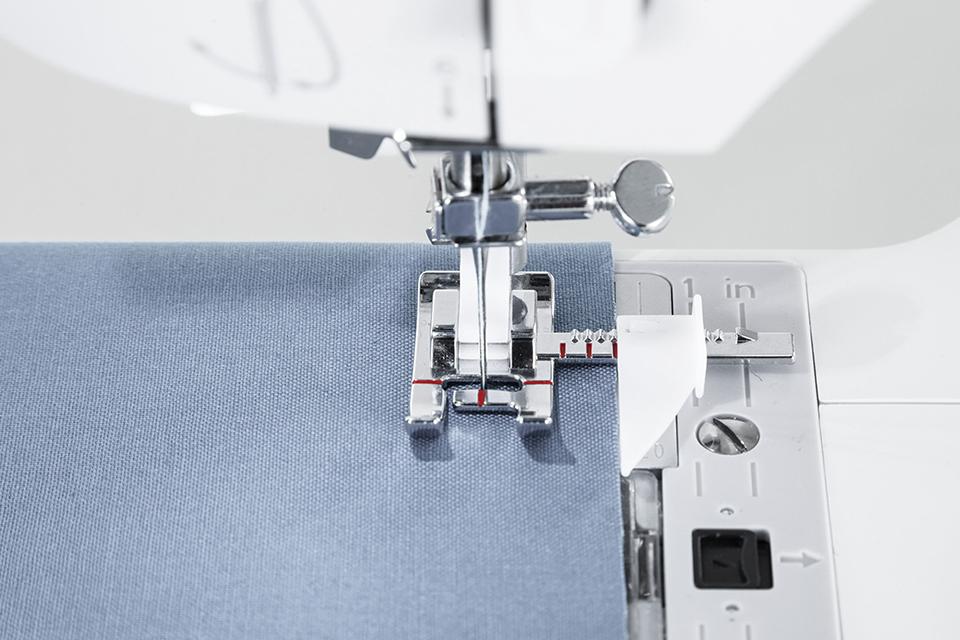 All-purpose foot - Basic foot found on all sewing machines.
Zipper foot - Used for sewing zips and seams.
Buttonhole foot - Used to create buttonholes in clothing and upholstery.
Walking foot - Used when working on thick fabrics. Walks layers of fabric through the machine using both the top and bottom feed dogs.
Cording/piping foot - Lets you sew right up to the cording for neat, decorative finishes.
Darning foot - Often used in quilting as it lets you move the fabric freely.
Blind hem foot - Most commonly used for hemming and edge-stitching.
Monogramming foot - A wide foot with an eye hole, used for decorative stitching.
Built-in stitches
All sewing machines have a number of stitch settings built-in.
Basic machines are likely to feature straight, zig-zag, and simple decorative settings, while more advanced models will have a greater variety of decorative stitches, such as patterns and lettering.
With an electronic sewing machine, you can select stitching style using a dial, while a computerised machine has a wide variety of stitches programmed in.
Electronic machines have a good range of stitches for a beginner, but if you're a professional, or work on a wide range of projects for fun, then you'll need a computerised machine with more types of stitch.
Bobbin types
Before you can start sewing, you need to load a bobbin into the bobbin case.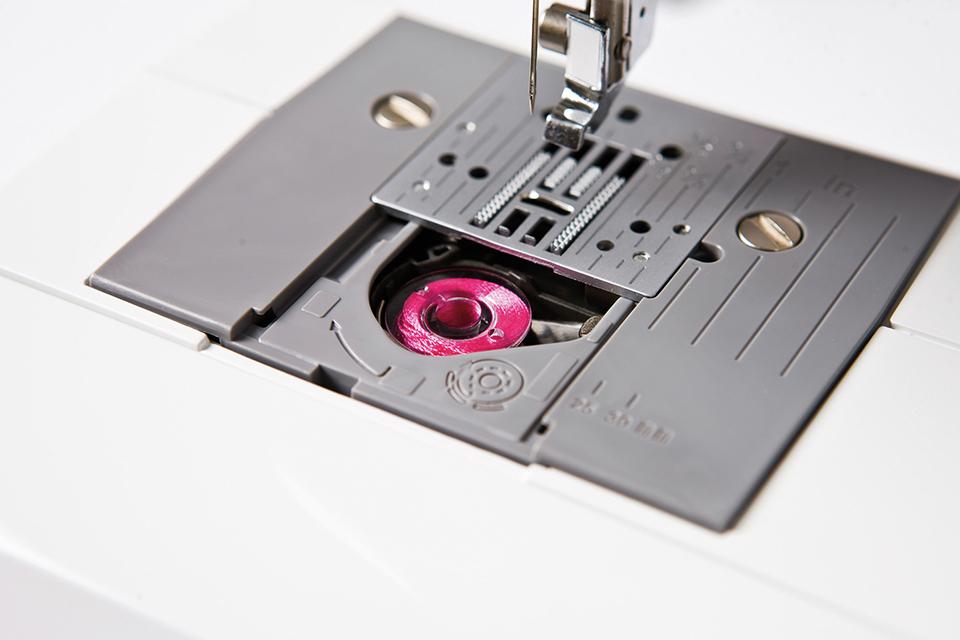 There's two types of bobbin case; front-loading and top drop-in.
Top drop -in - Most machines use a top drop-in bobbin case and it's also the easiest type for beginners to thread. Scroll down to see our video on how to thread a top drop-in bobbin.
Front-loading bobbin – The bobbin cover opens to the side of the machine. They can be more fiddly to thread.
Some machines even feature automatic bobbin winding, saving you the time and hassle of doing it yourself.
Other features
From buttonholes to needles, more key features you need to know about.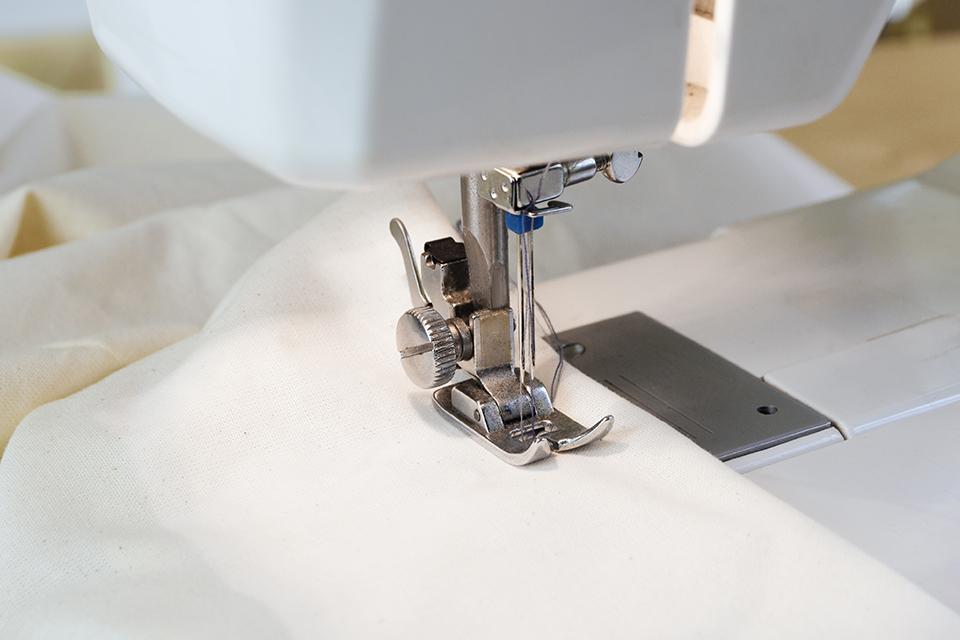 Buttonhole - Our sewing machines will either have a 1 or 4 step function for creating buttonholes. A 1 step buttonhole is much faster than a 4 step, making it a must-have feature for professionals.
Needles - Most machines include a set of needles. The thicker the fabric you're working with, the thicker the needle you'll need.
Twin needle capability –This feature lets you sew parallel threads and help you to create neat hems. A great alternative if you don't want to buy a separate overlocker.
Auxiliary spool pin – If you're using twin needles then you'll also need an auxiliary spool pin. It allows you to thread through both needles at once.
Automatic needle threader – If you find threading the needle tricky, these machines remove the hassle by doing most of the work for you.
Needle positions – Some machines feature adjustable needle position. This allows more experienced sewers to create more advanced designs.
How-to videos
How to use an electronic sewing machine
How to use a computerised sewing machine
How to thread a sewing machine needle
How to thread a front loading bobbin
Singer's sewing tips for beginners
The stitching experts at Singer have come up with some top tips to help you get started.
Is your sewing machine going too fast even when you are only pressing the foot control gently? You can limit the speed by tightening the screw on the bottom of your foot pedal. You can always readjust this when you want to speed things back up!
Clean your machine every so often. Just like your tumble dryer fluff gets caught in the machine and can affect your machine's performance and noise. Clean the bobbin case and housing with a microfiber duster, lint catcher or light suction to remove the dust and fluff. It's also a good idea to keep your machine covered when you're not using it, if you don't have one, make one!
Are your stitches wonky or threads keep jamming or breaking? Rethreading the machine spool and bobbin should straighten any problems out. It's also worth trying a new needle! Make sure it's the right type for your fabric.
Needles breaking or hitting the bobbin case? Your bobbin housing probably isn't sitting as comfortably as it needs to be! Follow the instructions on how to reset the bobbin housing.
Check your bobbin before you start! Make sure your bobbin has enough thread at the start of a project so there is no messing around mid-masterpiece!
Don't have a needle threader feature? Try a quick spritz of hairspray on the tip of your thread to make it easier to pass through the eye of the needle.
Pins can be fiddley and painful if you're not careful, they can often leave small holes. Use quilters clips to hold fabric together.
Is your machine making an odd buzzing noise? Check the bobbin winder to the top of the machine, it's probably been left in bobbin winding mode.
Are you getting loose stitches on the bottom of your fabric? Check your top threading! You should also check which way the bobbin is turning within the machine. This may be different from your previous machine!
Trying to get that wooden embroidery hoop under your machines foot? Use the pressure foot lever to raise the foot higher.
Is your needle position not correct? Check the width dial to make sure it's on the right setting!
Be mindful where you are placing your hands while sewing! Do not help push the fabric through the machine, let the feed dogs do their jobs! If sewing thicker fabric, we'd advise a slower speed and an increase in stitch length!
Does your machine have a 1 step buttonhole? If so and you're having difficulties, take a look at the buttonhole lever – is it properly engaged?
Missing accessories? These are stored within the table of the machine. This is a section in front of the machine that opens to store your accessories. We also find it's a great storage space for chocolate too!
Sewing essentials
More help and inspiration
Why buy at Argos?