Clever ways to fit more storage in your bedroom
Space-savvy solutions to boost your storage, without compromising on floor space or style.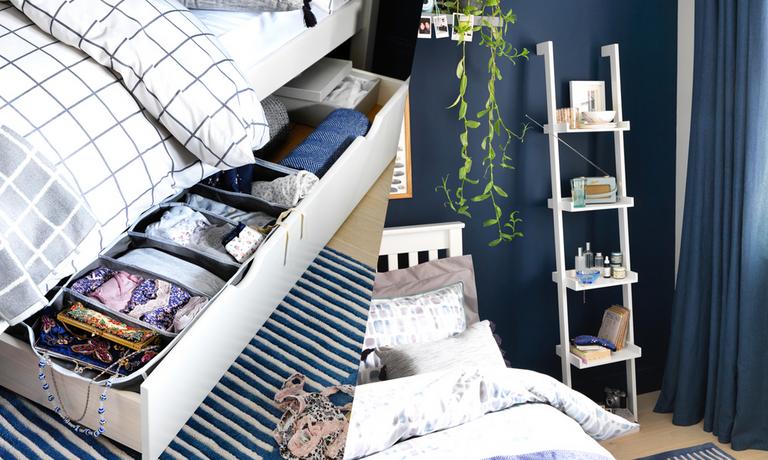 Start with a little declutter
These storage ideas will help make the most of the space you have, but it's a good opportunity to have a little clutter clear-out. Clothes and shoes are a great place to start - check out our stress-free decluttering guide for more advice.
Keep your current fashion rotation on a clothes rail
It makes a feature of your storage
Wardrobes are great, but they can take up a lot of space and make small rooms feel cramped. A stylish alternative (and favourite of every of-the-moment interiors blogger) is a minimalist clothes rail. They're much less imposing than wardrobes, and mean you can easily get to your current capsule wardrobe and shoes. You can keep next season's clothes condensed and concealed-away in vacuum packs.
Think under and over the bed
If you have a storage or ottoman bed you're already ahead of us - if not you can create a handy hideaway with our under bed drawer. Overbed cupboards or shelving are great for keeping smaller items out the way and make use of an otherwise wasted wall space.
Double your drawers as a dresser
You may not have space for a dressing table, but you can create your own getting ready station by placing a good light and mirror above a set of drawers.
Make storage a style feature
Practical doesn't mean it's boring. In fact the oh-so-coveted Scandinavian look is based around this essentialist ethos, so don't be afraid to make storage part of your decor.
Scale up your bedside table
Ladder shelving is really useful in smaller spaces as it adds height and gives you more storage surface area. Use one as an alternative and boosted bedside table.
Shop smart storage favourites
Looking for more home decor ideas?
Visit our spot for talking the latest trends, inspiring interiors and handy home improvement hints.
Why buy at Argos?