Bathroom lighting ideas
Our bathroom lighting ideas are here to help you choose the best lights for your space.
Shop all bathroom lighting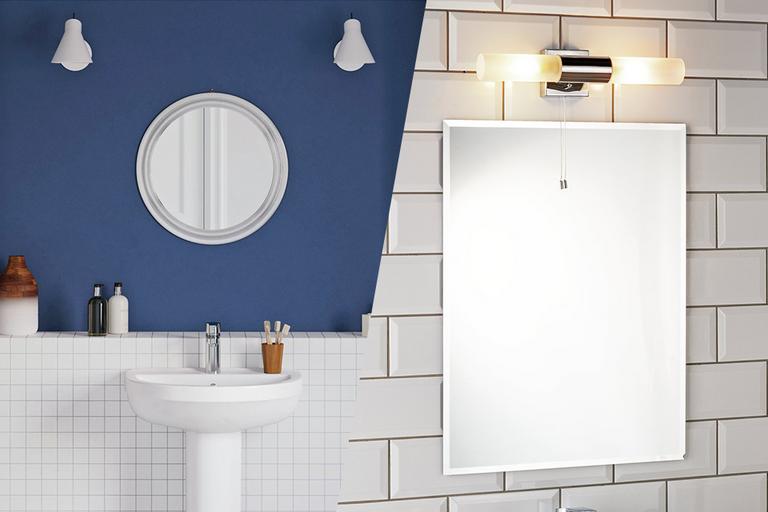 Bathroom lighting types
On darker days, ceiling lighting is likely to be the main source of light in your bathroom. From simple flush lights to contemporary spotlighting, there's a range of options to choose from, all of which give your lighting a different feel and style. If you want to brighten certain areas, you can supplement your ceiling lights with a wall light or illuminated bathroom mirror.
Flush bathroom lights
As the name suggests, they sit flush to the ceiling. The benefit of a flush ceiling light is that they disperse light evenly across the room – meaning no one area receives more attention than another.
Bathroom spotlights
Ceiling spotlights give you multiple pockets of light, rather than one even dispersion. They also come in a wider range of styles than flush lights, letting you choose the one that matches the rest of your décor best.
Wall lights
A wall light will provide a secondary source of light in your bathroom – ideal if you have a large bathroom or you need more light in the area where you get ready.
Illuminated bathroom mirrors
Illuminated vanity mirrors provide the right amount of light to apply make-up, pluck your eyebrows or shave. An excellent alternative to fitting a wall light.
Bathroom lighting ideas
Bathroom fixtures and fittings
A bright bathroom is about more than just the lighting. Why not freshen up your fixtures and fittings as well to bring that shine back and breathe new life into your bathroom space.
Bathroom mirrors
Add light in your bathroom, even if it's not illuminated. Mirrors reflect natural light, making your room feel more spacious and airy.
Bathroom accessory sets
Soap dispensers and toothbrush caddies can often get grubby, so why not freshen yours up with a brand-new set?
Fixtures and fittings
If your fixtures and fittings are little tired, we have a range of shower units, baths, WCs, fans and storage units.
Mirrored bathroom cabinets
A storage and mirror combo is a definite win, especially in smaller bathrooms.
Bathroom blinds
With our range of bathroom blinds, you can let exactly the right amount of natural light into your bathroom – whatever the weather.
More help and inspiration
Why buy at Argos?