Bathing baby
Find everything you need to make a splash and enjoy special bathing bonding time with your little one.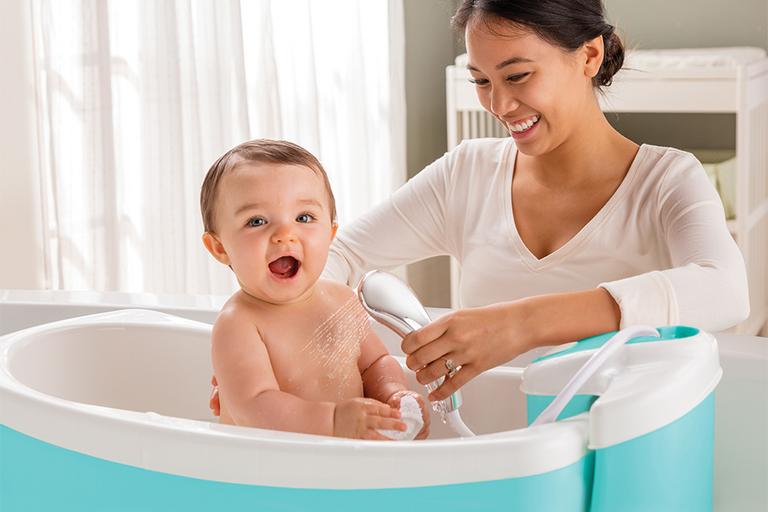 Bath time made easy
Baby baths
A baby bath is not essential if you already have a full-sized tub in your bathroom. However, to avoid having to stoop over the edge of the bath to wash your little one, many parents choose to use a baby bath for the first few months.
These smaller baths are lightweight and portable, so you can wash your baby in the nursery as well as the bathroom.
Baby bath seats
Bath chairs or seats provide extra support if you choose to bathe your baby in a full-sized bath. They secure to the bottom of your bath tub with non-slip suction pads and can easily be removed to tidy away when not in use.
While many are suitable for use from birth, some are suitable only from 6 months, or when your baby can sit upright unassisted.
Baby bath toys
It can take a while for some babies to get used to the sensation of being in water. To avoid any tears, try using bath toys to distract them and keep them entertained instead.
These specially made toys are also a great sensory activity to encourage your baby to splash and develop their widening senses with engaging colours and textures.
Baby bath accessories and towels
All of the extra little bits aren't to be forgotten either. A thermometer will help you get the perfect water temperature, whereas caddies will give you a handy place to keep everything nearby so you don't have to take your eyes off your little one. And once bath time is over, make sure you keep them warm by wrapping them up snugly in luxuriously soft towels.
Bathtime safety and tips
Don't let them out of sight
Make sure you're with your baby the whole time they're in the bathroom and pay special attention when they're in the water.
This bath is just right
Bath water for bathing a baby should be around body temperature, 37-38 degrees C. The easiest way to check this is with a thermometer, but if you don't have one to hand, put your elbow in the water. It shouldn't feel too hot or too cold.
Safety in numbers
If your baby seems frightened of the water, try getting in the bath together. This may help them to relax as they feel safer.
How to bathe a baby
Bathing your baby is an important milestone that paves the way to building a strong bond with each other. However, it is completely natural to feel a little worried before bathing your baby for the first time.
Here are our top tips to a successful bath time.
Pick a time when you are both relaxed, it will help make it a more enjoyable experience for the both of you.
Have everything you need to hand so that you can keep one hand on baby at all times.
Ask your partner to help until you are used to the routine, it's a great way for the three of you to bond.
Newborns do not have a lot of body fat and as such can become cold quickly, make baths quick but efficient while they are very young. Fun baths will be better when they are a bit bigger.
Make sure you dry baby carefully and fully, getting into every fold of skin to prevent any irritation or rashes.
If you have more questions, such as, how often should I bathe my baby, then follow the link to the NHS guide to washing and bathing your baby for some useful tips and advice.
Baby bath bubbles
The best way to bathe baby will depend on whether your area has hard or soft water, (a quick google search with your postcode will be able to tell you this if you're unsure!). If you live in a soft water area, plain water works fine as it doesn't dry out your baby's skin. However, you can still use a mild, liquid wash if you would like. If you live in a hard water area, it would be a good idea to use a gentle liquid wash or some fragrance-free baby wipes. Hard water can dry out a baby's skin which can cause eczema and other skin irritations.
Caring for their delicate skin
Voted the UK's number one toiletry brand for babies and children; Childs Farm's vegan and cruelty-free products use naturally derived ingredients and essentials oils, making them perfect for sensitive skin.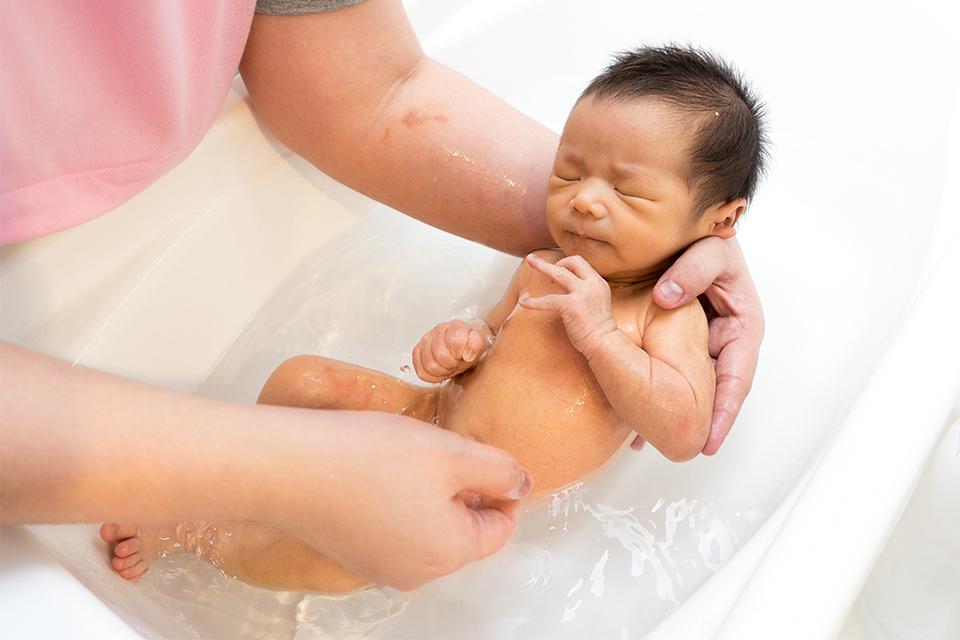 Bedtime baths
A bedtime bath should be approached differently to bathing baby during the day. Whilst daytime baths are a more stimulating and sensory experience for babies, bedtime baths are for calming them down before they go to sleep. They also have the benefit of helping to lower baby's core body temperature enabling them to get a more restful night's sleep. Toys and other sensory experiences are not recommended during a bedtime bath as they can cause baby to get overexcited and worked up, meaning they will not go to sleep or relax as easily. Using ambient low lighting can also help baby relax too!
Loved by parents
Explore more baby and nursery advice
Argos' pregnancy and baby club
The experience of pregnancy and parenthood is the most amazing time of your life and we'd love to come along with you on the journey. Sign up to our club for top tips, advice and offers sent straight to your inbox.
Why buy at Argos?