Balcony ideas
You're lucky enough to own a balcony, but are you using it to its full potential?
Shop all garden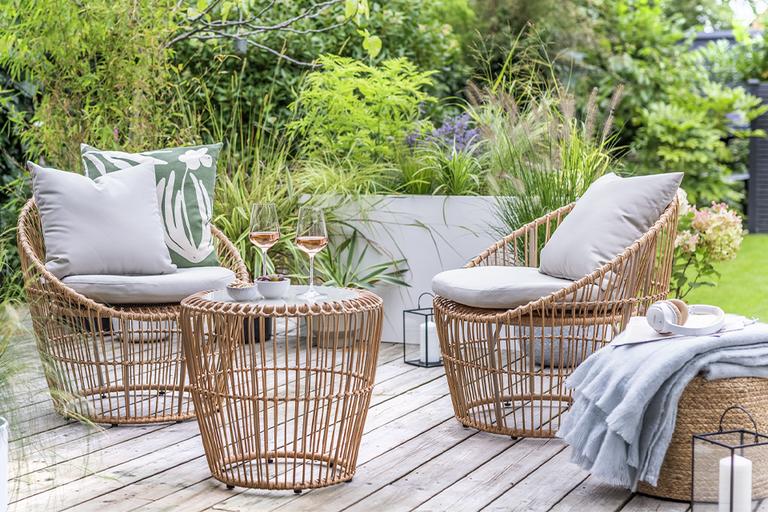 Patio and bistro sets
Reclaim relaxation
Turn your balcony into a retreat or party-pad in no time. Choose from our range of stylish patio and balcony sets to make the most of your outdoor space.
Balcony chairs
Comfy garden chairs
Have your morning cuppa out in the fresh air, or while away the hours curling up with a summer read and watching the world go by. Try a stackable garden chair on small balconies or create a holiday-space-at-home with a deck chair.
Add a small side table as a spot for your coffee, plants or maybe a candle or two.
On-trend egg chairs
Great to lounge in and even better to wow your guests. Add these hanging egg chairs to your balcony setup for an instant Insta-worthy look and peak comfort. What's more, these versatile chairs go equally as well in an indoor or outdoor setting.
Small balcony ideas
If space is tight, you'll want to maximise every square foot you have - including your balcony. Here are three ideas for how to transform an underused balcony, whether you want a space to socialise, an outdoors retreat, or a miniature garden.
Choose a small but mighty bistro set
Make room for two with balcony-friendly garden furniture. This is ideal for dining outdoors in the evenings or enjoying a few drinks with friends on a sunny afternoon.
Plant some greenery
Want a garden of your own? Why not create one on your balcony? With some outdoor-proof planters and a few tools, you can carve out a space for bright and beautiful flowers, some lush greens or maybe your own private herb garden.
Get foldable furniture
Extra seating without losing floor space? Yes, please. Make room for more with patio sets and sun loungers that fold flat and can be stored away. Perfect to pull out when you're hosting or want to catch some sun.
Make it your own with outdoor accessories
Get cosy with cushions and rugs
Be extra comfy with cushions to suit your style: try a clean, minimal look or vibrant prints. Floor cushions or outdoor rugs are ideal for renters who don't want to invest in furniture.
Add personality with solar lighting
Solar lighting is an easy, energy-efficient way to transform your balcony. Pick a conversation-starting lantern or add ambience by wrapping some string lights around your railings.
Enjoy easy greenery with faux plants
Not got the greenest thumb? You can still have a botanical balcony by adding some convincing (and maintenance-free) fake flora to bring colour to your outdoor space all year round.
Our top balcony picks
More inspiration
Why buy at Argos?