Use up and down arrows to review and enter to select. Touch device users, explore by touch or with swipe gestures.
Baby shower gifts and ideas
Baby and parents deserve to be spoiled, so make sure you treat both. Shop our baby shower gifts range, from little keepsakes to the more substantial necessities.
A baby shower is where friends and family bring gifts and celebrate the pregnancy with the parents-to-be.
Baby showers stem back to ancient Egyptians and Greeks, where new mums would honour the birth goddess with gifts.
The Middle Ages saw godparents give gifts such as silver at baptisms, and the Victorians hosted tea parties with games after the birth, as pregnancy was considered a taboo subject.
The WWII era shower was a way to help new parents cope with the financial challenges that came with babies.
Modern baby showers haven't changed much from the Victorian and WWII traditions, except it's more common for Dads-to-be and male friends and family members to attend.
How to host a baby shower
When do you have a baby shower?
Baby showers are usually held 4-6 weeks before the due date.
When hosting, it's best to check if the parents-to-be have any preferences. Some may not want a flashy event and would prefer to keep it low-key.
Location
Host at someone's house or hire a room in a restaurant – just check their rules around decorations, some may be limiting.
If the forecast is looking good, why not take the celebrations outside to a park?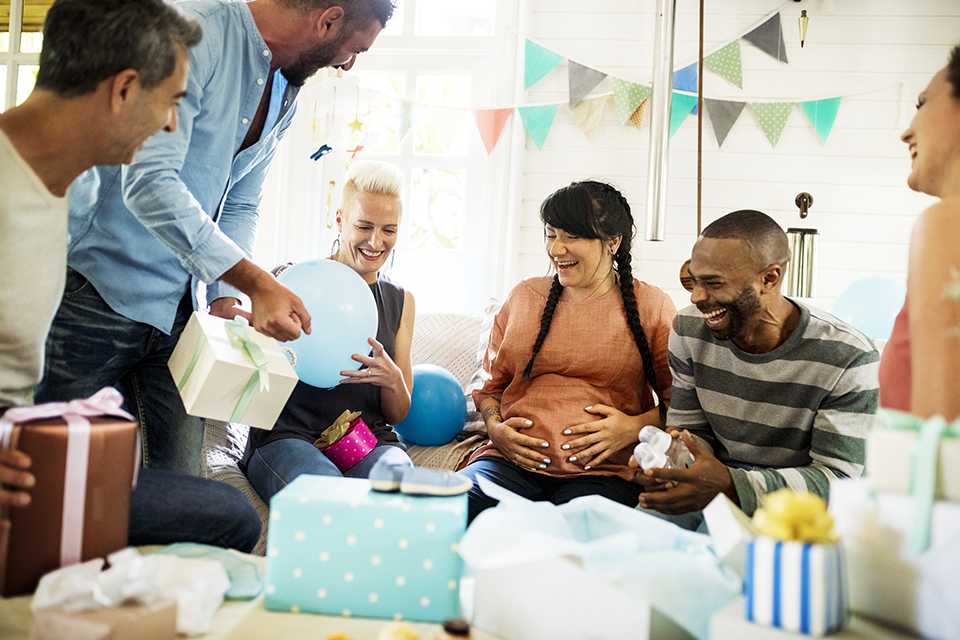 Guests
Check who the parents-to-be would like to attend, that way no-one will be left out.
Then send out the invites out in plenty of time so guests can arrange their diaries.
Baby shower decorations & themes
If the sex of the baby isn't a secret, opt for the classic pink or blue colour theme. Then you can incorporate animals, flowers or patterns.
If the sex of the baby is a surprise, go for colours like mint green and soft yellow.
If the shower is doubling as a gender reveal, and you're in on the secret, arrange for the big reveal to be with a cake, popping of balloons or any other imaginative method you have up your sleeve.
Food & drink
Afternoon tea, picnic and garden party are popular themes. Create a list of food and drink and ask guests to bring something from it to spread costs.
Finger foods are a great option as they're low maintenance, and easy to organise.
Get the cake made by a pro or handmade with love by a friend or family member. If a cake is too classic, why not try a cupcake tower so people can help themselves with ease?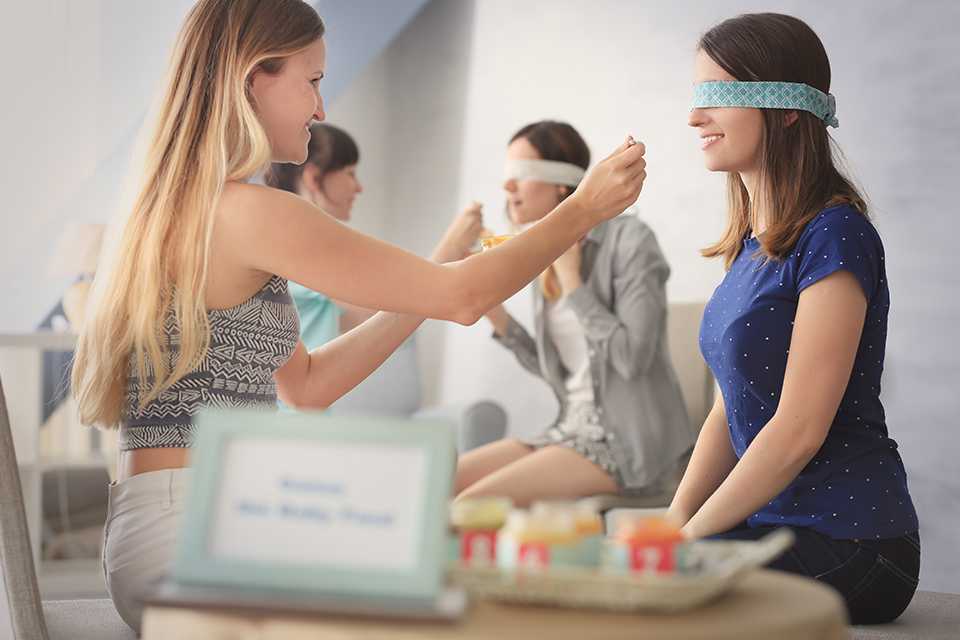 A baby shower is a party after all, and what would a party be without games? Here's a few fun suggestions to keep guests entertained.
Parent trivia - Everyone is given a list of questions they have to answer about the parent. Whoever gets the most right, wins.
Guess the baby bump - Everyone guesses the size of the mum-to-be's belly. Whoever is closest, wins.
Baby bingo - Everyone is given a card with a grid of baby-related objects. An object is called out one at a time and whoever checks everything off their list first wins.
Dot around plenty of props the guests can put on and hold when taking photos.
Choose a hashtag for everyone to use when posting their pics as a way for everyone to share their snaps.
Baby and parents deserve to be spoiled, so make sure you treat both. Shop our gifts ranging from little keepsakes to the more substantial necessities.
Gifts for the parents-to-be
The perfect gift everytime
There's something for everyone at Argos. Give them the gift of choice with an Argos eGift card.
Emma's Diary
Emma's Diary has been giving parents-to-be friendly expert advice for nearly 25 years - supporting every stage of their journey into parenthood and beyond.
Baby essentials
From decorating the nursery to baby proofing, visit our comprehensive baby and toddler advice centre.
Baby's first wardrobe
Tu has a perfect range of essential baby clothing for any occasion.
Baby shower gifts
Buying for a baby isn't hard - they often don't have the capacity to be fussy yet. Fluffy companions are a great idea, as long as they're soft, textured, have bits to fiddle with and, most importantly, look cute in photos. Presents that they can grow up with and look fondly upon in later years are sure to resonate. This could be keep boxes, money boxes, crockery, cutlery or even pendants and charms.
Mum to be gifts
At this point, the mum will be very aware of the enormous task ahead of her. A lot of equipment is required including bottles, clothes, prams, car seats, cots and toys. Check with her to see what it is she needs – a practical gift is a god-send but no one needs three prams!
Baby shower decorations
If you're hosting at home, make sure your living room is looking good. If you're short on living room ideas, embrace our trends – Urban Escape, Rural Retreat and Midnight Opulence. If you think the weather will hold up, hosting in the garden is a great idea. Check out our garden inspiration for ways to tidy it up and introduce features to make it a party-worthy environment.