As children learn to grasp, crawl and walk, they're going to be exploring your home and everything in it. It's important to baby proof from top to bottom to keep them safe.
Home safety
Child safety locks
Add child safety locks to all your cupboards and place any harmful cleaning liquids or medicine in high cupboards. You should also keep worktops clear to stop young hands grabbing any pan handles or power cables they might spot.
Make sure you have window restrictors, which stop them falling outside or getting fingers caught. You can prevent them trapping their fingers in doors by using an edge guard to block the area around the hinges.
Bathroom safety
Prevent any slips and bumps in the bath with a non-slip mat. Store bathroom bottles in a high place away from curious hands and remove anything they might want to climb, like a clothes airer or washing basket.
Safety and stair gates
Pressure fit safety gates
A u-shaped frame is fixed by pressure of the fittings against your wall or doorframe.
Easy to install with no drilling required.
Won't leave marks when removed.
They have a frame so not suitable for use at the top of the stairs.
Some have a pressure indicator to tell you it's installed correctly.
Screw fit safety gates
Attached to fittings that are screwed into your wall or doorframe. The gate does not have a frame or bottom bar.
Very strong.
Frameless so can be used at the top of the stairs.
Will leave holes or marks in the wall when removed.
Room gates
Safety gates can also be used to block access to certain rooms where there may be hazards, such as your kitchen or utility area.
Opens in either direction.
Some have a stopper so can be locked to open only one way for use on stairs.
Retractable stair gates
Usually made of a mesh or from panels, these retract or concertina into themselves when not in use. They don't have a frame and are a more discrete style, but the fittings will usually need to be screwed into the wall.
Automatically closing gates
For extra peace of mind, these safety gates automatically close behind you and are particularly useful if you have older children.
Measuring your safety gates
Always measure your space from the narrowest part, including skirting boards and doorframes. All safety gates are sized to fit within a width range - up to 40cm on extendable models. Check the product description for this range.
Wide safety gates
If you have a wide staircase or doorframe, of more than 80cm, look for extra wide or extendable safety gates.
For some standard gates you can also buy extension kits.
Narrow safety gates
If your space is less than 74cm wide you'll need a narrow or extendable safety gate that can be made smaller.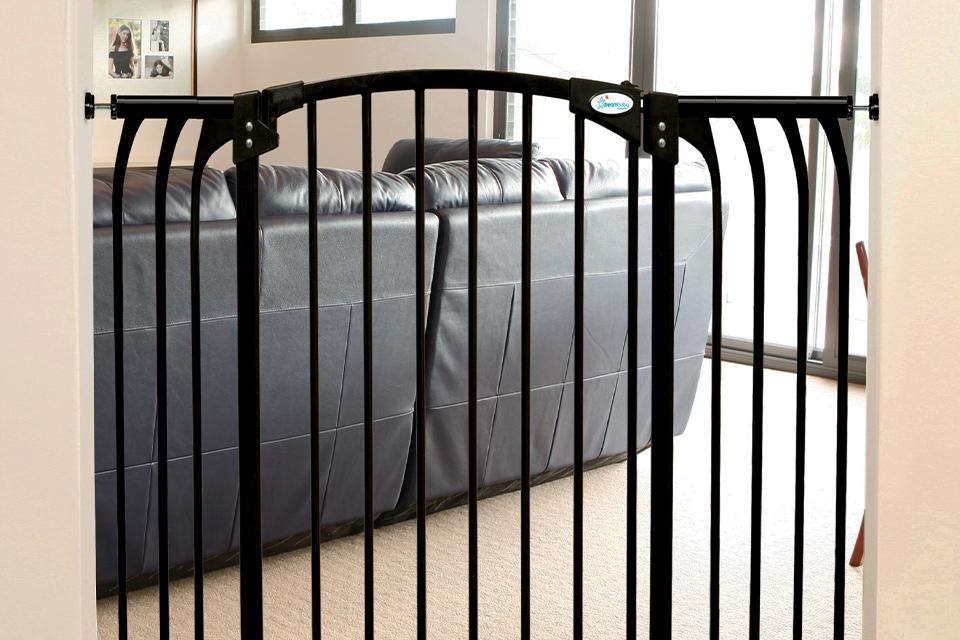 Tall safety gates
Standard gates are usually around 74cm tall, but gates up to 100cm high are available and useful for toddlers or larger pets.
Baby & pets
A note about pets
It's hard to tell how pets will react to your new arrival, so it's best to take some precautions. Dogs can be curious, and get a little jealous, so try to give them special attention where possible. Cats can be quite blasé (as usual), but sometimes like to get close to the cot or crib for warmth.
It's best to never leave baby and pets together unsupervised, and use baby gates to keep them separated at other times. You should also keep pet toys, food, beds and litter trays out of reach of little hands.
Loved by mums
Guides & advice
Argos' pregnancy and baby club
The experience of pregnancy and parenthood is the most amazing time of your life and we'd love to come along with you on the journey. Sign up to our club for top tips, advice and offers sent straight to your inbox.
Why buy at Argos?