Feeding baby
Feeding advice for breast and bottle.
Breastfeeding is the best way to feed your baby. It contains all the essential nutrients they need to grow. Here's our best breastfeeding tips and advice for making feeding a relaxing, comfortable experience for you and your newborn.
Getting ready to breastfeed
How often should I breastfeed?
You can feed your baby any time they're hungry. During the first few weeks it's normal for a baby to feed up to 12 times a day. You can't overfeed a baby on breastmilk, and baby will let you know when they've had enough milk. If your baby is gaining weight and has at least 6 wet nappies a day, then that should indicate that they are getting enough milk.
How do I know when to feed baby?
There are several signs you should look out for: stirring and stretching, sucking their fingers, moving their lips, make sucking motions.
How long should I breastfeed for?
There's no hard and fast rule as to when you should stop breastfeeding - the decision is completely down to you and when you feel comfortable. It's recommended that from 6 months, alongside breastfeeding, you can start to introduce your baby to food. This will help to provide the balance of nutrients your baby needs as they start exploring solids.
What's a breast pump for?
A breast pump allows you to collect your milk so that others can look after baby and feed them when you're not around, or you're trying to sleep. You can store your breastmilk for up to 5 days, as long as you keep it refrigerated.
Breastfeeding tips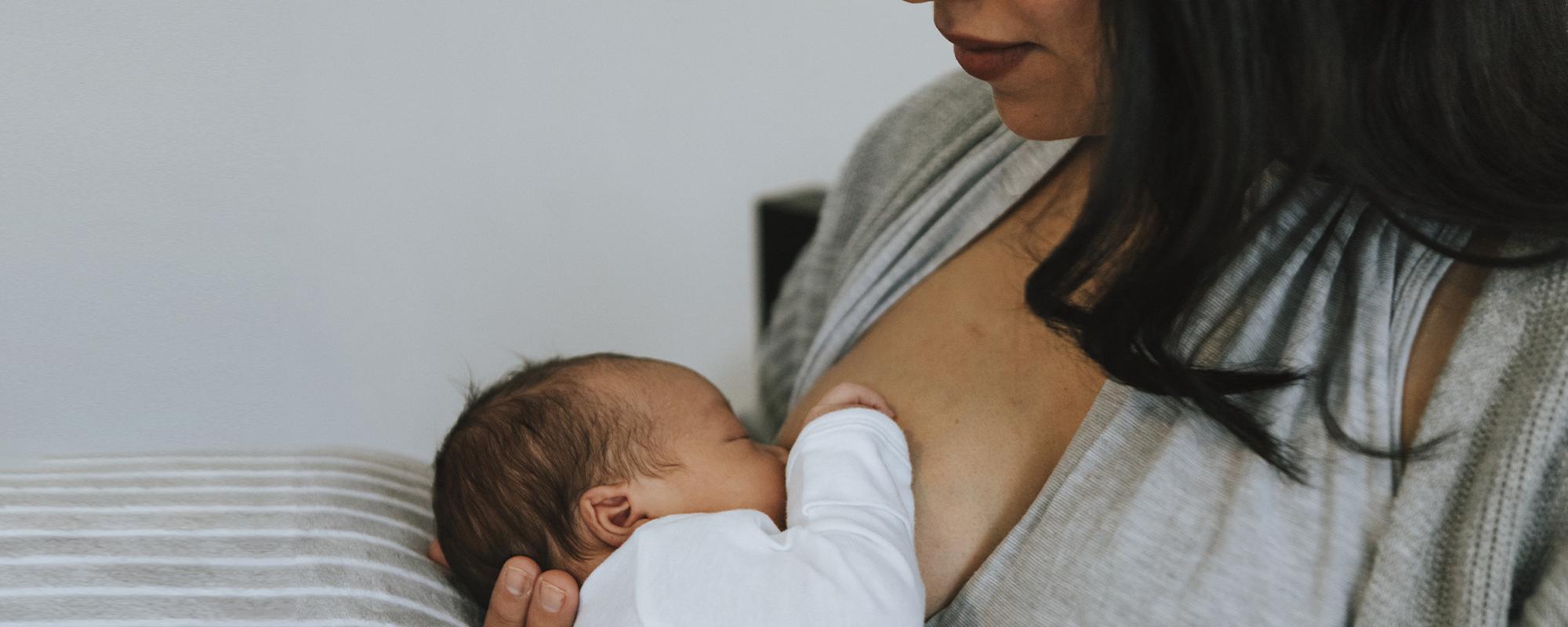 Are there any foods to avoid when breastfeeding?
Anything you eat or drink while you're breastfeeding can find its way into your breast milk, however there's no specific food that you should be avoiding. A healthy diet is recommended, and it's best to go easy on coffee and wine.
Caffeine is a stimulant and can make your baby restless, so doctors recommend limiting yourself to less than 200mg a day (a mug of filter coffee is 140mg). Although eating fish is good for you and your baby's health, Doctors also recommend restricting yourself to no more than 2 portions a week of oily fish (fresh mackerel, sardines, trout or salmon).
Take a look
How do I breastfeed?
Getting into position
Make sure your back and arms are supported with cushions, as feeds can last a long time. It can help to raise your feet a little by using a foot stool or putting them on a cushion. Hold baby close to you, with their weight against your body. Turn them slightly so their mouth and nose faces your nipple, without them needing to turn their head.
Helping baby to latch on to your nipple
You can encourage them to open their mouth by brushing their lips with your nipple. Their mouth should open, causing their head to tilt back. Draw them onto your breast while their mouth is open, chin first, while supporting their neck. They should then be able to take a large mouthful of breast. Your nipple should go towards the roof of their mouth.
What if my nipple gets sore?
It's not uncommon to experience soreness 3 to 7 days after birth. It's usually a sign that baby is pulling on the nipple and not feeding from the right position. It's best to contact a midwife and breastfeeding specialist if soreness persists to get advice.
The different breastfeeding positions
Cradle hold
The most common position, with baby held across your lap. Leaning baby against your elbow, you draw them up to your breast. Best for - full-term babies who were delivered vaginally.
Side-lying position
Lie on your sides, tummy to tummy. Cradle baby's head with your top arm and guide them to your breast. Best for - night time feeding or if you find sitting up uncomfortable.
Cross-cradle hold
Your arms are lightly folded, and you use your hand to guide baby's head to your nipple. Best for - small babies and babies who have trouble latching on.
Clutch hold
You tuck your baby under your arm, like a handbag, supporting and guiding their head to your nipple with your hand. Best for - if you've had a caesarean or find it less comfortable to have baby on your stomach.
Laid-back position
Lean back comfortably and gently lie baby on your chest with their mouth on your nipple. Best for - women with smaller breasts or if you're tired and want to relax.
Ways to make breastfeeding comfortable
Bottle feeding
Preparing to bottle feed
If you are unable to breastfeed, bottle feeding is still a good way to give baby all the essential nutrients, vitamins and minerals. To bottle feed, you'll need to have several bottles and teats ready for multiple feeds. You'll also need to sterilise them before use. When preparing formula, carefully follow the instructions on the packaging. Any formula you make needs to be kept chilled and used within 24 hours.
How to bottle feed your baby
First, make sure you're comfortable. Hold baby in your arms but raise their body to an upright position, supporting their head with your hand. Brush the bottle's teat against their lips, letting them draw it in when their mouth opens. Hold the bottle up to keep the teat full. If the teat goes flat, gently poke your little finger into the corner of baby's mouth to release the suction.
Bottle feeding essentials
Nursing clothing
Feeding baby, feeling comfortable
With some clever hidden feeding features, such as nursing layers and cut-out holes, Tu offers a range of maternity clothing that's both pretty and practical. Helping to make nursing that little bit easier.
Explore more baby and nursery advice ...
Every baby is different ...
Remember, nursing is an individual experience for every mother and baby, so what works for one mother may differ for another. If you do have any concerns, contact your local doctor.
Join the club
Emma's Diary has been giving parents-to-be friendly expert advice for nearly 25 years - supporting every stage of their journey into parenthood and beyond. Becoming a member of Emma's Diary will give you access to weekly pregnancy and baby updates as well as £400 worth of baby and nursery Argos vouchers.
Why buy at Argos?