Baby development
From seeing to walking, learn about all the different stages of your baby's growth.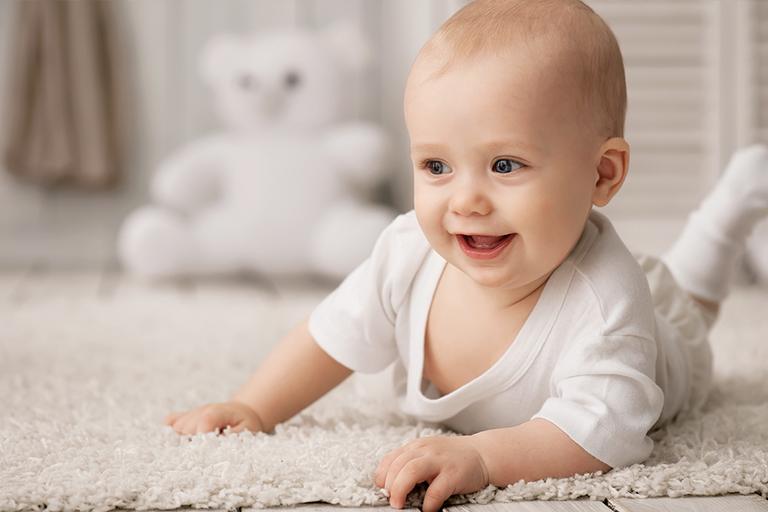 Unsure about your baby's milestones? Our guide can help you understand your baby's development, what to expect and the great ways you can encourage them.
When do babies see?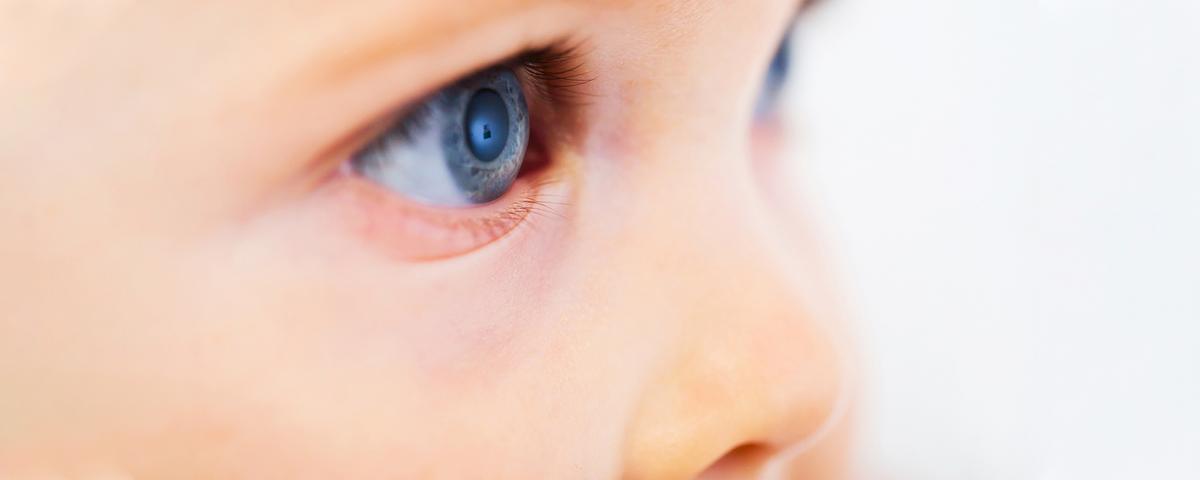 Seeing is believing
Your baby's vision makes great advances within the first 12 months, yet their vision won't fully develop until they're 3-5 years old. At birth they'll detect light and motion, developing to identify large shapes and faces.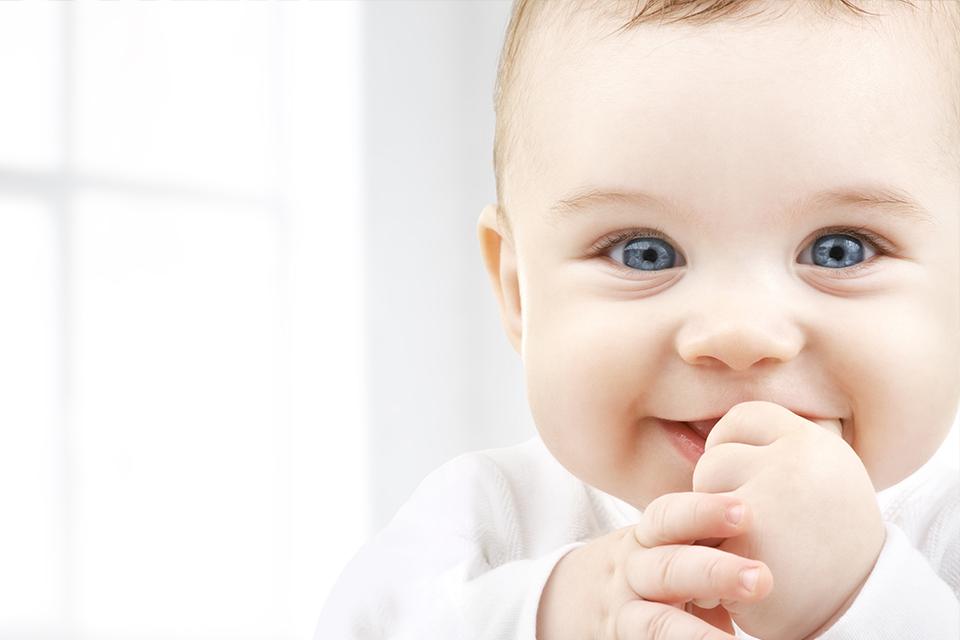 Eye know you
After the first month, a baby can focus on close objects and make eye contact. After 5 months, it's believed that babies have a good sense of colour, taking in the world around them.
Take a look
Encouraging babies to use their eyes helps develop the mechanics behind their vision. Fun, bright toys will engage your baby's sight. When relaxing at night, lights help create a calm mood as they focus on movement and light.
When do babies teethe?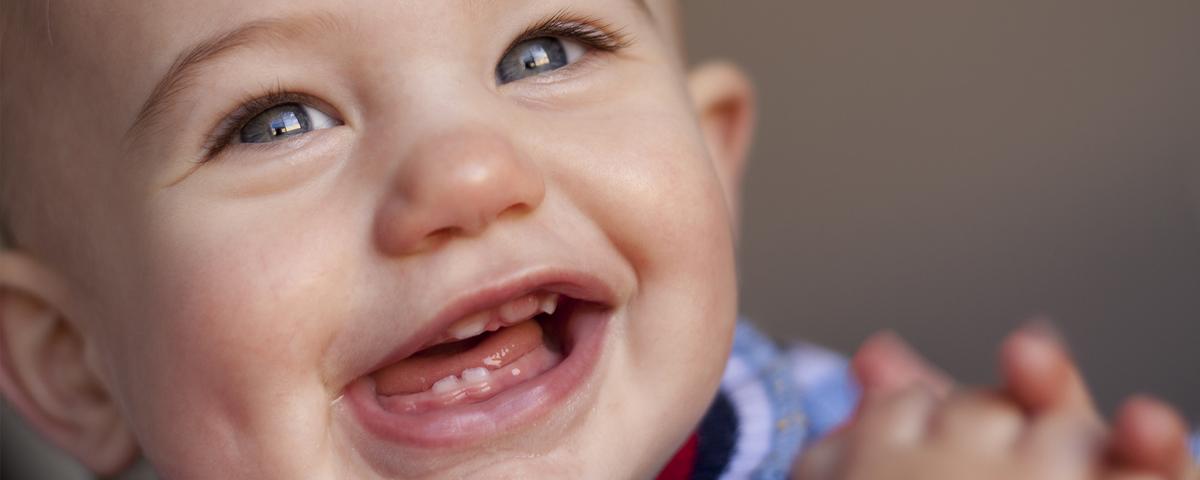 The tooth of it all
Teething usually begins around 6 months, when the primary teeth break through the gums, but teething can happen anytime between 3 and 12 months. Baby's gums can become sore and swollen but there's several ways you can make teething more comfortable...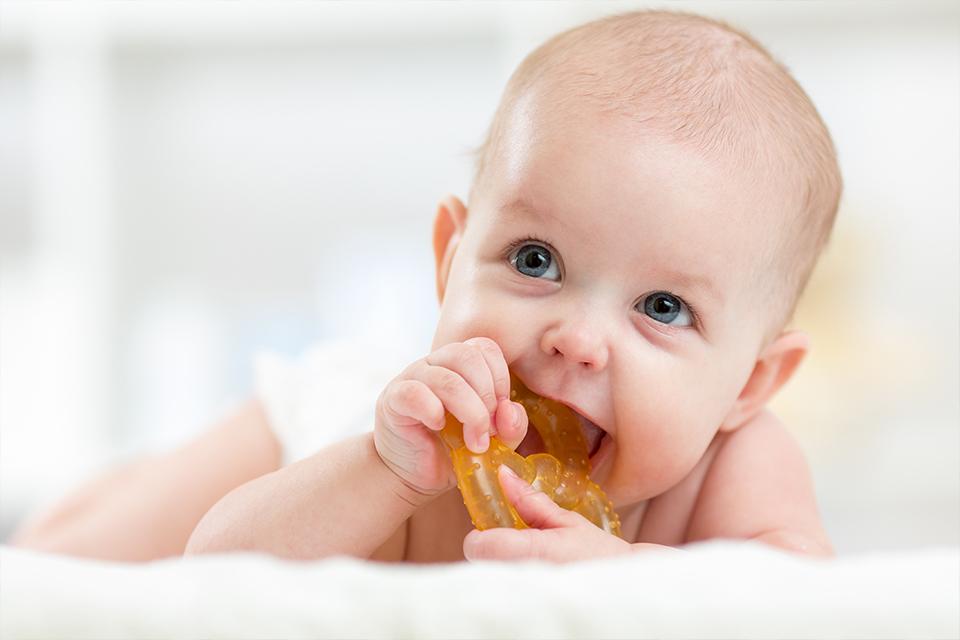 Teething toys
Chewing a teething ring can help to soothe the gums and reduce any pain. Or you can try a clean finger to gently rub the gum and soothe any discomfort.
Comfort them
Babies need a lot of attention and affection when teething. Video baby monitors are useful for alerting you when your child needs your support.
The art of distraction
Activity toys are a great way to take your baby's mind away from any painful gums. They also help develop their physical and mental growth.
When do babies move onto bottles?
Thirsty work
A great way for parents to share baby feeding duties, bottle-feeding gives your baby a chance to bond with others and mum a chance to rest. Between 6 and 8 weeks old is usually the best time to introduce bottle-feeding, and from around 6 months old, your baby will be able to hold the bottle by themselves while they feed.
Keep them comfortable
When introducing your baby to bottle-feeding, it's important to make sure they're relaxed and not too hungry. It's also a good idea to have someone other than mum offer them their first bottle so they don't get confused.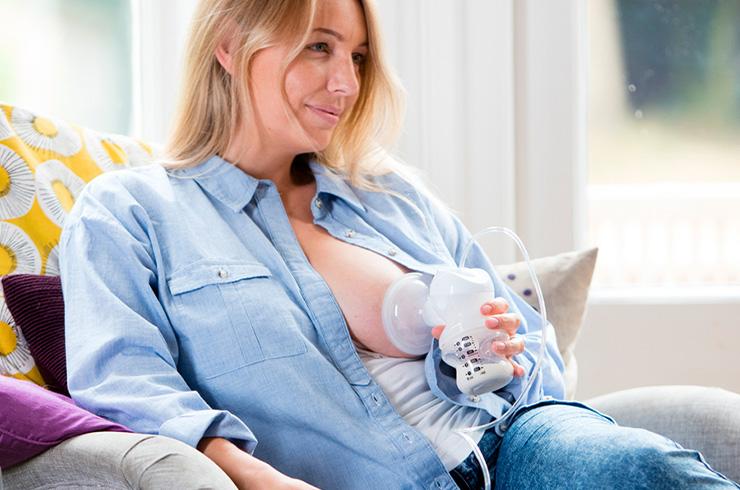 Breast pumps
Designed with convenience in mind, breast pumps allow you to express milk and store it for later. Choose between manual and electric pumps, or go for a breastfeeding kit that has everything you'll need.
Bottle-feeding essentials
When preparing bottles to feed your baby, use a steriliser to make sure they're clean and free from harmful bacteria. Then heat their milk or formula to the correct temperature using a bottle warmer.
When do babies crawl?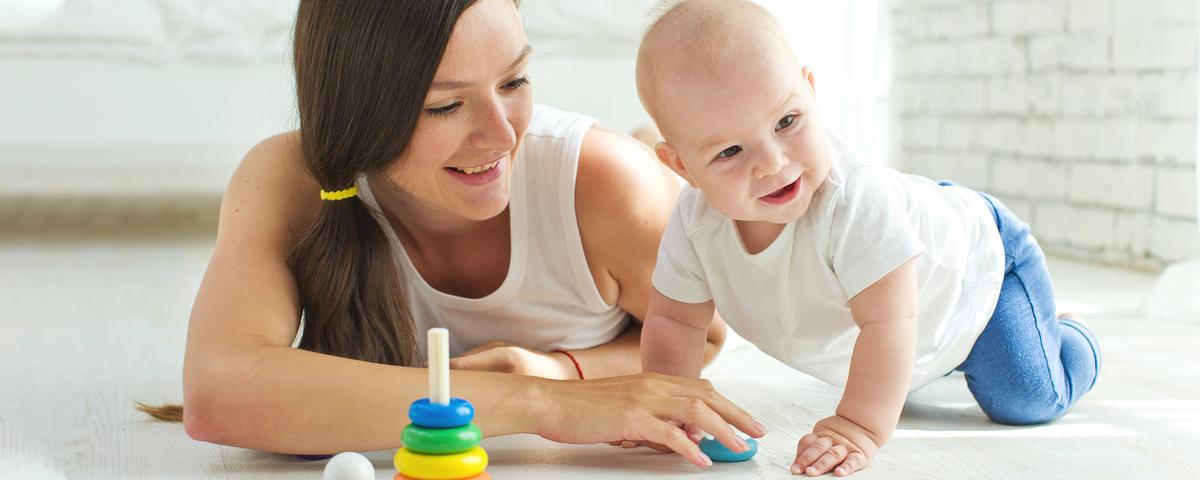 Ready, set, crawl
Crawling may be the first way your baby moves around on their own. Typically this happens between 6-10 months, but this can vary from child to child. To support their development, here are some tips to strengthen their muscles...
Tummy time
Placing your child on their tummy is a great exercise to help your baby build up neck, arm and leg muscles, as well as the ability to master their movement and head control.
Make it fun
First, make sure your baby is comfortable on a padded surface. Then use toys to keep them entertained and active. The more baby moves and plays, the more muscles are developed.
Muscle development
Using baby bouncers and swings can help grow your baby's muscles and gross motor skills, as they encourage baby to build up strength in key areas of their body.
Crawling milestones
Classic hands and knees – This is when your baby stands on flat palm and knees, moving their hand and opposite knee, and then alternates.
Bear crawl – Very similar to classic crawl, your baby will maintain straight arms and legs, looking very much like a bear.
Commando crawl – Keeping their belly to the ground, your baby will push themselves around, whilst still being fairly rooted.
Crab crawl – Similar to a crab, baby will move backwards or sideways, propelling themselves with their hands.
When do babies walk?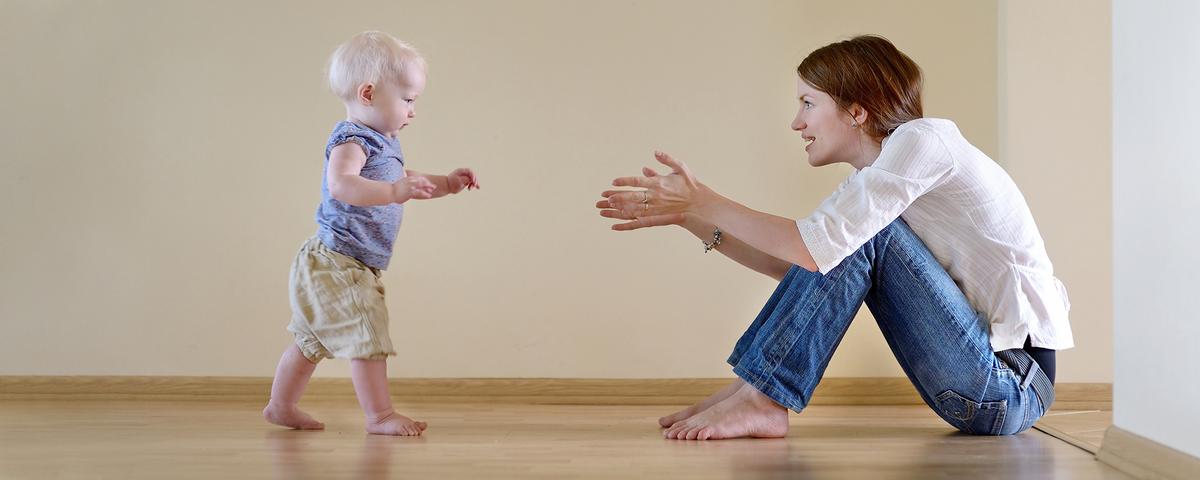 One small step for baby…
On average, a baby can take their first steps between 9 and 12 months and walk around 3 months after. Babies need to develop their balance and coordination to walk and there are a few ways that you can help...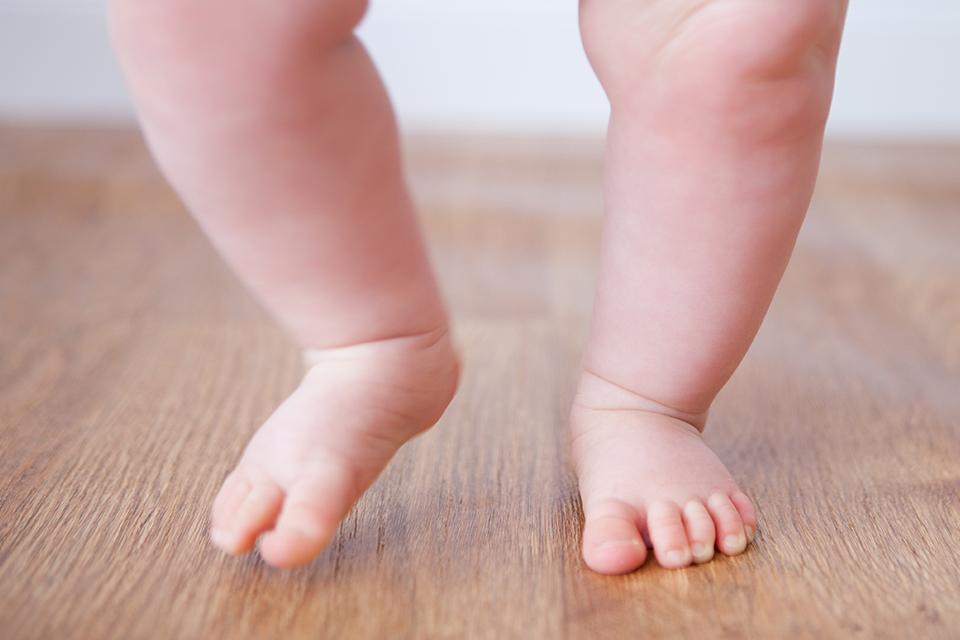 Finding their feet
Assisted sitting, crawling and pulling up can help strengthen the back, neck and leg muscles your baby will need to eventually stand and walk on their own.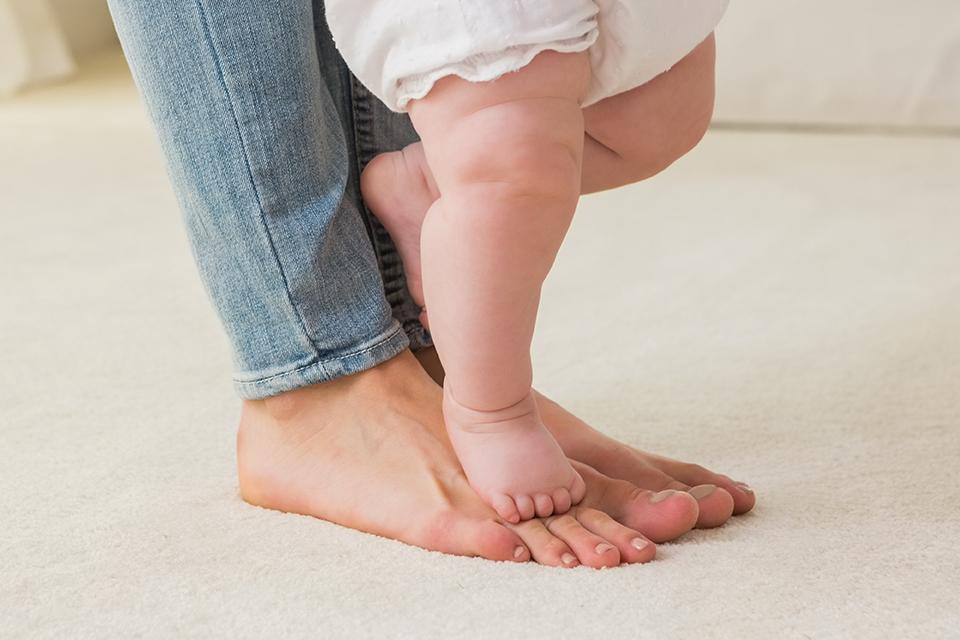 Offer support
Supporting your baby from behind can be very encouraging. It allows your baby to familiarise themselves with the feeling of standing and being on their feet.
Enjoy it
Toys, trikes and ride-ons are great for encouraging your baby. They'll help to develop the muscle and coordination skills they'll need whilst having fun.
What's next for baby?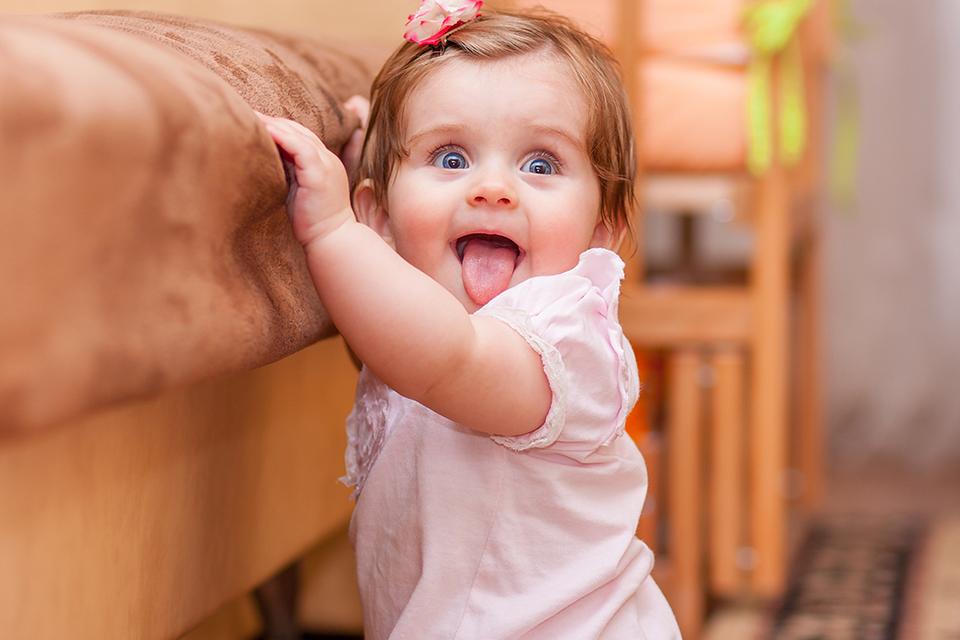 Standing tall
Once your baby starts to find their feet, they will soon be able to stand alone and able to squat.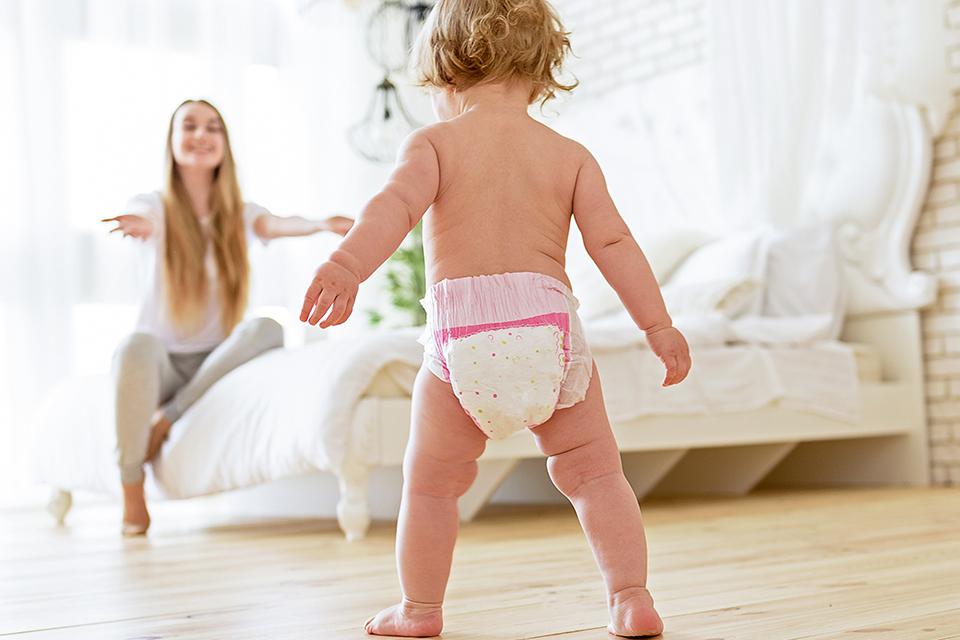 Balanced walking
As muscles develop in their legs, your baby will become more comfortable walking around, building confidence, steadiness and pace.
Meeting the stairs
Your baby will develop an interest in going up and down stairs, though probably won't have the strength to successfully reach the top.
Toys for development
Allowing your child to learn through play is both a fun and rewarding experience. Discover how their favourite games, songs and books can help develop their day-to-day abilities.
Top reviews
Baby guides & advice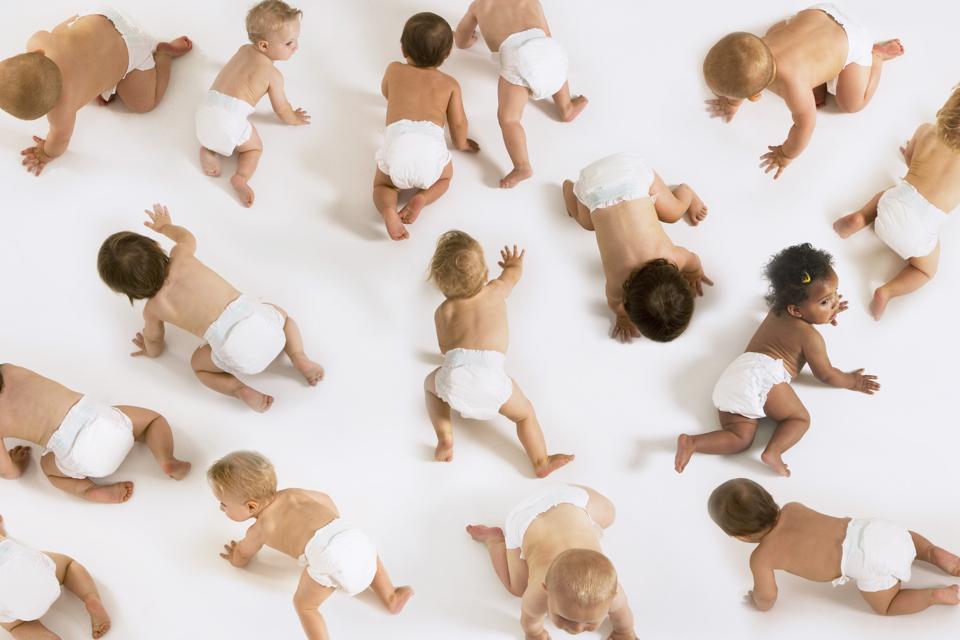 Every baby is different...
Some babies develop their language or their social skills, whilst others excel at developing their physical skills. Do not worry if your baby is under 18 months old and not walking. Beyond this point, it may be worth highlighting to your doctor.
Argos' pregnancy and baby club
The experience of pregnancy and parenthood is the most amazing time of your life and we'd love to come along with you on the journey. Sign up to our club for top tips, advice and offers sent straight to your inbox.
Why buy at Argos?