10-min makeup for mums
A quick and easy step-by-step makeup tutorial that can be done whilst having your morning coffee.
Shop all makeup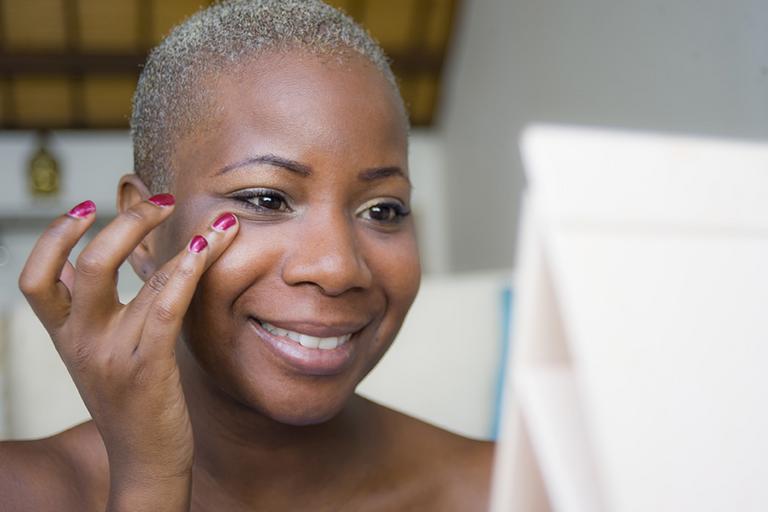 The secret to getting ready in a rush?
You need makeup that multitasks as much as you do - we're talking 3-in-1 foundations, or moisturising lip balms that have a hint of colour in them - the goal? An everyday fresh-faced look, even on days when you don't feel so refreshed. These 5 steps are super easy to apply (you don't even need to find a brush - fingertips will do here) and can all be completed in less than 10 mins.
Step 1: Prep your skin
Even if you're pushed for time, try to avoid skipping the first step of cleansing your face and neck. Treat it like a mini morning facial - it will help wake you up, and your skin will thank you for it.
There are still a few shortcuts you can take to shave minutes off your routine. If you wash in the morning, opt for a skin cleanser that you can use while in the shower. Alternatively, a cleansing milk or water doesn't need washing off - you just can just use a muslin cloth or cotton pad to wipe the product over your face.
Step 2: Freshen up your base
When strapped for time, a tinted moisturiser or BB cream is our go-to. Combining a moisturiser with a light coverage foundation, this stuff is super easy to apply with just your fingertips, and will stay looking natural all day (no 4 o'clock caking).
Need a little more coverage in some areas? Use a concealer and lightly dab over any blemishes. Take it in under your eyes to combat any tired sleepy shadows.
If you feel a little washed out, finish with a quick sweep of a light bronzer on your forehead, nose and cheekbones (the spots that would catch the sun).
Step 3: Brush your brows
Brows can really help define your face - and for many this is the one step they won't skip.
When you're strapped for time, a brow gel is a really easy cheat to fuller and thicker brows. Like a mini mascara, you simply need to brush through to enhance your hairs - you can't go wrong!
Step 4: Enhance your eyes
Eyes are an instant give away if you're feeling a tired, but it's easy to fake a bright-eyed look. Start with an eyelash curler to gently open up your lashes (if you've not tried this before, this might seem like an unnecessary step, but trust us - it makes a big difference).
Next apply a lengthening and volumising mascara. The 2-in-1 formula means you'll only need one coat for glossy and defined lashes. Consider a waterproof mascara too - effortless, everyday makeup works best when you don't have to think about it once it's on, and this will stay in place all day without smudging.
Step 5: Tint those lips
The finishing step is adding a little tint of colour to your lips. We love a lip balm or lip creme because they're so easy to apply with your fingertips and leave your lips soft and moisturised.
In terms of colour, for every day we love a neutral tone that's easy to top up on the go (bold colours tend to be a little more high maintenance).
Got time for a quick evening pamper?
Kids in bed? Make time for your own express spa experience. These at-home treatments will leave you feeling pampered and refreshed.
More inspiration
Why buy at Argos?