Our pick of the best toys for Christmas 2023
Need some toy inspiration? Here are some great ideas to help you tick off those wishlists whatever your budget.
Beast Lab Core Line Shark Playset
Who's it for? Little scientists (3+)
Go all sciencey by creating your choice of mighty shark in the Beast Lab. With over 80 sounds and lights in the set, embark on a daring and dazzling adventure to save the world.
Furby Purple Interactive Toy Plush
Who's it for? Creative playmates (6+)
Say hello to Furby, your fun-loving furry friend. It's a chatterbox, dancer, and light show star rolled into one. With 5 voice-activated modes and 600+ surprises, this bestie knows how to have fun.
Barbie Estate Dolls House and 3 Dolls
Who's it for? Barbie lovers (6+)
Want Barbie dolls as roomies? Here's some exciting news - Barbie's Dream Home is move-in ready! 3 fabulous dolls, chic furniture, and a splashy pool with a slide. It's time to dive into playtime paradise.
LEGO® Harry Potter Dobby the House-Elf Figure 76421
Who's it for? Potterheads (8+)
Accio Dobby! Bring the magic of Harry Potter into your world with this enchanting LEGO Dobby the House-Elf set. A must-have for any Potterhead's spell-tacular collection.
Chad Valley Wooden Pizza
Who's it for? Little foodies (2+)
Who's up for some pizza party fun? Watch little chefs whip up tasty treats with this durable wooden pizza set. The perfect recipe for serving smiles and giggles.
Fingerlings Monkey Pink - Harmony
Who's it for? Playful kids (5+)
Friendship at your fingertips? Yes, please. Meet Harmony, the diva baby monkey. Off your finger, she's a pop star. On your finger, your BFF. With 70+ adorable sounds and reactions, she's ready to rock your world.
Barbie movie
Get your Barbie brigade ready for an adventure as this Barbie sets foot into the real world.
TMNT: Mutant Mayhem movie
Join our favourite four turtle superheroes in yet another challenge: To save and protect the New York city from crime.
PAW Patrol: The Mighty Movie
Meet the Mighty Pups! Join the heroic PAW Patrol pups for more exciting rescue missions and epic fun.
Top brands of the toy box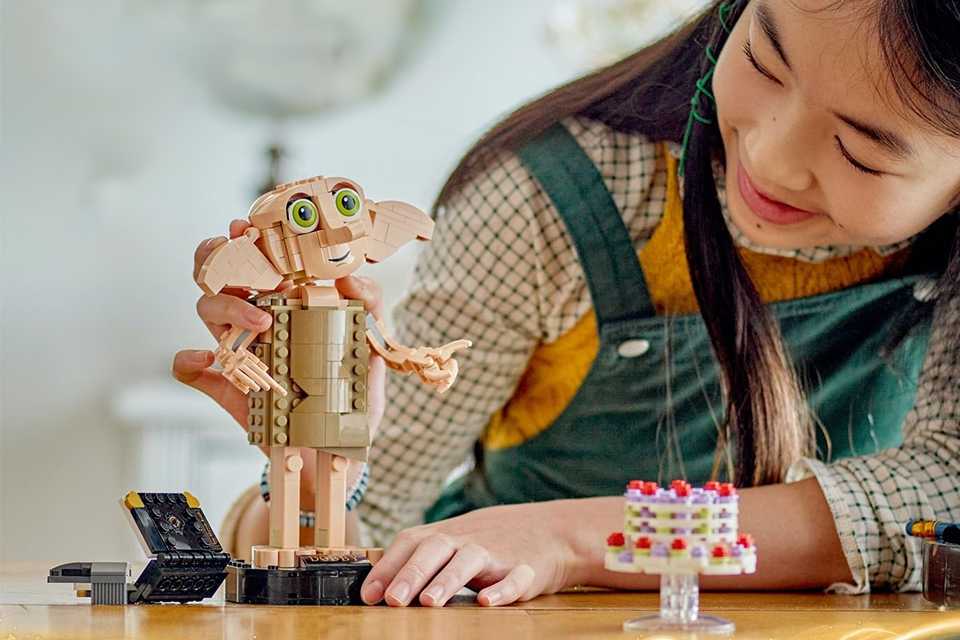 Pokémon
Calling all the Pokémon trainers. Get ready to catch all your favourite Pokémon figures and plush toys, solve puzzles, or perhaps you'd love to fight some battles. Here are all the toys you need to complete your Pokémon universe.
PAW Patrol
PAW Patrol to the rescue! Perform daring land, sea and air missions with Chase, Skye, Marshall and the rest of the gang with pup-tastic playsets and vehicles.
Teenage Mutant Ninja Turtles
Get ready to save the New York city with our favourite four best turtle superheroes. Win the hearts of everyone by defeating the mysterious crime gang.
Squishmallows
Discover the squishy, cuddly world of Squishmallows. From herb lovers to dancers, athletes to artists, explore the various personalities of each adorable Squishmallow.
Transformers
For all the sci-fi lovers. Discover the life of these human-like robot heroes that transform, fight and save the world on repeat.
VTech
Help them learn while playing. Made for infants to pre-school kids, the range of educational and interactive toys will keep them engaged easily.
DesignaFriend
Say hello to your new fashionable BFFs, the DesignaFriend gang! There are lots of accessories to style them in and each doll comes with a charm bracelet. You get a new charm with every DesignaFriend outfit too!
Hot Wheels
Uncover the evergrowing range of Hot Wheels cars, from sleek sports cars to mega monster trucks. Build epic tracks and link playsets together for the ultimate racing challenge!
Take playtime to a whole new level with our brilliant round-up of top toys. For kids who love outdoor adventures and have curious minds, we have excellent toys for of all ages. Our collection of top toys for 2023 will help bring smiles, laughter and endless fun to your little ones.
For quiet indoor fun or creating an outdoor experience, we've got plenty of toys for kids. Get our high-powered water blasters and turn your park or garden into a soaking splash zone. If you'd rather keep it dry, our Nerf blasters are a great choice. From small blasters to fully automatic models, your little ones will be spoilt for choice.
Whether it's decorating their room or helping them craft stories with their imaginations, our playsets and figures are a great pick. Pick up an Iron Man figure for your little Marvel fan or if they're into video games, they'll love a Sonic figure. And for those little padawans who are looking for some intergalactic fun, our collection of Star Wars figures and toys will take them to the galaxy far, far away.
If you're looking for something for your tiny tots, have a look at our collection of Chad Valley toys. From baby walkers to help your little one take their first steps to pretend playsets that spark their imagination, you'll be spoilt for choice. And if you're looking for something that helps them learn whilst having fun, our range of Fisher Price toys has got some great options. Choose from interactive robots to improve their communication skills to playmats and child-friendly puzzles to practise their motor skills.
For all things pink and pretty, we also have Barbie dolls and dollhouses for hours of fun pretend play. Take your pick from classic Barbie and Ken dolls to fun mermaid and unicorn-themed dolls. Toys are one of the top gifts you can give to your little ones this holiday season. From Paw Patrol to Barbie or Marvel, we've got loads of Christmas gifts to choose from.